41. Latest Easy Mehndi Design For Back Hand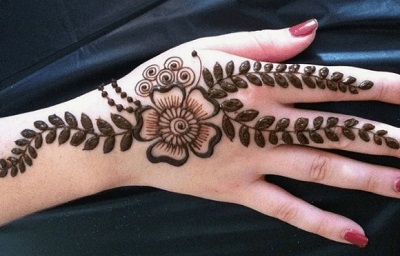 This refreshing back hand mehndi design is done step by step. The leaves and tendrils goes on the back of the fingers with the centre flower. The flower can differ in size and pattern that goes over the fingers and can also be extended a bit. The filled in leaf shapes gives more dark colour. If you like your Mehndi to be darker you should go for the filled in mehndi design.
42. Latest Indian Bridal Mehndi Design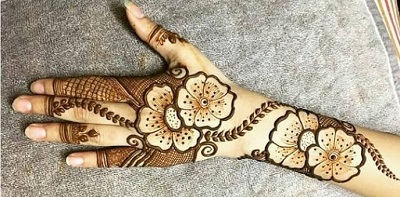 This is one of the best bridal simple full hand mehndi designs. The beauty of this design is the board flowers on back of the palm. The similar design can be done on the front end. This mehndi design would surely add your beauty to your look. It is suitable to be applied for family functions, Karva Chauth or after bridal occasions.
43. Latest Karwa Chauth Mehndi Design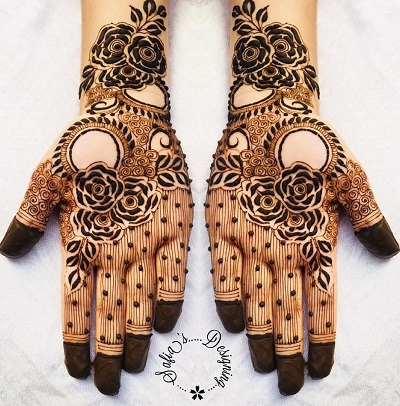 We would surely love to have a intricate yet simple Karva Chauth Mehandi pattern like this. The circle and flower pattern with filled in shapes gives the rich colour. The entire hand is filled with Mehndi and it is a grand opulent looking mehndi perfect for festivals and parties.
44. Leg Mehndi Design Simple And Easy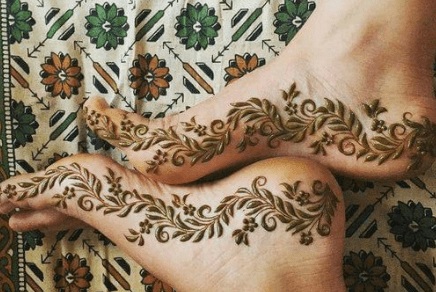 A simple design can also be that alluring. This design here is applied on the feet is one of the best feet simple mehndi patterns. It is applied step by step and the same shapes are used all across.
45. Long Cuff Style Mehndi Pattern For Brides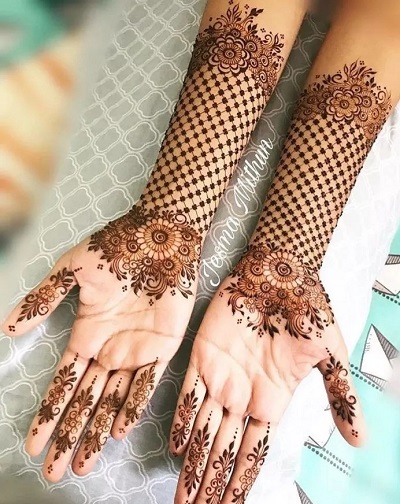 For women who like Grand cough style bold Mehndi should go for this. It is heavy design that needs to be done with care as the line can merge. And it's on your palm you need to keep the palm study and protected from getting smeared anywhere else. The outlines are done wonderfully and it's the best Mehandi that you would find for women who like it differently and lavishly.
46. Mehndi Design Cute And Romantic
A cute and romantic simple mehandi pattern takes your look another level. The heart and small flower shaped mehndi on the back of the palm can be used on the front and feet as well. You can apply a similar design on the arms. Perfect for the romantic get together, ethnic festivals and parties, this is the best traditional and Indo Western mehndi pattern that we have seen.
47. New Unique Simple Mehndi Design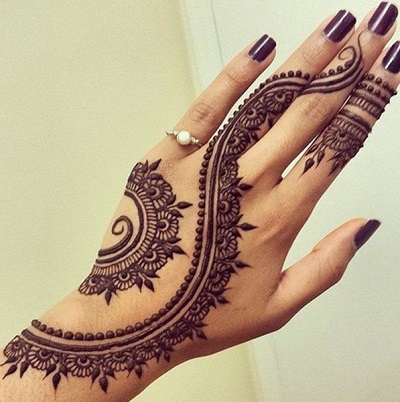 The uniquely shaped mehndi pattern is for all the events and festivals that you have. The semicircular patterns with flowers and beads adds charming beauty to this stunning design.
48. Pakistani Simple Mehndi Design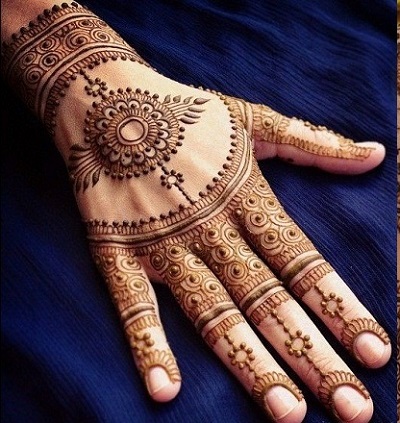 The intricate and simple mehndi pattern is for family functions and get together. It is done with and precise lines that you would need some practice and would be able to do it step by step. Designs like this are simple mehndi designs for beginners. With proper borders, the heavy design leaves a marking impression with little spaces in the middle so that the design can stand out.
49. Simple And Cute Finger Mehndi Design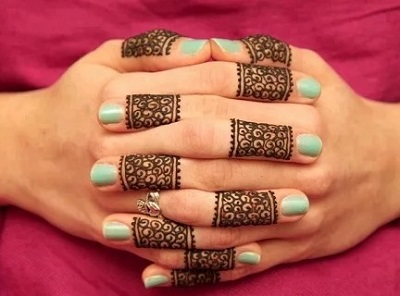 The finger mehndi design is surely cute enough to give you Western and traditional look. It is for women who like to apply mehndi but in a different way. Perfect to pair with the Indo Western outfits, it is suitable for office going women.
50. Quick And Easy Chain Mehndi Design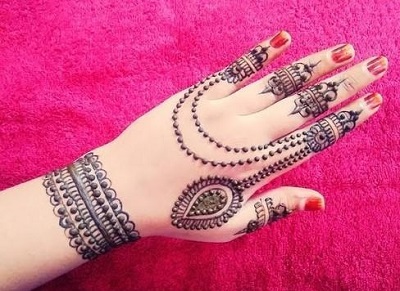 Simple and stunning mehndi pattern with jewellery affect. They look really trendy and if you would like to go for Indo Western clothing. It is also a roka and engagement mehndi design. When you are running late then such easy and simple mehndi would do.
51. Quick Intricate Mehndi Design For Learners
With paisleys and flowers, this simple Rajasthani inspired mehndi design can be applied on the back of the hand too. Such designs are especially for those who like to keep it clean and simple. On the top part of the hand you can apply some other design. The wrist and the fingers are left out  but you can also go with some minimalistic design over there.
52. Quick Mehndi Design Arabic Style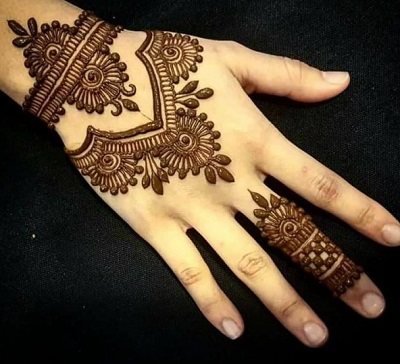 Arabic simple mehandi design has a very pretty pattern on the finger. The same design can be done on all the fingers and on the frontpalm. It bears the Mughal architecture inspired pattern and shapes. Wristband adds more dimension and beauty to this easy mehndi design for beginners and learners.
53. Heart Pattern Mehndi Simple Design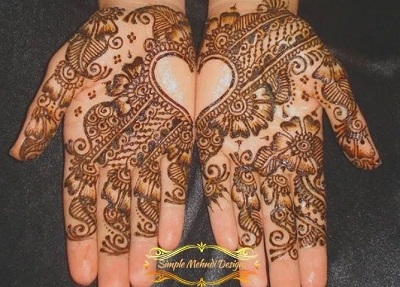 The beautiful is amongst the most and easy mehndi designs. The hand is done using different shapes that as pattern. The flower shapes have made it clearer. It can be applied on family functions.
54. Side Multiple Flower Design Mehndi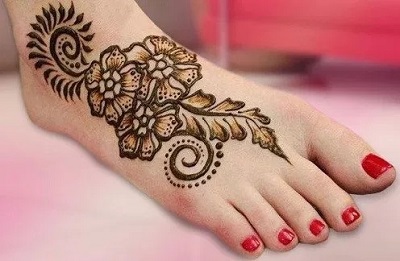 The feet mehndi has beautiful flower pattern. Rather than going overboard you can keep the design simple and precise. Even for kid's feet this is a really beautiful simple mehndi design.
55. Side Swept Easy Mehndi Design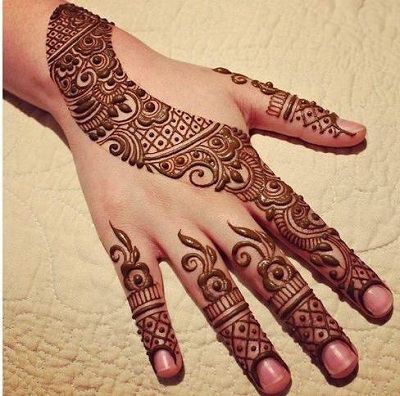 The side swept simple mehndi design is easy but intricate this is why need some practice. It has thick borders and filled in pattern in between. It will make the design get dark once the Mehndi gets dry. You must definitely try a such a design for the party and informal events where you can also wear western there with such pattern.
56. Simple Round Mehndi Design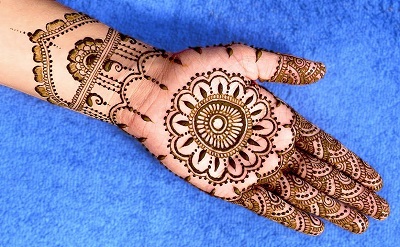 This round mehndi design is for women who like simple yet stunning designs. The beginner's friendly design would need practice to make the concentric circles. Then the job is easier as you have to fill in the shapes and outline with spiral strokes and curved leaves. It is suitable to be paired with ethnic outfits, Indo Western outfits and suitable for Grand events.
57. Simple And Cute Mehndi Design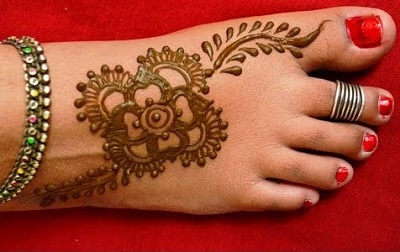 What can be as simple as this beautiful and extremely easily done feet mehndi design.
58. Simple And Cute Mehndi For Girls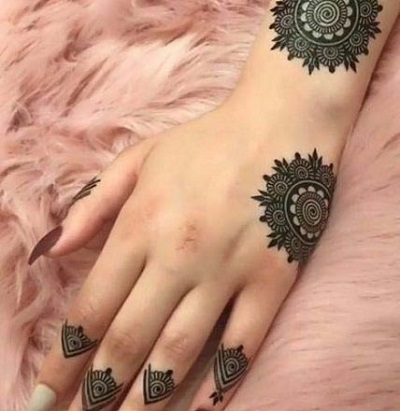 The spacious mehndi design has rangoli like round structures. The entire hand is left there with just two circular shapes used on the wrist and side of the back hand. The fingers are given very beautiful look by small geometric pattern.
59. Simple Eid Mehndi Design For Hands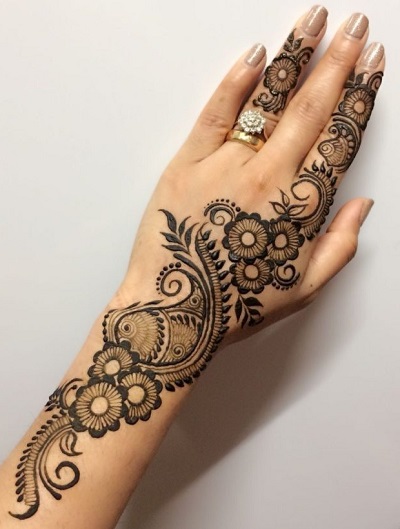 This nicely made easy mehndi design has filled in leaves and paisleys.  It can be dne for Indian festivals, functions, weddings and is perfect for women who like Indo Western kind of looking simple mehndi designs.
60. Simple Fancy Mehndi For Eid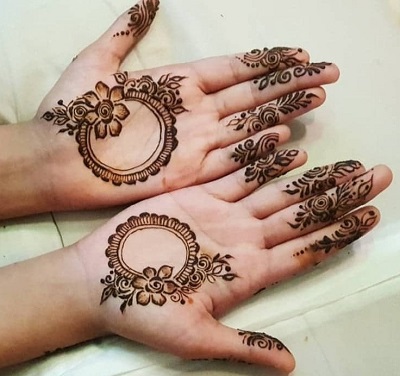 The fancy mehndi design is easy to apply and you won't face any difficulties applying this. The best part is a gorgeous mehndi design for beginners and you can see that how it comes. The floral pattern gives all the attention and the blank space in between adds more style to this design. It is suitable for occasions like eid, Karva Chauth, Diwali or even Rakhi.