61. Simple Flower Henna Design For Hands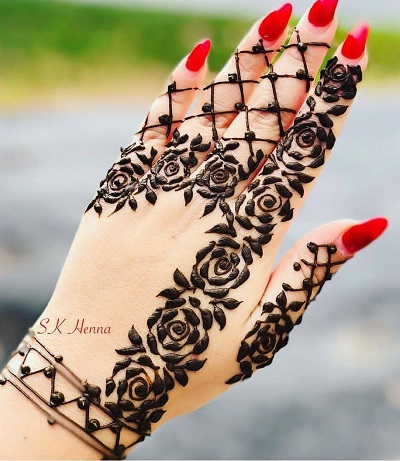 With Roses and intricately filled in design, this is one of those design that stays longer on the hands.. Mostly girls and kids would go for such designs. It is also a perfect mehndi design for professional and working women
62. Simple Foot Mehndi Design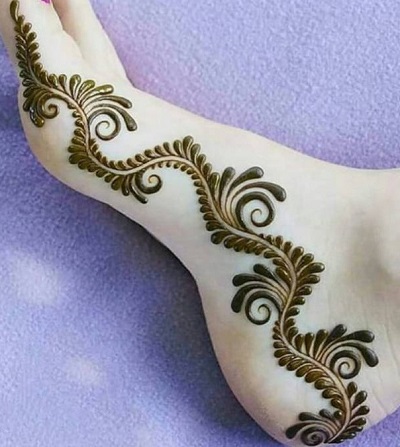 The spiral feet mehndi design is for women who like simple yet dark mehndi. You can use it for festivals like Karva Chauth as it goes well with Indian ethnic outfits. It is a western looking design that even elderly women can try.
63. Simple Half Side Mehndi Design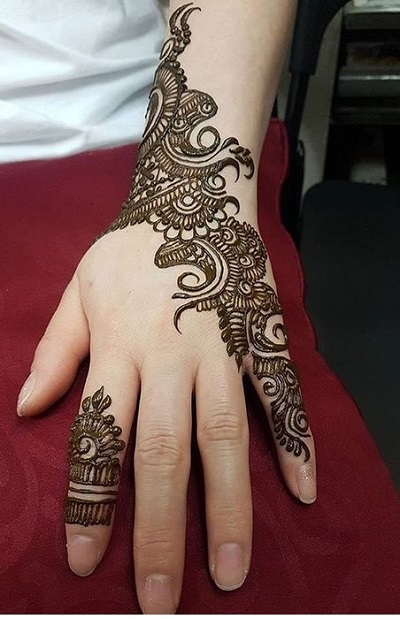 It's a simple half side mehndi design that goes from the little finger towards the wrist and beyond. The small pattern on the index finger has the same shape, which can be drawn on the middle and ring finger as well.  This is one of the best one sided mehndi pattern.
64. Simple Hand Mehndi Pattern For Diwali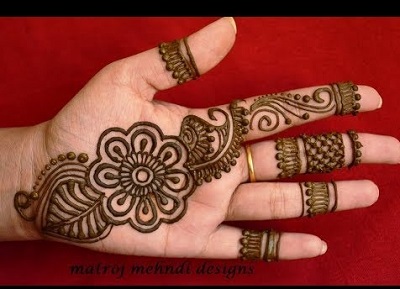 The easy mehndi design with thick lines can be done quickly when you are running out of time. It has  space that is there in this design gives the new dimension and how the mehndi turns out when it is completed.
65. Simple Henna Design For Beginners Finger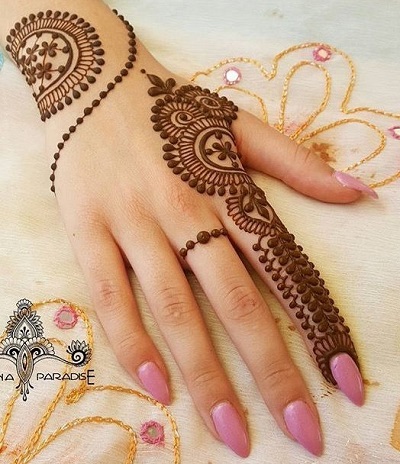 This single line simple mehndi design is good for girls, kids and women of all age group. It is for those who like easy and simplistic pattern. The henna design looks like a single bracelet that goes from the index finger towards the wrist. It is easy to do and is a beginner friendly design.
66. Simple Islamic Mehndi Designs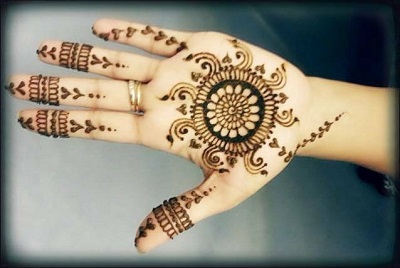 The circular design is done with filled in gaps and spiral. On the fingers the easy pattern is made with teardrop shapes. It can be used for family functions, festivals and even on Karva Chauth, where women would like to keep their hands with really simple designs. The henna design is pretty easy for beginners.
67. Simple Leaf And Chain Mehndi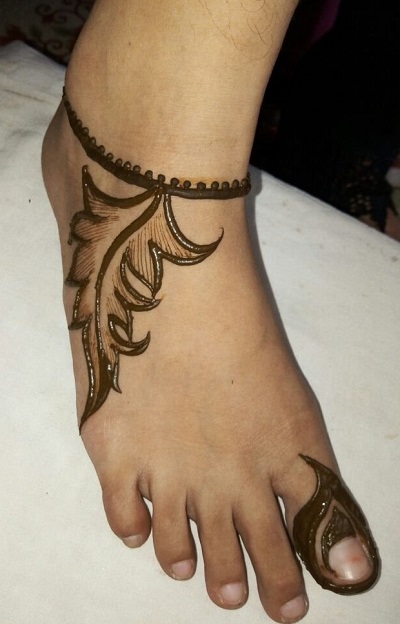 This mehndi design is perfect when you are wearing heels. It would display the mehndi even when you have heels and strappy sandals. It is clearly one of those mehndi designs that looks gorgeous and can be applied quickly and easily.
68. Simple Leg Mehndi Design For Starters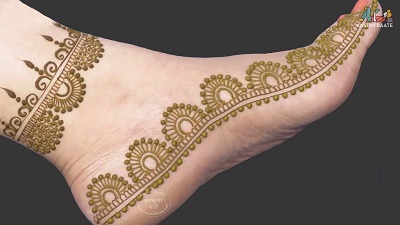 Rich anklet and floral  like style is one of the best and simple mehndi for feet that we have seen. It is appropriate for Diwali and for married women they would like to get their feet adorned with Henna designs.
69. Simple Long Arm Length Mehndi Design style
The basic idea of this long design is the spiral edges that goes from top and bottom. In the centre of the back of the palm it has for concentric circles. I have to do it of practice. It can be even more grand venue to be kept on your own design.
70. Simple Mehndi Design For Baby Girl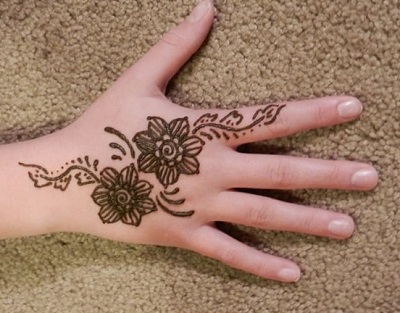 This beautiful mehendi henna design is for little girls. This Kids mehndi design has two big flowers and tendrils and branches going out from each of them. The same can be applied on the front palm.
71. Simple Mehndi Design For Beginners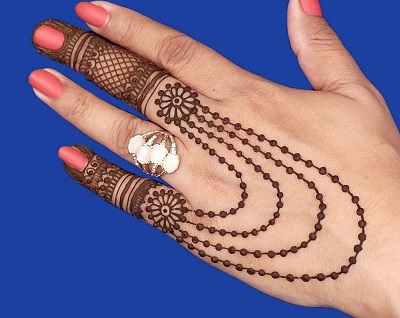 Ball chain designs are easy for beginners and learners. They are done step by steps and there is no such intricacy required to make these designs. Suitable for all hand shapes these are best to be paired with and ethnic wear.
72. Simple Mehndi Design For Children's Feet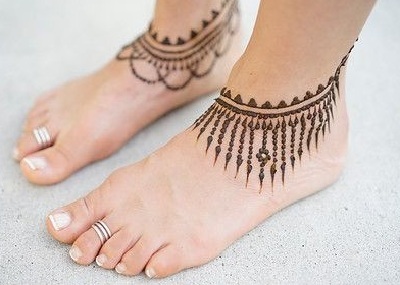 When you are wearing flip-flop the design like this makes your feet look beautiful. It would show the entire design and with the bridal mehndi as well you can try this. It has pretty design and two different designs are used on each foot.
73. Simple Mehndi Design For Front Hands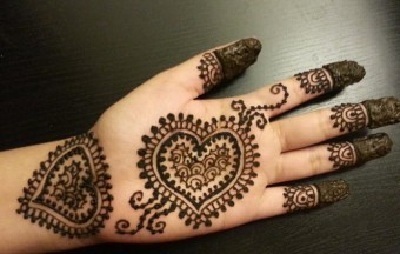 Heart shape Mehandi pattern is a romantic and cute design that beginners can go for first. It has intricate spiral and curved lines but they are not very hard to draw. You need to know how to grab the cone and draw the basic shapes like circles spirals and leaves.
74. Simple Mehndi Design For Left Hand Palm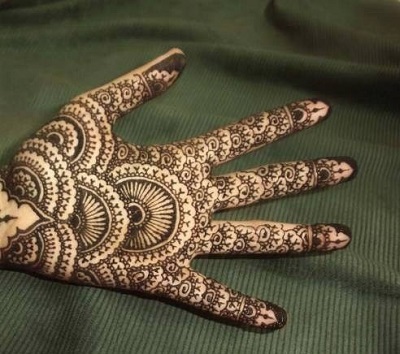 The overlapping circular mehndi design does not need as neatness as some of the other intricate designs do. The network of overlapping circles is the best thing that makes his design in you can have darkened border to make this design get dark once it gets dry. The design is suited for family functions and events.
75. Simple Mehndi For Eid And Wedding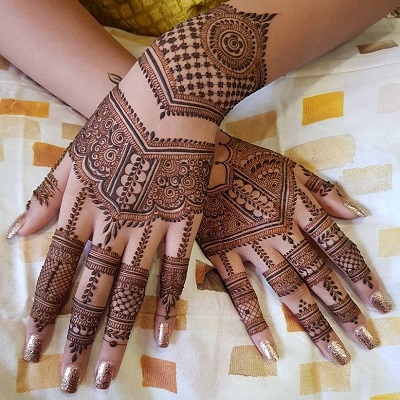 This pattern looks quite neat and sweet however with practice you can master it. This has to be done in step by step manner. And with this you would need practice for a couple of times. Applying this would not be a problem once you know the basics of drawing the intricate concentric shapes and lines.
76. Simple Modern Rose Mehndi Design
Simple side swept floral mehndi is suitable for girls and kids. The mehndi goes from the wrist towards the pinky or little finger. The same can be tweaked by taking the design to middle finger ring finger or even the index finger. There you can let your imagination flow to create a different design out of it.
77. Simple Pattern Of Mehndi For Both Hands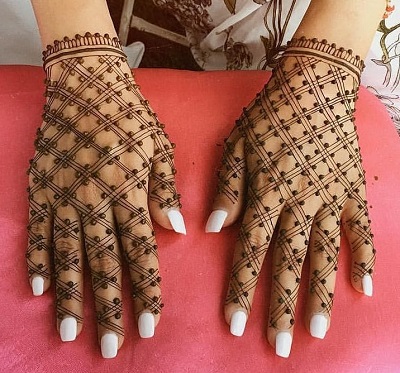 The Criss cross pattern on the back of the hand gives the very netted glove like appearance. It is purely a western mehndi design that would look good with western wear. Even for working women the design is suitable.
78. Simple Peacocok And Paisley Bridal Mehndi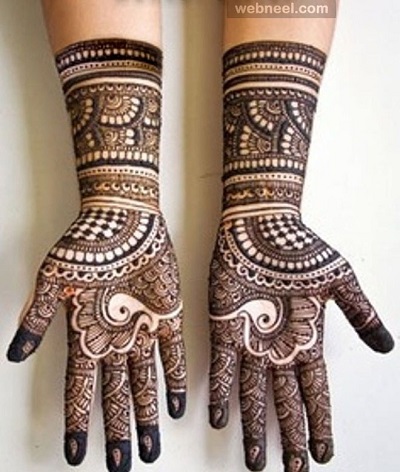 The bridal mehndi design includes peacock, paisleys, semicircles filled in shapes and structures. It is a grand design with broad cuff bracelet resembling shape near the wrist. Many women would go for such designs even for their after wedding Karva Chauth, Eid, even for roka or engagement ceremony such designs are prepared by professionals.
79. Simple Rajasthani Mehndi Design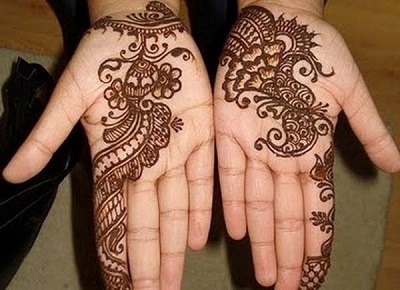 Simple Rajasthani inspired Mehndi is perfect for women who like easy and quick to do mehndi designs. It is really a traditional design that can go with your traditional wear and for festivals like Karva Chauth and Eid.