80. Simple Wedding Mehndi Design For Full Hands
It's a wedding mehndi design that a lot of bride's would prefer because of its intricacy and sophisticated patterns. It can be applied on the palms, arms and back of the hands. Suitable for festivals like Rakhi, Diwali and it is one of the best mehndi design for brides and for engagement.
81. Simple And Easy Mehndi For Brides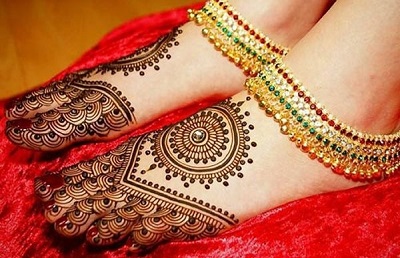 Simple and easy feet mehndi design for brides is inspired by the concentric circles. If you are not good at drawing circles then try to make bold lines.
82. Simple And Grand Arabic Henna Mehndi Design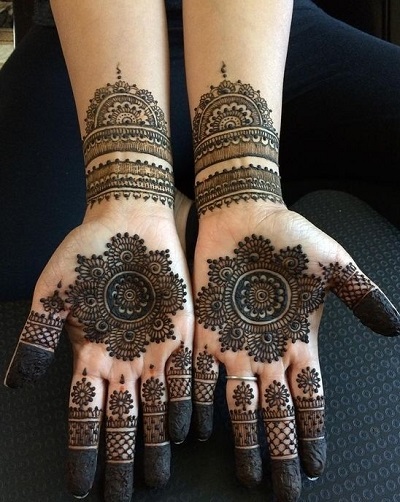 The Grand Mughlai Arabic inspired Gol Tikka Mehndi has Rangoli like circular pattern. This immensely beautiful and intricate design is for learners who would like to learn simple and intricate mehndi designs. It looks striking and gorgeous. It is one of the most beautiful mehndi designs that we have seen for brides, bridesmaid and for wedding festivals.
83. Simple And Short Mehndi Design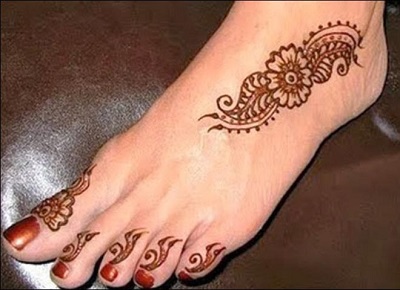 Try simple foot mehndi design like this. It's suitable for professional women or working women who go to office.
84. Simple And Unique Dulhan Mehndi Design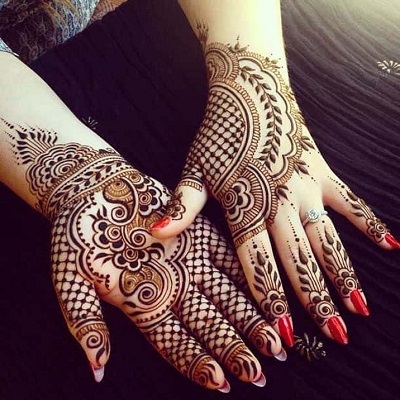 A Grand Design does not need to be extremely intricate. This design here has neatness yet is not very compactly made. The beauty is the patterns used. It is suitable for brides, festivals, weddings and parties. The flower patterns with leaves on each side of this front hand floral mehndi design give you completely trendy design. The flowers and leaves forms different shapes that spirals the circles.
85. Simple Anklet Design Mehndi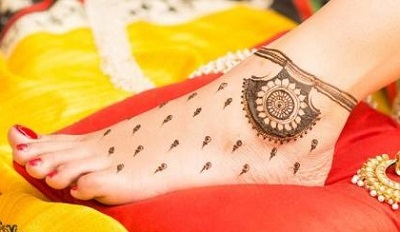 How about a jewellery inspired feet mehndi design. Yes this anklet style mehndi has a stylish pattern. You would surely like to have such a South Indian design on your feet.
86. Simple Arabic Henna Design For Left Hand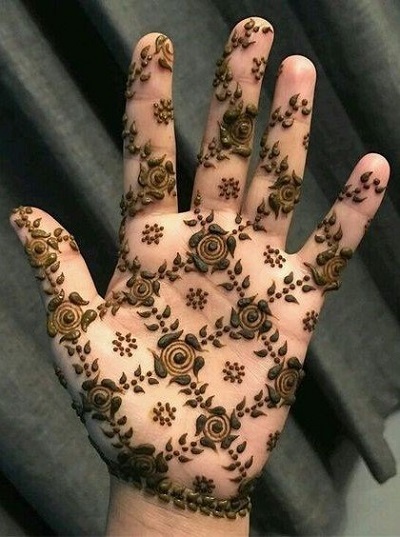 Chains, dots and rose flower pattern this is one of the most neatly done design. This design is the best simple mehndi design step by step. Their simple yet would need some practice honestly. The patterns of the petals and the dots have to be done keeping in mind the gap filling and space. These designs are proportionately made. It's suitable for casual affairs, festivals and other grand festivals.
87. Simple Arabic Mehndi Design For Left Hand
The Arabic back hand mehndi design is very grand and royal. It extends below wrist towards the arm. It is simple and easy mehndi pattern that is perfect for Palm. It has some gaps in between that draw attention to the filled in parts. When it is entirely done you would surely like the neatness and preciseness of this pattern.
88. Simple Arabic Mehndi Design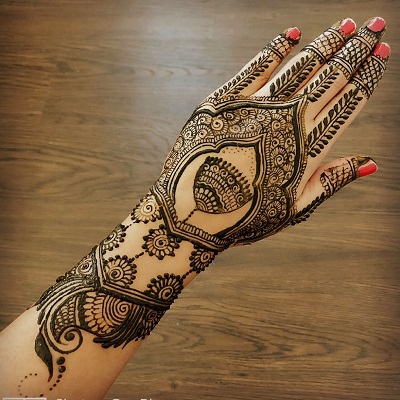 The next intricate or traditional mehndi design is simple and easy. All you need to do is to hold the cone and draw lines. It's applied this on the back side of the hand and on the front Palm like as shown in the image.
89. Simple Arabic Mehndi Pattern For Feet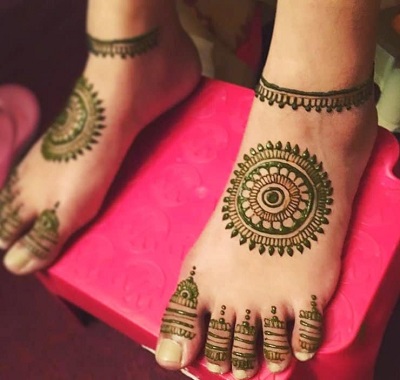 This design has everything it covers your ankle like the anklets and the centre part. Then on the toes it gives you structures like toe rings. So all in all, it is a very married women and bridal kind of simple mehndi design for feet.
90. Simple Back Finger Mehndi Idea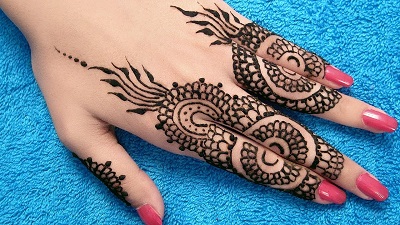 This mehndi design for back hand gives an appearance of the sketch pen art that we do. Actually the mehndi design is done with the henna cone using the single lines. It is easy to do and a lot of ladies would be able to apply this.
91. Simple Back Hand Mehndi Design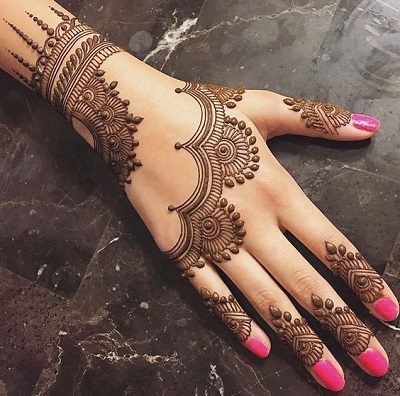 For family functions, festivals, weddings, this design is Royal looking. It is the best mehndi designs with spaces in between that draws attention to the filled in patterns and shapes. First thing you have to be precise in making the semicircular lines to create the framework of this entire design. Finally when you are done, you can go with detailing shape.
92. Simple Bharwa Mehndi Pattern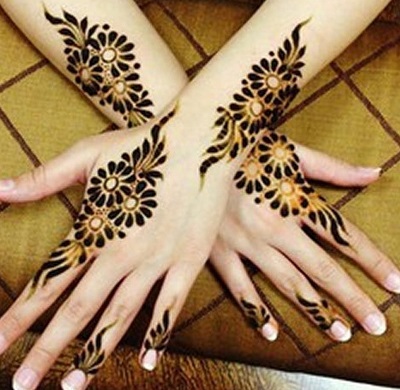 For women who like bharwa mehndi design shall try design that has filled in shapes. Such designs generally last longer and get rich when they get dry. This is a very modern and western design that even stays for days.
93. Simple Bracelet Mehndi Pattern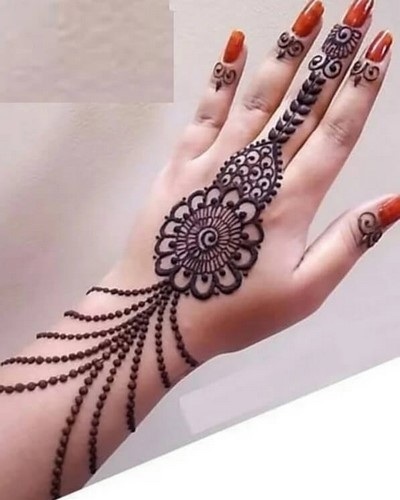 How about a chain and brooch like shape, like this that goes from your middle finger till the wrist. Exactly this design gives you that. The centre part is given a nice brooch jewellery like shape then the ball chains extension towards the wrist creating a wrist band jewellery. Suitable for family functions and festivals, it can be paired with heavy outfits, traditional and even the Western and Indo Western.
94. Simple Bridal Feet Mehndi Design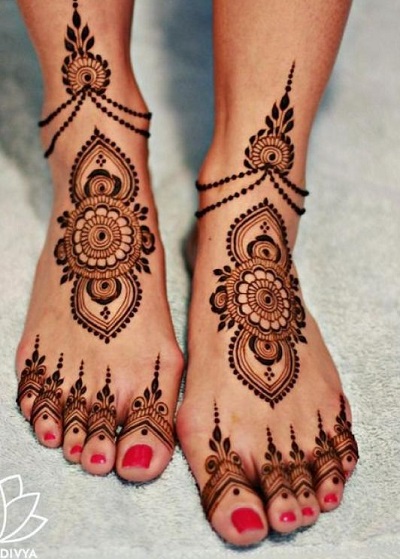 It's a stunning simple bridal feet mehndi design. Even if you are keeping your first Karva Chauth or your Eid then beautiful intricate design can be tried. It is a very Arabic feet mehndi pattern that needs practice honestly and the study of the hand. It's because the Centre has several concentric shapes which is why you need to be careful that they do not more yours bread or stick together.
95. Simple Brooch Style Mehndi Design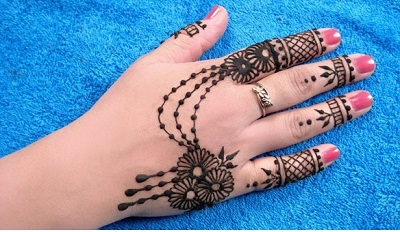 Simple and beautiful Mehndi design is extremely attractive. The design here is simple to make and many women and learners would be able to draw it. It is also a perfect easy to do mehndi for kids.
96. Simplest Tattoo Style Mehndi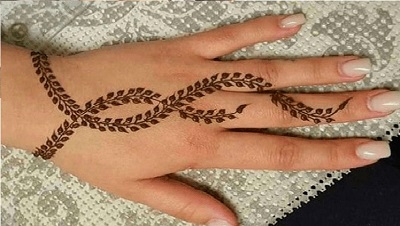 This simple and stunning mehndi pattern is for everyone who likes to have henna tattoo. This simple mehndi tattoo design does not require a lot of mehndi drawing skills.
97. Tikki Mehndi Simple Pattern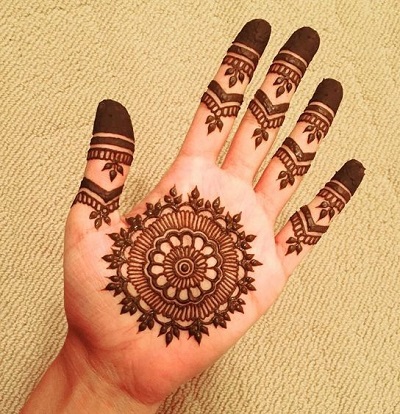 Tikki or round mehndi is in trend for bridal mehndi art.
98. Triple Circles Easy Mehndi Design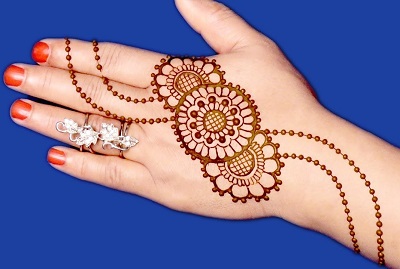 This dainty triple circle simple mehndi design is for simple pattern lovers. This is easy henna pattern to try yourself.
99. Unique Simple Mehndi Design For Feet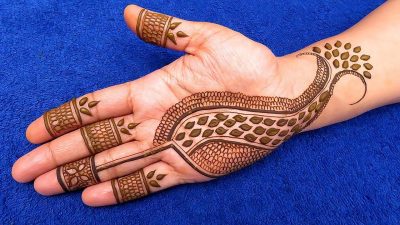 This nice and simple pattern of henna is for women who love simplicity and uniqueness. The design is done with precision and neatness. You would love this simple easy modern mehndi design.