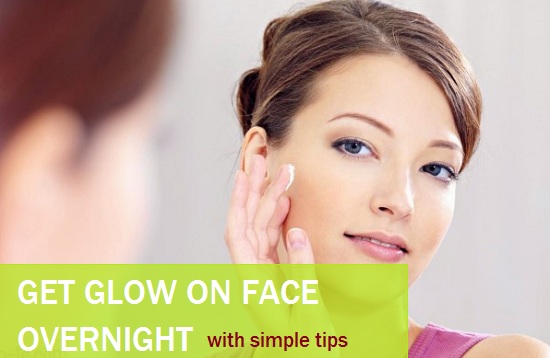 All of us want healthy and glowing skin. Glow indicates that the skin is healthy. This is why we go for facials in salon; apply beauty products, beauty treatments so that skin looks dewy and glowing. There are natural methods too which can give glowing skin overnight. Yes that is true. We most of the time overlook the power of natural healing and treatments that has the capabilities to give the glow on the face overnight. The best part about these simple ways is that they are safe and effective unlike the skin care products.
Treatments to get glowing skin overnight
Here are some simple ways to get glow on the face overnight with natural ingredients like the kitchen products or food items.
1. Glycerin and Vitamin E for dry skin
This treatment is for dry skin. You will need, 1 teaspoonful of glycerin and one vitamin E oil capsule. Prick the capsule and squeeze out the vitamin E oil in the glycerin. Mix them and use this entire lotion to massage the face. Massage until everything is absorbed into the skin. Do not wash. Keep this overnight and next morning you will notice that the skin is glowing. This can be tried every other day by dry skin in getting get glow on face overnight.
Also see: Homemade glow Face packs
2. Honey and Papaya pack
This can be done by oily skin, dry skin and even the sensitive skin. Mash a small piece of papaya and mix some honey in it. Use organic honey only. Apply it on the face and then let it dry for 20 minutes this will make the skin glow. Do this before going to the bed. This pack even after washing will show its results till the next day hence you can get glow on face overnight easily.
Also see: Easy Honey face packs for beautiful Skin
3. Milk cream for glow
For dry skin this is easy yet most effective method to get the glow on face overnight. Take milk cream and add 2 drops of vitamin E oil in it. Mix it and apply on the face. Keep massaging and leave it on the face then wash in the morning. Your skin will be nourished and looks dewy.
Also see: Milk cream or Malai face packs
4. Almond oil for glow
This remedy too is for the glow on the face for dry skin type. We are covering dry skin since mostly dry skin is the one that is devoid of the glow and dewiness. Massage every night with 4-5 drops of pure almond oil, not the one you use for the hair. It should be the extra virgin almond oil. Massage and leave it. This will increase the flow of blood and makes the face glow overnight.
Other than that it is very important to follow a good skin care regimen like proper cleaning, toning and moisturizing. Toners can be skipped when the skin is too oily but for dry skin they work like magic.
You can get the glow on your face overnight with these easy tips but do take care that you try them regularly and keep in mind about the treatment suitable for your individual skin type.