Simple Ways to use Glycerin and Lemon Juice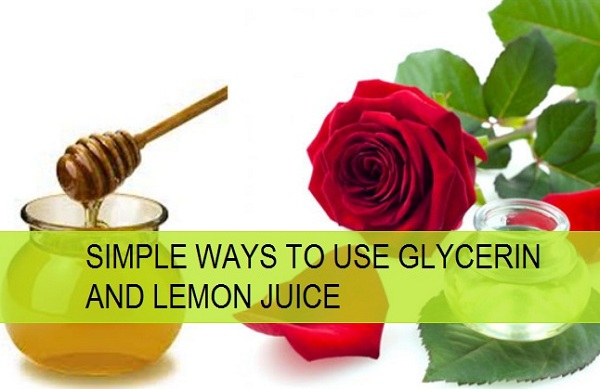 Glycerin is a natural and very beneficial product that has exceptional moisture retention properties. This is the reason that glycerin has been used in skin care products especially the moisturizers and body lotions. Glycerin is also gentle and hydrating for the babies. Do you know that there are multiple ways in which glycerin can be used with lemon to get beautiful hands, nails, feet, face etc. Yes, this is so true. By the way, lemon juice is a great source of vitamin C. Vitamin C boosts the skin renewal rate and improves the skin texture. So. Let's find out how you can get the benefits of lemon juice and glycerin.
Benefits and ways to use lemon juice with glycerin
1. Glycerin and lemon for hand massage
Beautiful hands needs moisture and care. So to give the hands much required care you should regularly give intense moisturization. You can use a mixture of glycerin and lemon juice.
Just take 1 teaspoonful of glycerin with 1 teaspoonful lemon juice.

Mix them and apply on the nails and hands. Massage the hands gently.

Rub the mixture over the nails as well. Lemon juice will lighten any yellow stains.

Leave this overnight. Glycerin will provide the hydration and you will get beautiful soft and smoother hands by the morning.

This beauty treatment can be tried 2 times in a week for best results.  see: Lemon Juice for dark spots

2. Glycerin and Lemon Juice for Marks Removal
If you have marks like cuts, burn marks, blemishes etc then this remedy will be suitable to get rid of the marks.
Just make a mixture of glycerin and lemon juice in the equal quantities.

Rub over the skin areas like on hands, feet, thighs etc where there are marks.

Then massage and leave this for overnight.

This will lighten the marks and blemishes soon. See: Lemon juice for marks and blemishes

3. Lemon Juice with Glycerin and Aloe Vera gel for massaging
When the skin is dry and needs intense moisturization then lemon juice, aloe vera gel and glycerin is the perfect combination to beat the dryness of the skin. This can be used on the facial skin and body.
You will have to mix 1 teaspoonful of aloe vera gel with 1 teaspoonful of lemon juice and glycerin each.

In short, all the 3 ingredients should be there in the equal quantities.

Mix them and apply on the skin, rub and massage. Keep massaging until the products get absorbed into the skin.

Then leave for overnight.
4. Glycerin, lemon and milk cream for dry heels
Dry heels can be painful when they get cracked. Moreover, they look bad from the beauty point of view. So, if you have been suffering from dry heel condition then this treatment will be appropriate to get smoother heels.
Take 1 teaspoonful of glycerin and add 1 teaspoonful of milk cream.

Add ½ teaspoonful of lemon juice. Lemon juice gets rid of the dead skin cells by loosening the dead skin.

Apply this mixture over the dry heels and over the feet also, if you want.

Massage this and leave for overnight. Try this 2 times in a week.

Scrub the heels with a loofah or scrub daily so that the dead skin can be sloughed off.

This will let the foot cream or moisturizers get absorbed deeper in the skin layer.
5. Hyper pigmentation cure
Due to extreme sun exposure, hormonal imbalance or even due to pregnancy hyper pigmentation on the skin can be seen. You can lighten the pigmentation with the help of lemon juice and glycerin. How?
Just mix glycerin and lemon juice with equal quantities.

Then apply on the affected area with the help of a cotton ball. Massage and keep for overnight.

Wash in the morning. Do this daily to reduce or lighten the hyper pigmentation.

6. Acne scars cure with lemon juice and glycerin
Do you have acne scars? We know acne scars can be problematic for all of us who face them. But you can cure and lighten them with these 2 products as well.
Daily apply a mixture of equal amount of lemon juice and glycerin using the cotton ball.

Just dab the cotton ball over the acne marks and leave for overnight. Wash the following morning.
We hope that you will soon get all the benefits of using the amazing benefits of glycerin to make your skin look super soft and glowing.