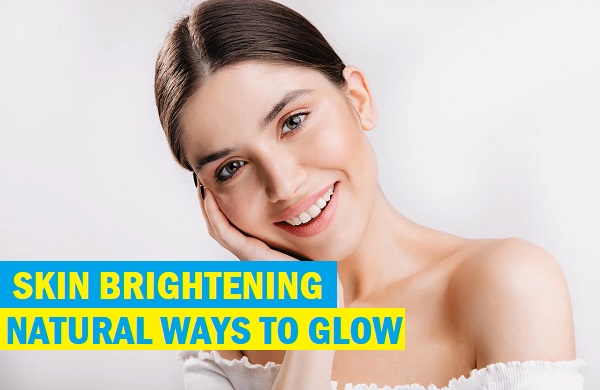 Tried and Tested Skin Brightening Home Remedies to Reveal and Embrace Natural Radiance
Having radiant and bright skin is a desire shared by many. However, factors like sun exposure, pollution, stress, and aging can lead to a dull and uneven complexion. Instead of relying on chemical-laden products, why not turn to nature for skin brightening solutions? In this comprehensive guide, we will explore various skin brightening home remedies that have been trusted by generations for their effectiveness. Say hello to a naturally glowing and radiant complexion!
Skin Brightening Home Remedies: Secrets to Natural Glow
Unleash the power of nature and rediscover your skin's natural softness and radiance with these skin brightening home remedies. Let's dive into a treasure trove of effective and safe treatments that will leave you with a brighter and more youthful complexion.
1. Lemon and Honey Face Mask
Lemon is a natural bleaching agent, rich in vitamin C, while honey moisturizes and nourishes the skin. Create a face mask by mixing fresh lemon juice and honey. Apply this homemade lemon face mask to your face and leave it on for 15 minutes. Then, rinse with regular water.
2. Turmeric and Yogurt Glow Mask
Turmeric has potent skin-brightening properties, and when combined with yogurt, it becomes a rejuvenating face mask. Mix a teaspoonful of turmeric powder with some yogurt to form a smooth paste. Apply the mask to your face and leave it on for 20 minutes before rinsing off.
3. Aloe Vera Gel and Cucumber Soothing Potion
Aloe vera gel soothes and calms the skin, while cucumber hydrates and brightens. Blend fresh aloe vera gel with cucumber slices to create a refreshing potion. Apply the paste on your clean face and leave it on the face for 25 minutes before washing off using clear water.
4. Sandalwood and Rosewater Elixir
Sandalwood has skin-brightening properties, and when mixed with rosewater, it becomes a potent elixir for glowing skin. Create a paste using sandalwood powder and rosewater. Apply it to your face evenly and wash off after 25-30 minutes.
5. Chickpea Flour and Turmeric Brightening Pack
Chickpea flour, also known as besan, is an excellent exfoliant, and turmeric has skin-lightening properties. Mix chickpea flour with turmeric and water to create a paste. Apply it to your face and wash off after 15 minutes.
6. Tomato and Yogurt Toning Treatment
Tomato contains antioxidants and vitamins that can help tighten the skin and reduce dark spots. Blend tomato pulp with yogurt and apply the mixture to your face. Rinse off after 15 minutes.
7. Honey and Oatmeal Hydration Mask
Honey is a natural humectant that locks in moisture, and oatmeal soothes the skin. Mix honey with oatmeal to form a hydrating mask. Apply it on the skin and rinse off using plain water after 20 minutes.
8. Egg White and Lemon Mask
Egg whites are rich in proteins that can tighten the skin, and lemon brightens the complexion. Whisk an egg white and mix it with lemon juice. Apply the mask to your face and rinse off after 10 minutes.
9. Cucumber and Mint Cooling Mask
Cucumber has a cooling effect on the skin, and mint provides a refreshing sensation. Blend cucumber with mint leaves to create a cooling mask. Apply this skin cooling and brightening mask on your face and rinse off after 20-25 minutes.
10. Avocado and Honey Nourishing Mask
Avocado is rich in healthy fats that nourish the skin, and honey provides hydration. Mash ripe avocado and mix it with honey to create a nourishing mask. Apply this skin clearing enzyme rich mask to your face and rinse off after 15-20 minutes. Mind tingling is normal for this mask.
11. Potato Juice for Dark Spots
Potato juice contains enzymes that can help fade dark spots and brighten the skin. Extract fresh potato juice and apply it over the affected areas of the face. Leave this on for 15 minutes by applying in massaging way, then rinse after 15 minutes.
Scrubs For Overnight Brighter Fresher Skin At Home 
12. Pineapple and Honey Exfoliating Scrub
Pineapple contains bromelain, an enzyme that exfoliates the skin and promotes cell turnover. Mix pineapple pulp with honey to create an exfoliating scrub. Gently massage it onto your face and rinse off after 15 minutes.
13. Milk and Almond Scrub
Milk contains lactic acid, which exfoliates the skin, and almonds provide nourishment. Soak almonds overnight, grind them into a paste, and mix it with milk. Gently scrub your face with this mixture and rinse off the face after 25 minutes.
14. Papaya and Milk Enzyme Exfoliant
Papaya contains enzymes that exfoliate dead skin cells, revealing a brighter complexion. Mash some ripe papaya and mix it with milk to form a paste. Gently massage the paste onto your face in circular motions and wash off after 10 minutes.
15. Orange Peel Brightening Scrub Powder
Don't throw away those orange peels! They can really help you a lot in getting bright skin. Dry those orange peels and then grind them into a fine powder. Mix this orange peel powder with plain water or rose water to form a smooth paste. Apply it on your rinsed face and wash it off after 20 minutes.
16. Green Tea and Rice Water Toner
Green tea is packed with antioxidants, and rice water helps tone and brighten the skin. Brew a green tea in hot water and allow it to cool down. Use it as a skin toner for your face after cleansing. Pat the face with this toner using a cotton ball dipped in this green tea toner.
17. Walnut and Milk Exfoliant
Walnut powder is an effective skin brightening exfoliant that removes dead skin cells, and milk moisturizes the skin. Mix walnut powder with milk and create a gentle scrub. Massage this skin brightening scrub onto your face and wash off after 20 minutes.
Tonics and Serums For Bright Skin Overnight
18. Rosehip Oil for Skin Repair
Rosehip oil is packed with essential fatty acids and antioxidants that can help repair the skin and fade dark spots. Massage a few drops of rosehip oil onto your face before bedtime.
19. Ginseng and Green Tea Infusion
Ginseng contains ginsenosides, which can help brighten the skin and improve circulation. Brew ginseng and green tea together and use it as a facial steam to open up the pores.
20. Licorice Root Extract for Hyperpigmentation
Licorice root contains glabridin, a compound that inhibits melanin production, making it an excellent remedy for hyperpigmentation and to promote skin brightening. Apply licorice root extract to the affected areas and leave it on for 15 minutes before washing off.
21. Carrot and Honey Glow Serum
Carrot is rich in beta-carotene, which can help improve the skin's radiance, and honey adds moisture. Blend carrot juice with honey to create a glow serum. Apply this homemade face brightening serum on the face. To apply take few drops to your face before bedtime.
22. Chamomile and Lavender Tonic
Chamomile and lavender have soothing properties that can help calm the skin and reduce redness. Brew chamomile and lavender together and use it as a facial mist throughout the day.
23. Pomegranate Seed Oil for Skin Regeneration
Pomegranate seed oil is a potent antioxidant that promotes skin regeneration and helps fade scars. Massage a few drops of pomegranate seed oil onto your face before bedtime. For dry to normal skin it is a simple remedy with essential oil for glowing glass skin.
24. Marigold and Aloe Vera Soothing Gel
Marigold has anti-inflammatory properties, and aloe vera gel soothes the skin. Blend marigold petals with aloe vera gel to create a soothing gel. Apply it to your face and wash off after 15 minutes.
FAQs (Frequently Asked Questions)
Can these remedies be used for all skin types?
Yes, most of these remedies are suitable for all skin types. However, it's essential to perform a patch test before applying any new treatment to your face.
How often should I use these remedies?
For most remedies, using them 2-3 times a week is sufficient. However, listen to your skin's needs and adjust the frequency accordingly.
Can I combine multiple remedies together?
While some combinations can be beneficial, it's best to stick to one remedy at a time to avoid potential skin irritations.
Are there any side effects to using natural remedies?
Natural remedies generally have fewer side effects, but some people may experience sensitivity or allergies. However, a patch test is recommended and please note to discontinue using them, if any adverse reactions occur.
How long will it take to see results?
The time to see visible results may vary depending on individual skin types and concerns. However, with regular use, one should start noticing slight improvements within a few weeks.
Can I use these remedies alongside my skincare routine?
Yes, these remedies can be done along with the regular skincare routine that you follow. However, avoid using them along with products containing active ingredients like retinol or acids.
Embrace the beauty of nature and bid farewell to dull and lackluster skin with these incredible skin brightening home remedies. From the richness of fruits to the calming properties of herbs, these DIY treatments offer a safe and effective way to achieve radiant and glowing skin. Remember to be patient and consistent with your chosen remedies, and enjoy the journey to a naturally beautiful complexion.