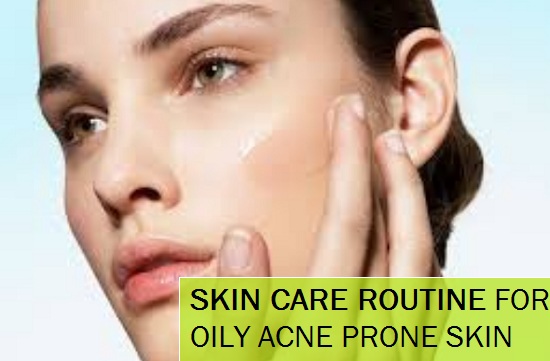 Oily skin and acne prone skin is not easy to maintain as skin problems can keep popping up and make your skin far from being beautiful. Markets are filled with skin care products targeted for oily skin and acne prone skin but what exactly to choose and how to take care of the oily skin is the question. Following a proper skin care routine for oily skin that is acne prone is extremely important. Since when you take good care then only you can achieve a healthy skin. Here will share some tips of skin care routine for the oil and cane prone skin.
Daily skin care routine for oily skin and acne prone
Face cleansing
This is the most crucial step in any skin care regimen.. Washing the oily skin twice in a day is a must have once in the morning and at night time before going to bed. You can choose a cleanser that has gel based and is not creamy. Foamy cleansers should be avoided as they foam up too much and dries the skin thus skin products more sebum. Hence a gel based cleanser with salicylic acid, tea tree oil, holy basil, neem etc is good to try for the oily acne prone skin especially in summers.

See: Face Cleansers for oily acne prone skin
Skin toning
Skin toners will make sure that the skin is clean and any residue to the makeup or oils will be lifted up by the toners thus toners are important to include in your oily skin care routine. Essentially, skin toners has this amazing effect on the skin which helps to make the pores smaller or to make the skin brighter and tighter. The better skin structure is actually quite easy to achieve using a good and suitable toner. Toners must be chosen carefully be analyzing the skin.

A light moisturizer
After the toning use of a light moisturizer is extremely important as it will help to make the skin problem free and the light moisturizer will keep the oily skin hydrated. Choose a moisturizer with sunscreen or use a sunscreen separately that has at least the SPF 20 for the day time.
Night cream
Night creams are important too. They will help the oily acne prone skin to get rejuvenated when you are sleeping. So invest in a good light water based night cream which will help the skin to stays hydrated and will also rejuvenate the skin.
Treatments to include in the weekly skin care routine for oily skin

Exfoliation
Exfoliation should be tried twice in a week as exfoliation will keep your pores clean. Clean pores mean less skin care problems thus facial scrubbing is must to include in the skin care routine for oily acne prone skin. You can use face scrubs to exfoliate the skin or buy ready made face scrubs. Facial scrubs should be gentle and not too rough as they can then leads to the skin rashes and redness. Face scrubbing increases the blood flow and the cell renewal rate and due to this the marks on the oily face will also be reduced.
See: Tan removal face scrubs at home
Face packs
Face packs help tighten the pores and removes the excessive oils from the face. Large pores can be shrunk with regular use of the face mask. Face mask with ingredients like Fuller's earth, neem, Tulsi, mint, sandalwood are excellent to be tried for oily acne prone skin. Face packs are essential for any skin care routine as they are quite beneficial in making skin tighter and better. A refined and glowing skin can be achieved by using appropriate facial packs once in a week. 
Acne solution
Whenever you spots acne pimple or zit erupting you should take care of them as soon as possible and for that over the counter medicines which helps to kill the bacteria that causes the acne will give relief. It also prevents the acne from getting worse.
Using all these tips for the skin will definitely help in getting beautiful and well toned skin complexion.