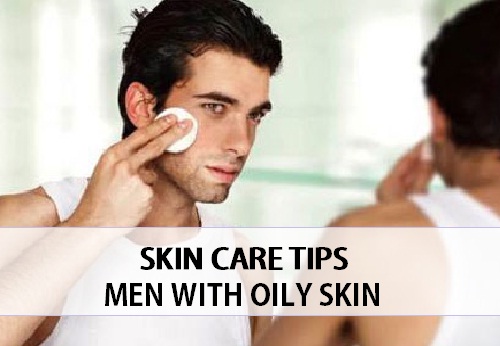 Skin care tips for men with oily skin
Oily skin is shiny, thicker and the sebum production is more than the other skin types. Oily skin can be due to factors like hereditary, puberty, cleanliness etc. Oily skin is prone to acne and other skin problems in the form of whiteheads, boils blackheads etc. Men with oily skin have to be extra careful as that can leads to pimples and infections more often as they have to shave regularly.

Tips to treat oily skin, Skin care tips for Men with oily skin

Avoid soaps
Harsh soap bars can lead to dryness, these bars will strip the natural balance and the natural fats from the skin. This dryness will lead to more oil and sebum production hence more skin problems. Choose glycerin based cleansers or gel based which are mild yet removes excess oils.

Exfoliate the skin

Exfoliation is extremely important since dead skin cells may clog the sebum filled pores which in turn lead to blemishes and acne. A good way for oily skin care for men would be to regular scrub or exfoliate the face. You can either use facial scrubs or use products with AHAs (Alpha Hydroxy Acids) or retinols or glycolic acid which loosen up the outer skin layer of dead cells. Always use moisturizers after the exfoliation for a good skin care regimen.

Moisturizer for men

Moisturisers help maintain the pH balance and the skin feel and stay hydrated. Moisturiser also balances the other drying products which you may have used. Men's skin is tougher than females thus, men with oily skin should go for light moisturisers, and in fact in India where humidity and temperature is high, light moisturizer will work well.
Clay packs for men's oily skin

Clay packs/mud packs makes sure that the excess oil or sebum are removed from the skin surface. Lay has properties to absorb oil yet not over drying the skin. It is recommend that using clay masks once or twice a week will also keep the pores clean by deep cleansing.
Acne and pimples for oily skin

When men are facing acne then it is important that they should take extra care since the marks behind the acne can't be covered with makeup which is easier for the women to do. So, when there is bout of acne then use tretinoin, retinol or clindamycin phosphate gel. To further speed up the acne treatment, you can also use the face masks for acne and pimples, which are made with herbals product like neem, clove, tulsi, turmeric etc.