Smokey Blue eyes and Coral Lips party makeup Look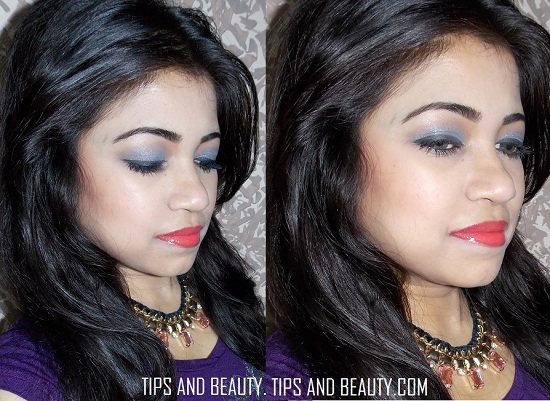 Hi girls!! Today I am sharing this smokey blue eye makeup paired with corally lip with you. In this eye makeup look. I have done my eyes with a bluish grayish eye shadow. This eye shadow is a cool toned color thus, I matched it with a flaming corally orange coral. This coral lipcolor is a lip gloss from Lakme. I actually did I this look with few Lakme absolute products. This is a look that one can pair with an Indian outfit like a blue anarkali suit for a wedding, sangeet or mehendi occasion. While this smokey blues eye makeup can also be paired with a nice little black dress. So, let's check out how exactly I did his look:
Steps for this Smokey Blue Eyes with Coral Lips Party Makeup Look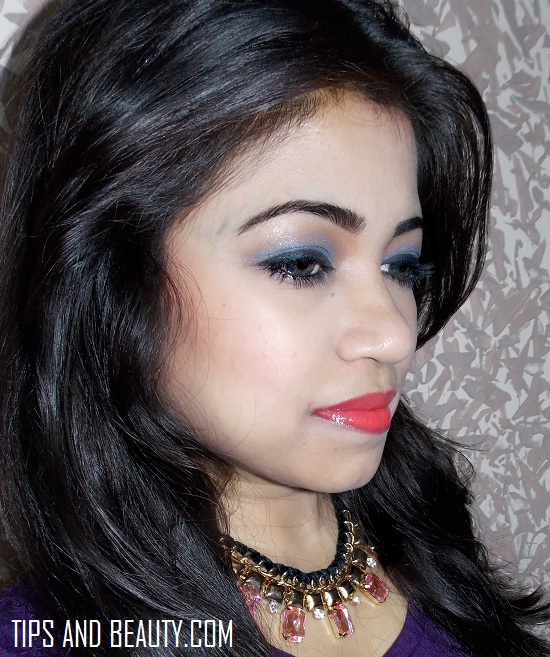 Face makeup
I started off by using a face primer so, that my face looks even tone and pores are filled. We love the poreless and flawless skin. Right Girls? 

I then used my Oriflame Studio artist foundation in Olive beige and applied all over the face with the finger tips. If you want a brush, Then you can also use a brush.

Then I dabbed on some compact over that as the foundation is slightly dewy on my skin. Therefore to achieve a matte shine free face, I used my Revlon moisturizing compact powder.

I used my Sleek face contour kit to five some definition to the cheeks and then applied Sleek blue in coral. I just applied that very slightly here.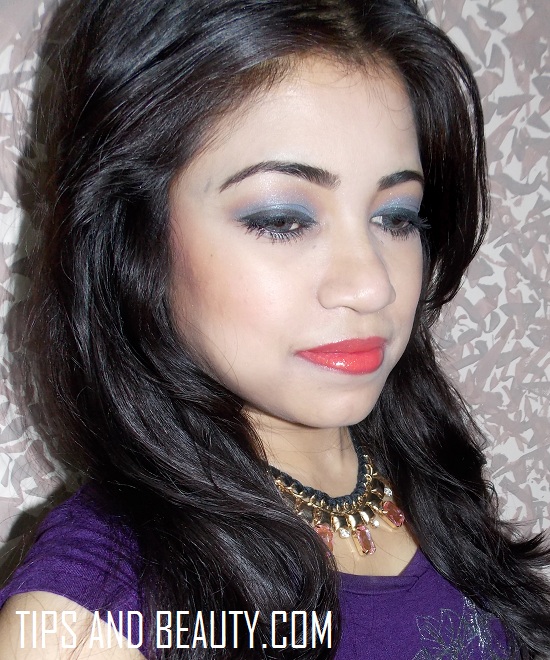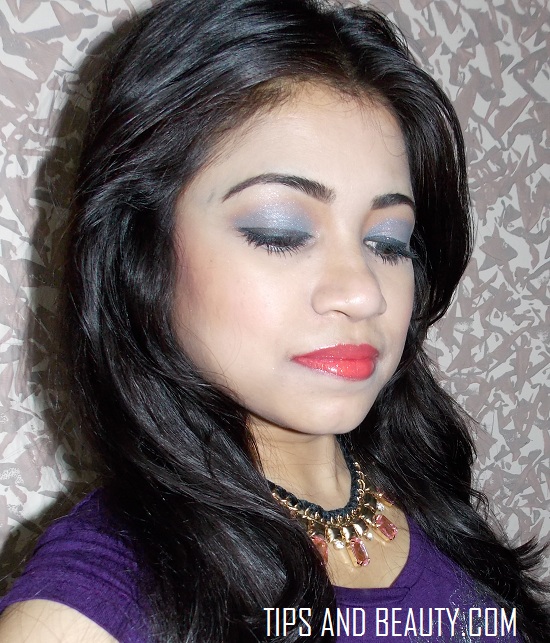 Eye makeup
I start my eye makeup always by filling my eyebrow. So, that they look in shape and any patches or gaps are filled.

I then applied ponds BB cream which I am using these days as a eye primer. Yes, you can do that. :)


After then I took a medium brown eye shadow on my blending brush and blended over my crease.

Then I applied some of the Lakme absolute smokey pearl eye shadow and dabbed that on the eyelids. I loved the Lakme absolute eye shadow in smokey pearl. This is truly grayish blue color with fine duochrome blue and silver shimmers in it.

After This I used Gold Pearl eye shadow from the Lakme absolute only and used that on my brow bone. You can use any medium gold eye shadow. This step gives a nice glowy effect. This also makes the eyes attractive.

I then used my essence gel eyeliner and lined my eyes.I also used some kajal.


After this I used mascara and I am done with the eye makeup. :)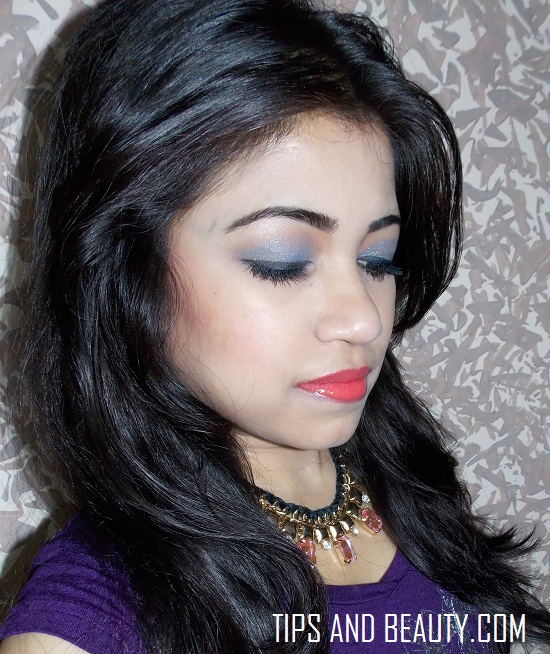 Lip Makeup
For the lips, I chose a corally coral, so I have chosen Lakme absolute gloss stylist in sunset which is a beautiful corally orange color.
I think Colorbar Peach crush will also look good with this eye makeup. If you like light lip color, then use a pink lip gloss or mauvy pink lip color.
So, that is all girls. This is how I did this look. This was easy and you can do this with your Indian and western both attires. :) By the way, there is not necessary that you will have to use the same products. You can use similar products like any other blue eyeshadow, foundation etc. :)