Soft Eye makeup with Pink lips Makeup look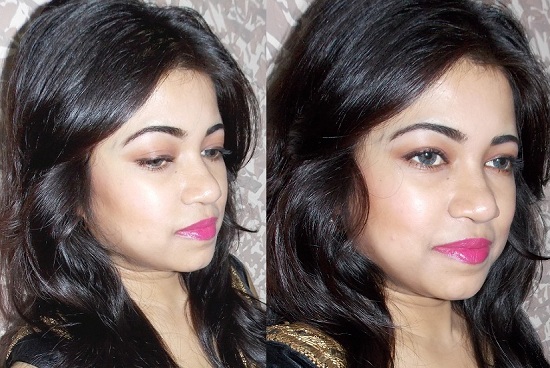 Hi girls! Today, I will share my go to look. This is a go to look which I can wear for everyday unlike the smokey blue yes with coral lips that I did recently. :) In fact, most of you can try this for work, office or even college without looking over the top. For this look, I have paired soft and subtle eye makeup with brown eyeliner and paired this eye makeup with pink lips. The pink I have used here is more like a plumy pink lip color, or you can say this is a mauve pink color. So let's check out friends, how I did this easy makeup look.
Face Makeup
I used face primer first of all. I use Nyx face primer since I have oily skin. And that is a gel based primer which works the best for me. :) I didn't use the foundation rather I used a BB cream in this makeup look. So, chose Ponds BB cream. I like this BB cream as even in summer time. This will not make my face greasy or oily.
I use the BB cream by taking some on my fingers. I take only a tiny blob of this cream. Then I will dot this all over my face and blend this. And I am done. :)


I then used a compact. My current favorite is faces cosmetics glam on compact but for this makeup look, I used the Revlon compact powder, yes, the same Moisturizing powder. That powder is really wonderful and quite affordable too. This is the only Revlon product that I like.

So, after applying the compact on my face. I also did some countering on my cheeks with a contouring powder Like Sleek.

If you have never tried contouring. Then girls, I will suggest that you should try as this look really good in photos. This actually helps in slimming down the features like my chubby cheeks. :)

Then I just used the Maybelline blush in peachy sweetie very lightly. You could also use a peachy blush with this look.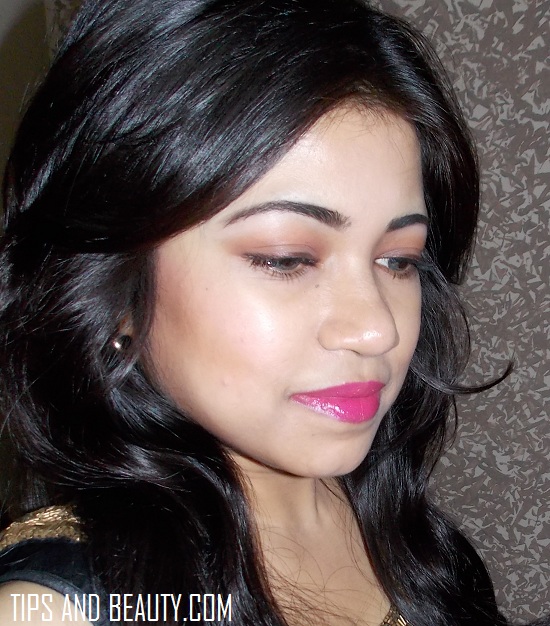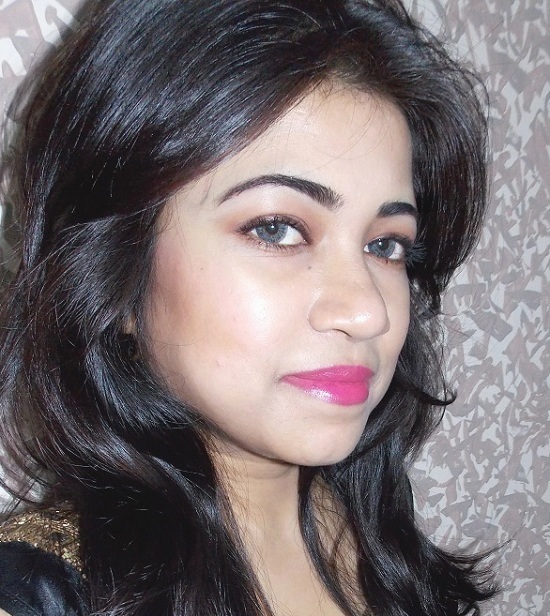 Soft Brown Eye Makeup
I filled in my eyebrows first. Then used a brown eyeshadow on the eyelids and crease.

I also applied a very light and shimmery gold eye shadow on my eyelids. Now that is the time to line the eyes, So, I used a brown eyeliner as an eye brier. This liner is from L'Oreal Paris gel matic eyeliner. You can use any coppery brown eyeliner that you like.

I used mascara to complete this eye makeup.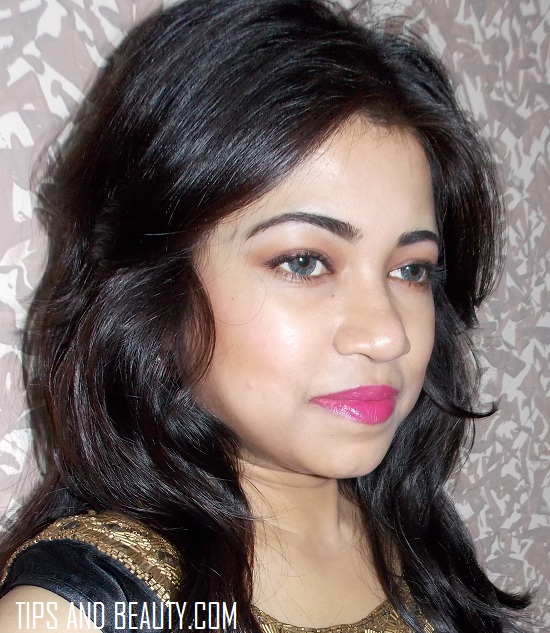 Lip makeup
For the lips, I used L'Oreal Paris Moist matte lipstick in Glamor Fuchsia but that is a very deep magenta fuchsia color so, I lightened that color by mixing this with Avon True Rose lipstick.

I think if you like using bright lip colors then you can also use a hot pink or even an orange lip color will suit with this look.
So, girls wasn't that very easy to do. I loved the soft eye makeup this time. This actually looks soft, subtle yet pretty. What you say? :)

You can try this look for office, college etc. This is good for parties where you don't have to dress up a lot. Like a casual get together or a meeting etc. If you are going for lunch date then too such a soft makeup can work.