Soulflower Cold Pressed Jojoba Carrier Oil Review
Jojoba oil is really getting very popular these days since it has loads of skin care and hair care benefits. I will review Soulflower Cold pressed Jojoba Carrier Oil. This Jojoba oil is extracted from the cold pressing technique which makes the oil pure and free from any chemicals. Such oils are suitable to be used for the skin as well, if they are advised. Jojoba oil in general has comedogenic rating of 2 which means that it is mild and less likely to clog the pores therefore; it can be used by combination to normal to dry skin type. Read on this review on soulflower cold pressed jojoba oil.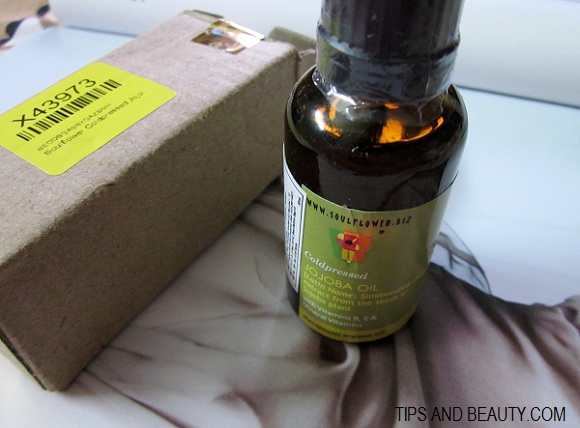 Price of Soulflower Coldpressed Jojoba Oil:
This oil is priced at 450 Rupees in India for 30 ml only and can be bought from here online.
Review of Soulflower Cold Pressed Jojoba Oil
This Jojoba oil is packed in a dark small 30 ml bottle with a black cap. It has a stopper at the top which allows the oil to get poured drop by drop so that there is no wastage. The bottle is dark so that this carrier oil doesn't get bad or rancid when taken out in sunlight. The oil doesn't have any characteristic fragrance. It is pale yellow, light weight and non greasy oil. I use this oil primarily as a hair serum, when I bought this. When my hair is semi dried, I will use some of this hair oil, around 5 drops and ran my palms lightly all over my hair. It really helps smoothen and soften my hair. While combing my hair, it aids in detangling hair as well but if you have extremely dry hair then it will not work very well for you.
This Soulflower cold pressed Jojoba Oil also keeps the hair frizz in check up to some extent and doesn't make hair oily at all. I will just lightly run my hand over the outer surface of the hair and a lot of frizzy hair will get settle down.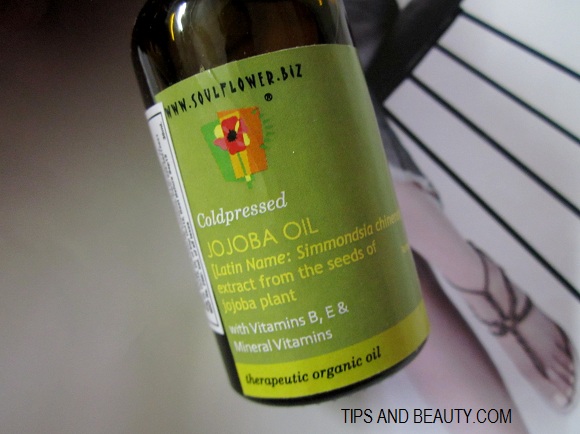 I also use this soulflower cold pressed jojoba oil to take off my make up like the waterproof eyeliner, mascara and foundation. As this is a oil, it helps disintegrate the waterproof makeup very easily and without much tugging or pulling. Later on I will wash my face with a mild cleanser or cleaning milk.
I have combination oily skin therefore I don't this jojoba oil on my entire face but since my cheeks are normal and non oily, I use this oil over my cheeks during winter at night, so that the dry patches can be healed.
Jojoba oil has vitamin E which nourishes the dry skin and my mum who has dry skin, she uses this soulflower cold pressed jojoba oil for her face and this oil does help her to get a glow. Night time is the best to use oils on the face since for the day time as oil will attract the dust and pollution to stick on the face.
This oil is also good to be used on the scalp to nourish the scalp and hair follicles with its nutrients and vitamin E. This soulflower cold pressed jojoba oil also helps to treat the dandruff as it is anti bacterial and anti fungal. It also helped me eliminate few pimple marks that I had on my cheeks. I did not sue it on my entire face but only on the marks at night. It really faded those marks.
Rating for Soulflower Cold Pressed Jojoba oil: 4 out of 5
This soulflower cold pressed jojoba oil may not work for very dry hair or very oily skin but it really helpful for skin care, hair care and cane prone skin. This jojoba oil is also good to prevent lines and wrinkles for dry skin. It deeply nourishes the skin and gives a radiant glow.