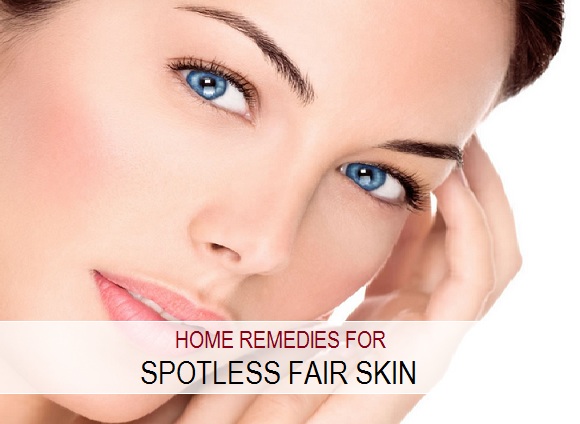 Spotless fair skin is what most of us want. Spotless skin means a flawless glowing even toned complexion. But due to acne scars pimple marks, dark spots or due to the hyper pigmentation our skin may appear patchy and far from spotless. There are some skin lightening creams and fairness skin care products that claims to give spotless skin within few days or in a short time but do those creams for dark spots, marks etc really work. I doubt them as I think natural home remedies are best way to get spotless fair skin at home rather than spending money on those products. Herbal products and remedies fetch long lasting results and benefit the skin in a lot of different ways like to protect skin from dust, dirt and pollution. Later in the post, we have also shared some more tips like precautions and diet for the spotless skin.

Remedies for spotless fair skin at home
We will share some effective home remedies which will help to get a spot free clear glowing fairer skin. These beauty tips are great for skin whitening as well. Proper skin care is also needed for spotless skin tone and smooth texture.

Face Packs for Spotless Fair Skin
Face packs are ideal to make get spotless fair skin as they deeply nourish the skin and get rid of the flaws like blemishes, pimple marks, hyper pigmentation etc.
1. Papaya and honey face pack for glowing fair face
Papaya and honey both are very amazing ingredients to prepare a face pack/mask which makes skin flawless, clear and brighter. This face pack has the goodness of papaya which has skin lightening qualities as a result of which skin becomes smoother and fair. When the skin is fair and glowing, it appears spotless. This pack also eliminates the sun tanning which causes patchiness on the skin and the dark spots or the pimple marks which will refrain the skin from looking spotless. Use this face pack every other day for a naturally spotless fair skin. Mix papaya and honey and mash it. Apply and wash after 20 minutes.
Read: Home remedies for blemish fee skin

2. Oatmeal and honey pack for smoother spotless fair skin
This face pack is ideal for all skin types and ensures a spotless fair skin easily. You can try this pack after coming from the sun so that the tanning can be lightened. This home made oatmeal face mask is also very beneficial in improving the skin's texture and complexion. Oatmeal will mildly scrub the dead skin cells and makes skin spotlessly fairer. To prepare this spotless fair skin pack. Take 2 teaspoonful of oatmeal and mix some honey. Apply on the face and wash after it gets dry.
Read: Remedies for hyper pigmentation
3. Tomato and curd for even toned spotless skin 
Skin also look patchy when there is sun tan and hyper pigmentation especially on the jaw line. So, to get rid of the hyper pigmentation and to achieve a spotless fair skin using this tomato curd/yoghurt face pack will definitely help. Mix some tomato juice with some yoghurt and mix it well. Apply on the face as a pack and wash after 30 minutes. Try this every other day for better results. You will notice that the marks, dark spots and patchiness will be reduced noticeably and the you get spotless fair skin naturally with this home remedy.
4. Gram flour turmeric pack for spot free skin
This is one of the most popular home remedies for spotless fair skin. gram flour is known as besan in Hindi and has tons of benefits for the skin. You can try besan face packs, besan homemade ubtans or can be used in the natural remedies for hair removal. Besan packs with turmeric powder are also mentioned in Ayurveda as this pack has skin healing, skin lightening benefits. It also removes the whiteheads and blackheads efficiently. To prepare this pack for spotless fair skin with besan. Take one teaspoonful of besan and add 2 pinches of turmeric powder. Make a paste of it using milk (for normal to oily skin) or milk cream (for dry skin). Apply a thick layer on the face and let it dry. Once it is fully dried. Scrub it off and wash with water. It will soon give spotless fair skin. Men too can try this face pack for improving the skin tone and complexion.
Read: Home made face packs for glowing skin
Homemade Massage lotions for spotless fair skin
To get spotless fair skin, there are certain massage lotions or skin tonics that you can try which will further accentuate and hurry up the process of getting spotless clear brighter face. These tonics are not face packs which you need to wash off rather they should be left for overnight which will give faster results in making the skin free of spots and marks naturally. These treatments are overnight cures.
1. Cucumber juice lotion for fair spot free skin
This will lighten the skin complexion and any marks that you have on the face. This cucumber juice face tonic helps in getting a spotless fair skin. This lotion will also tone the skin and firm it. It makes the skin spotless within 7 days.

Take one teaspoonful of cucumber juice and apply that on the face.

Leave it overnight and wash the face in the morning.

This should be done daily when possible.
Read: Home made skin toners

2. Lime juice and turmeric for blemish free skin
This tonic is mostly for getting a fair skin complexion faster at home as it has lemon juice and turmeric. Both of these are very powerful skin whitening ingredients which gives spotless fair skin within few days.
Take one teaspoonful of lemon juice

Add one teaspoonful of turmeric in it.

Mix it well and apply on the face.

Wash in the morning for smooth marks free skin

Repeat this on daily basis for better results
Read: Skin whitening face packs at home

3. Milk and turmeric for spotless fair skin
This is yet another great remedy to get spotless fair skin overnight  and a toned pimple marks free skin. This will not only make the skin spot free and whiter but a good treatment for whiteheads and blackheads.
Take one teaspoonful of milk and add one pinch of turmeric powder.

Massage on the face and leave on for overnight.

Wash in the morning.

Repeat this everyday.

Face Scrub for spotless fair skin
Now there are great scrubs too to get spotless fair skin apart from the packs and tonics. These scrubs will exfoliate the facial skin and gives a min massaging to enhance blood circulation which will eventually make skin spotless and fairer within 3-4 days.
1. Rice flour facial scrub
Take one teaspoonful of rice flour and make a paste with some water. Use this to scrub the face for 2 minutes and then wash off. This can be tried 2-3 times depending on the skin type for a fresh spotless fair skin.
2. Sugar lime juice face scrub
Sugar scrub can be used for face, neck, body or the lips. This sugar scrub has so many wonderful benefits for the skin which makes the skin spotless and fair.
Pimple and acne care for spotless fair skin
Pimple and acne are the primarily cause when the skin doesn't look spotless and fair so to keep the skin spotlessly fair, proper acne care is needed. For that you can read article on how to get rid of pimple marks and Ayurvedic face packs for pimples.
Extra Beauty tips for spotless fair skin
Sunscreen: Sunscreen makes sure that the skin stays protected from the sun's harmful rays which darkens the complexion and causes age or dark spots.
Water: Water keeps the body and skin hydrated. Dehydrated skin appears patchy and lifeless. Drinking enough water will make the skin glowing and it becomes easy to achieve spotless fair skin.
Cleansing: Proper cleansing of skin is also important if you wish for a spotless fair skin. Unclean skin can be an easy target for whiteheads, pimples, blackheads and other skin problems which will prevent the skin from looking spotless and fairer.
Diet: A proper diet is also essential if you want to get spotless fair skin. Eating a balanced diet with fruits and green leafy vegetables will keep the skin healthier and glowing.