Sugar It's A-Pout Time! Vivid Lipstick That '70s Red Review: Hello everyone, I am going to review a lipstick shade that is one of my most favorites. I will share this Sugar It's A-Pout Time! Vivid Lipstick That '70s Red review. Sugar cosmetics is new to Indian market and I was introduced to this brand by the Fab Bag. Yes, I used to get Sugar product in my Fab Bag and every since I have used them, I have liked them a lot. So, this lipstick is their It's pout time lipstick and the shade is That's 70s red. By the name it is clear that this is going to be a red lipstick color. So, let's see more on this Sugar It's a Pout Time Vivid Lipstick That's 70s Red lip product. Many girls have actually asked me to share this review on Sugar cosmetics since they are in demand now. So, is this sugar vivid lipstick good. Let's find out!
Price of Sugar It's A-Pout Time! Vivid Lipstick That '70s Red:
599 rupees for 3.5 g of product. You can get this from the online shopping sites.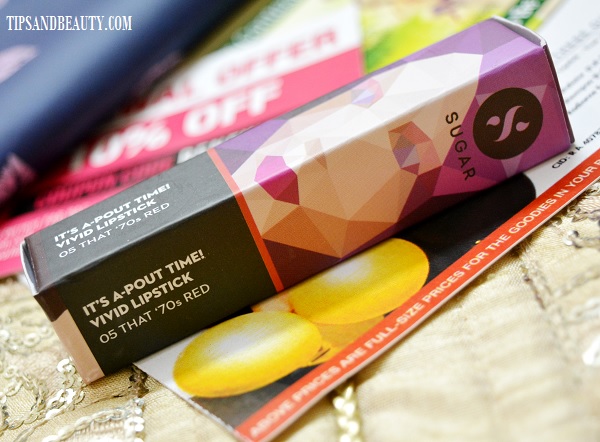 My Experience with Sugar It's A-Pout Time! Vivid Lipstick That '70s Red
Let's start with the packaging first. The lipstick has a rectangular crisp and sturdy black packaging. The material is matte finished and looks really luxurious. I like products that are packaged well and have a sturdy packaging so, that it can care freely put them in my bag or makeup pouch.
The lipstick actually comes in an outer carton so, it is not like you get a lipstick just like that. The outer packaging or carton has all the details about the ingredients, batch no, price, shade name no etc.
The lipstick has a bullet which is slanted and it is very easy to apply I like using such bullets as they look nice and I find them easier to coat my lips with. The cap shuts tight and is not at all loose. Loose caps can create mess in the bag when you keep your lipstick just like that.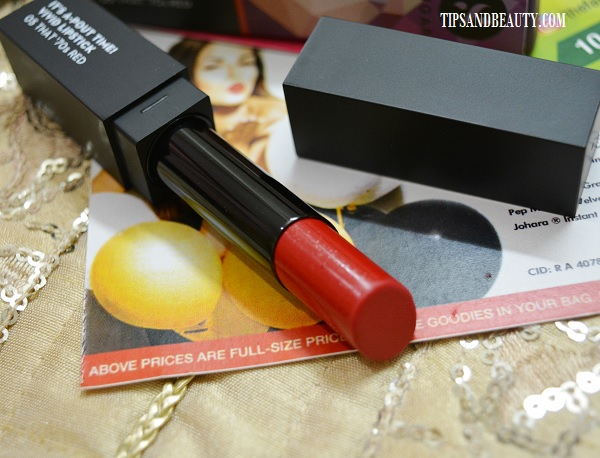 Shade Description:
Sugar It's A-Pout Time! Vivid Lipstick That '70s Red is by its name says that it's a red but what sought of red. Well! it is a pure red which can be said as a fiery red. There are no orange or pinkish tones to this. Just the pure red color. You can surely wear colors like this for Indian wedding occasions, for parties and friend's wedding etc. I like such bold and bright colors as they look fabulous. By the way, Sugar It's A-Pout Time! Vivid Lipstick That '70s Red is a color that will look equally good for dusky skin as well along with the other Indian skin complexions.
The texture as it also says that it is a matte lipstick. But this is not very drying matte but a moisturizing creamy matte. I liked the texture as when my lips get a bit dry then too I can comfortably wear this. Another thing to look out for is the smoothness. This is smooth and glides well over the lips. Some lip products can make your dry patches on the lip accentuate but not with this. Also see the 7 best Colorbar Velvet matte Lipsticks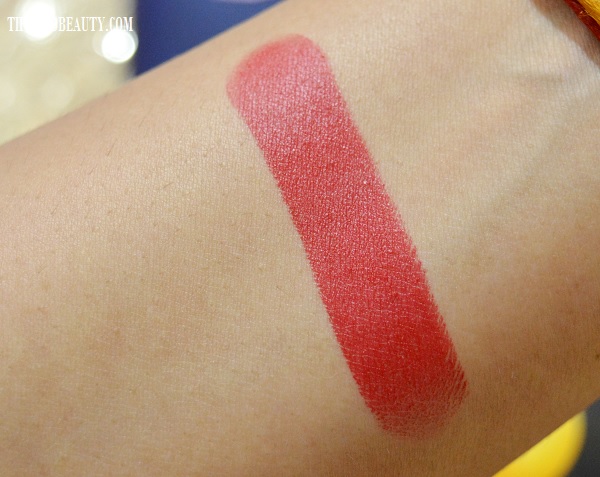 Pigmentation:
The pigmentation or intensity of this lipstick is really good and commendable. You get a smooth intense color in a single stroke. The color is quite opaque so, even if you have dark or pigmented lips, it will hide them seamlessly. The color of your lips will hardly interfere with the finial color that you get after using this lipstick. So, that way the shade and the pigmentation is brilliant.  I loved it a lot!! There is another shade that I love from these, Sugar It's A-Pout Time! Vivid Lipstick range which I will share in my next review friends.
Staying span:
This vivid lipstick stay on for around 5-6 hours on me after which it fades leaves a rosy tint which I admire. This does not get settle down in my fine liens. Also the shade or the texture is not a powder matte but a creamy matte hence this will not settle in the fine lines but creates an even finish on the lips. The formula too is non drying rather bit moisturizing as I say. But if you have naturally dry lips , then applying lip balm prior using this will be beneficial.
Another thing, I noticed is that at times, it will bleed form the corners of the mouth. therefore, I will suggest to use a lip liner. Using lip liner will also make your pout look a bit polished and shaped. I like the color and the overall texture of this lipstick. This can be regarded as one of my best red lipsticks which have a good long staying span plus an intense pigmentation.
I will definitely recommend you to try at least one shade from these Sugar It's A-Pout Time! Vivid Lipstick range since the texture, pigmentation etc is so good for 599 rupees rest depends on you my friends. See the Lakme Enrich Lip Crayon in Red Stop Candid Coral Review
Pros of Sugar It's A-Pout Time! Vivid Lipstick That '70s Red
Beautiful red shade that will suit most of our Indian skin tones
The packaging is sturdy, nice and luxe looking
The bullet is sturdy and not that which breaks from the base easily
The texture is matte yet it is non drying but is not a powder matte lipstick
It glides nicely on the lips and create a nice even toned color
It will not settle down in the fine lines or worsen the dry patches on the lips
Pigmentation is fabulous and it is a one stroke color.
The color is non sticky and is moderately light. I will not say very light since it is not
It does not have mineral oil and parabens as per the claims by the brand
Cons of Sugar It's A-Pout Time! Vivid Lipstick That '70s Red
I would have loved to explore more shade from the range though have 2 of them.
The availability can be a problem but it is available online but I have not seen the availability offline.
Rating: 4.5 out of 5
Final words on Sugar It's A-Pout Time! Vivid Lipstick That '70s Red
Sugar Vivid Lipstick That '70s Red is a beautiful red that every woman can try, the shade will not wash you out or will look too loud on any skin complexion. I will advise you to keep this shade for evening looks though for party wedding etc day time is also appropriate. Right from the texture, pigmentation, packaging, etc everything is good so, you can certainly try it.