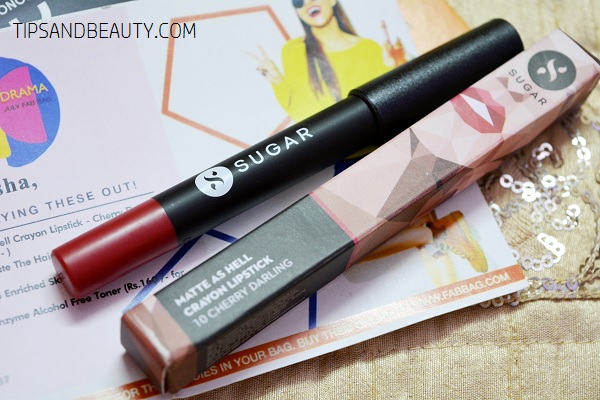 Sugar Matte As Hell Lip Crayon Cherry Darling Review. Hey everyone! I will review the third lip crayon from the Sugar Cosmetics. I loved these lip crayons as they are absolutely matte and have this beautiful powdery finish which is just great. It applies well on the lip and creates a matte finish. I got this few weeks ago and I can't emphasize how much I loved this color called Cherry Darling. These lip crayons have become one of the most favorite of beauty bloggers. These are available in several shades. All the shades are beautiful and must try shades.
Price: 799 rupees for a lip crayon
Experience with Sugar Matte As Hell Lip Crayon Cherry Darling
Sugar lip crayon comes in a fat lip crayon like packaging that is black in color and the lid is also black. It looks good with the cap of the same color of the lipstick shade inside. The creamy texture is fine to make the lip hydrated. Pigmentation of this lip crayon is excellent as this is highly pigmented and can give you that beautiful one stroke rich hue on the lips. Finish is opaque so even if you have pigmented lips this will cover it well. While applying the lip crayon you will feel that the texture is also feather light. There are some lip products which feel a bit light on the lips.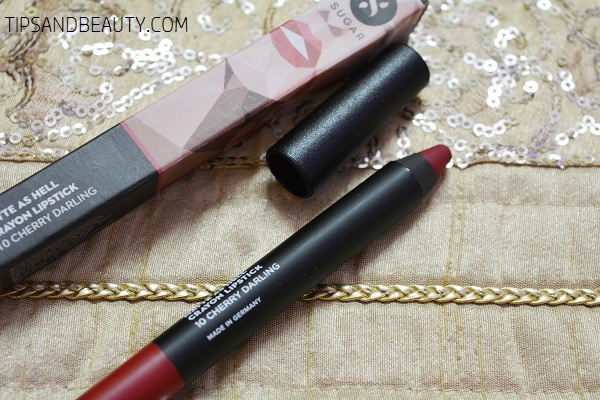 How to apply:
To apply this lip crayon, I will first moisturize the lips as this has a powdery matte texture therefore, it can accentuate the lip peeling. It is not drying but when the lips are already peeling, then it can make them look obvious. Then apply on the edges of the lips then you can fill in. If the lips are dry then apply some lip moisturizer or lip balm. This makes the lip look fuller when the lips are coated with this lip product. The finish is matte and luxurious. The opaqueness is excellent and makes the lips fuller. You can coat your entire lips with this lip crayon and then fill the insides of the lip.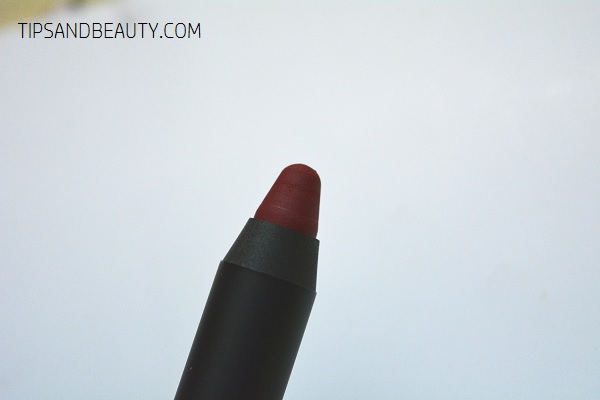 I will recommend that you should apply the lip liner before and then use the lip crayon. The tip of the lip crayon also helps to give a lip liner job done. When the tip of the lip crayon gets blunt, you can use a sharpener that comes along. After few hours, the lip color start to fade from the center of the mouth while you drink eat etc. So, the fading is uneven. It stays nicely or at least 5-7 hours and that actually depend what are you eating and when. So, touch up will be needed when you feel that the lip color is getting faded. It does not get badly patchy but yes, there is fading.
Sugar Pout Time that 70s Red Lipstick Review
Shade Description:
Cherry Darling is a gorgeous deep red color that is appropriate for bride and bridal affairs. You can wear such a color for your Indian wedding functions. Colors deep and glamorous like these will enhance the beauty of your face and your skin looks brighter moreover, when you are wearing Indian wear with gold embellishments then reds and maroons are highly complimenting colors for most of the Indian skin tones.
Best Lakme 9 to 5 Lipstick Shades Review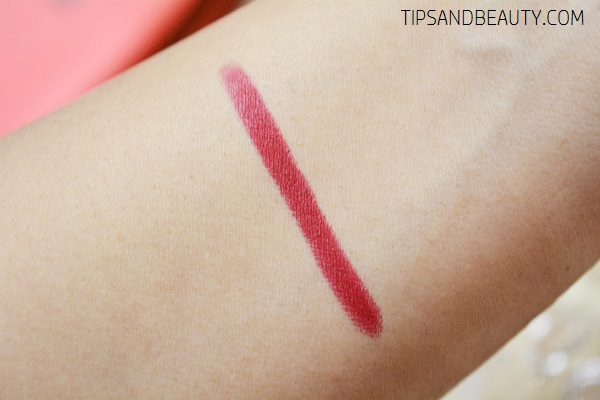 I love this shade cherry darling a lot just like the Scarlett O Hara which was a gorgeous red. I am always in colors like pink reds, reds, oranges. So, for me this is one of the prettiest lipsticks in my vanity which I adore. Not just for its beautiful color but for the pigmentation and luxurious color.
I will recommended this lip crayon for the girls who loves the matte, powdery and velvety finished lip products. These are highly pigmented so, that you get that one stroke rich color on your lips. The sharpening thing do waste the product,but this happens with all the lip crayons things and even those pencil eyeliners. These are truly matte as hell lipsticks which I am sure all of you who adore matte lipsticks will love.
L'Oreal Paris Moist Matte Lipstick in Blaze of Red Review
Pros of Sugar Matte As Hell Lip Crayon Cherry Darling
Beautiful colors for Indian weddings and otherwise
Great for getting that sultry glamorous look
Applies nicely without any lip tugging
One stroke color and pigmentation is superb
Feather light texture
Powder matte formula that ensures absolutely matte finish
Stays for 5-6 hours thought depends on what you eat or drink.
Cons of Sugar Matte As Hell Lip Crayon Cherry Darling
Little expensive
Wastage when sharpened
Availability is seen online only
Rating: 4 out of 5
Sugar Matte As Hell Lip Crayon Cherry Darling is an absolutely stunning deep red color that would not wash any Indian skin complexion but rather has a very complementing undertones for Indian wheatish, dusky and fair skin. It's a shade that you would love to pair up with that beautiful Indian outfit like a saree, anarkali or even a lehenga. You can wear this for both day and night time. New brides will find such colors to be worthy as post wedding there are several bridal ceremonies and rituals where a bride can sport a color like this.