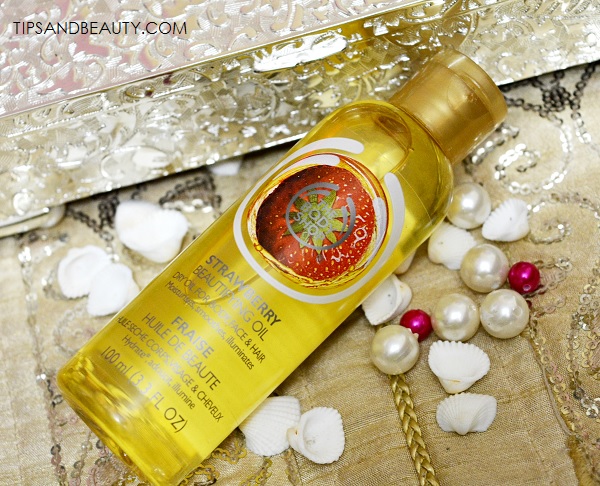 Hi everyone! I will share this The Body Shop Strawberry Beautifying Oil review. This oil is a multi-purpose oil which can be used on the skin, hair etc. There are other variants as well, like the Satsuma, beautifying oil, Moringa, Sweet Lemon, Coconut etc. There are around 10-11 different choices of these The Body Shop Beautifying Oils that you can try. This oil is a light weight oil that is hydrating and can be used for a lot for a different purposes. This The Body Shop Strawberry Beautifying Oil That is rich in the strawberry extracts that is rich in vitamins, minerals and enzyme called Ellagic acid. So, let's read this The Body Shop Strawberry Beautifying Oil review.
Price of The Body Shop Strawberry Beautifying Oil:
This is for 1095 rupees for 100 ml. Yes, it is expensive dearies!!
Claims of The Body Shop Strawberry Beautifying Oil:
Beautifying Oil is pure beauty in a bottle. Made with a lightweight blend of nut oils including Community Fair Trade Marula oil, it gives instant hydration and a shimmering finish. This one has a sweet strawberry scent.  This can be used on the body, face and hair.
It is Contains Cold-Pressed Strawberry Oil and other oils like Kukui Oil, Sweet Almond & Marula Oil. Apply to Damp Skin or Dry Skin and Hair. It hydrates the skin instantly. 
Shelf Life: 2.5 Years.
Experience with The Body Shop Strawberry Beautifying Oil
This The Body Shop strawberry beautifying oil is packed in a very beautiful sheer translucent plastic bottle which is of yellowish gold color. The top part has the flip top cap which is quite tight hence, there is no worrying that the oil will spill. But still I cannot take it in my bag just like that.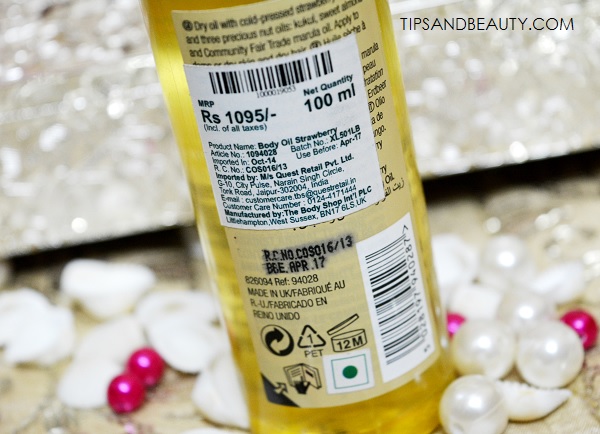 Smell and Features:
The oil smells heavenly of strawberries and it is really mild and soothing. The oil is not a very greasy oil but it is a dry oil which is made from the cold pressed technique. By the cold pressed technique we mean that the oils are extracted from the strawberry seeds with just applying the pressure and that's it. There are no chemicals, adulterants etc involved. In fact, cold pressed oils are the best to have as they are good for use. Like the almond cold pressed oils are good for skin as well. These are the purest forms of the oils which are safe for using on the skin as well.
Texture:
Now coming back to this oil here! The oil is quite runny as I was assuming it to be thick oil  but it is not. I applied it on the back of my hand and I loved the subtle smell along with the nice moisturization feel. The oil is not greasy but has a lightweight texture so, if you like to use it in your skin, then go ahead. I don't think that this oil will be comedogenic in nature. I used it few days on my skin and has seen good changes like the glow, hydration etc.Furthermore, I only used it for few days as I liked more as a body oil and loved that this kind of gives a soft glow on the skin even in summers. I tend to stay away from oily products in summers but this is quite like a dry oil which does not make the skin oily or extremely shiny looking.
Check out the best castor oil brands and how can you try castor oil to treat stretch marks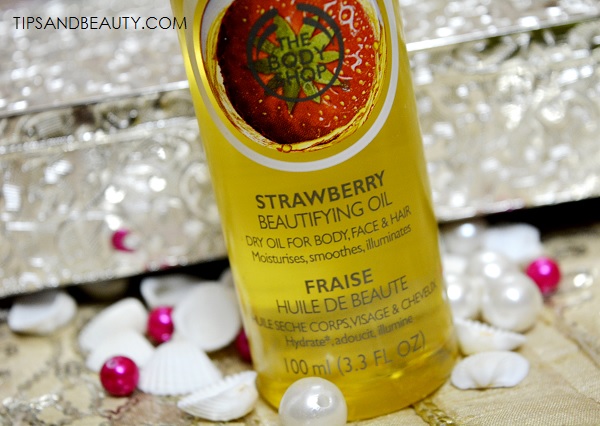 How to use this Beautifying oil
To use this The Body Shop strawberry beautifying oil just take few drops and it gets smeared on your skin in a nice manner. The oil is runny and is easy to spread hence you will not really need a lot of it. The skin glimmers and shines but I did not feel any heaviness due to this. Now this was how this The Body Shop strawberry beautifying oil fared for the skin now coming to the hair part. This oil can also be used on the hair to give the hair a subtle shine but not that typical oil like gresiness and stickiness. I will only take few drops and would massage this all over the hair. The oil gets absorbed and applied on the hair beautifully like there is nothing that you will feel that this oil has stuck only at one place and have made the hair sticky mess. No the light weight dry texture is ideal for hair as well.
Pros of The Body Shop Strawberry Beautifying Oil
Nice packaging which is transparent hence can see how much the oil is left.
Lovely subtle fragrance which is soothing
It needs only few drops not more
This will last longer that way!
It gives a nice sheen and moisturization to the skin without making the skin appear greasy or sticky
Smell is good though it won't linger for long.
The pack is travel friendly with a tight cap but still be careful while carrying it.
When applied on the hair, hair smell lovely
Non sticky and non greasy texture
Cons of The Body Shop Strawberry Beautifying Oil
Expensive!! Yes, it is a bit high on the price but if you can afford then why not!
It may not be very helpful for dry skin and dry hair.
Rating: 3.75 out of 5
The Body Shop strawberry beautifying oil is an expensive product but this is worth it as the oil is used in lesser quantity and applies really well. The oil is not a greasy or sticky oil hence can be used on the face and body skin worry freely. For hair too oils like these are good for subtle sheen and good smell. It can also be used as a cuticle moisturizer and a hand oil.
So, this was the The Body Shop strawberry beautifying oil review! How did you like it? Have you tried this oil yet?
Check out out product review section for more!