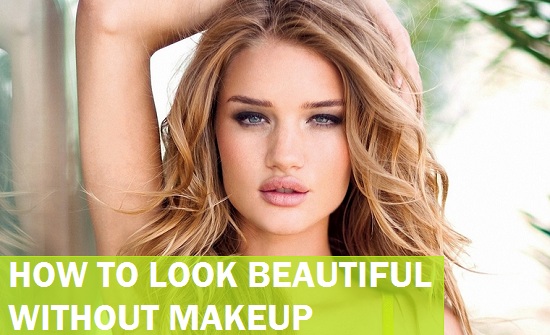 Look beautiful without makeup
When you look beautiful, you get this extra confidence and to look pretty, a lot of us invest in makeup. But  do you know that you can look beautiful without the makeup as well. How? We will share some beauty tips that will help you get the same confidence by enhancing your natural beauty for the skin, hair and body.
How to look beautiful without makeup
1. Skin Care
Beauty begins with proper skin care. Take care of your skin by following a good skin care regimen. Start by face cleanser then apply a light toner and a moisturiser. For oily acne prone skin choose a moisturiser with light non comedogenic formula. When you have beautiful skin then you look beautiful without makeup.

See: Must have products for oily acne prone skin
2. Sunscreen
Sunscreen will prevent the skin from darkening, tanning, sun damage etc. Sun damage can cause the premature formation of several lines and winkles on the face hence application of sunscreen when you go out in sun will keep out ski beautiful.
3. Exfoliation
Skin's texture can be improved with the help of regular exfoliation. Try exfoliating face scrubs regularly once in a week or twice in a week. Scrubbing also removes the dead skin cells and fades the marks from the skin eventually.
4. Hot oil Massaging
Your hair is the most important part of your beauty hence, take care of your hair by giving it extra nourishment by doing a hot oil massaging treatment every week. For that apply warm oil on the scalp, massage and leave overnight. Wash the hair the next day.
5. Hand and feet
Apply hand cream and foot cream every day before going to sleep this will make them soft, smoother and beautiful. Beautiful hands and feet will enhance your overall beauty. Instead of separate hand and foot cream you can apply mixture of vitamin E oil and glycerin as well.
6. Lips
To keep the lips softer apply milk cream every night and for pinkier lips which look attractive, you can try some milk cream and turmeric over the lips. This will eliminate the darkness from the lips.
7. Diet
Diet is extremely crucial if you want healthy skin, hair and body. Eat balanced with and drink plenty of water which keeps the body hydrated.
After all that don't forget to wear your pretty smile, A smiling face always look beautiful.