Best Sun creams and sun lotions for Normal to dry skin in India with Price List
Sunscreens are important part of a good skin care regimen to maintain the healthy skin with no sun tan and other skin problems. Thus, sunscreens are a must have skin care products for all the skin types as it helps to protect the skin against the harmful effects of the UV rays. These sun rays can cause skin damage, premature skin aging and also skin darkening. Dry skin needs sunscreen which gives extra hydration so that the dryness is gone and skin stays moisturized for a long time. We have compiled the list of top best sunscreen for dry skin available India along with the prices. Men too can try these sunscreens.
10 Best Sunscreens for Dry skin in India (2023)
Here are the best sunscreens suitable for sensitive dry skin which gives hydration and sun protection. You will be glad to know that these sunscreens are very hydrating and are of cheap price and expensive as well. Therefore, which is the best price range that you have to decide, we are giving you the best options.
1. VLCC Glow Sun Block Lotion Sunscreen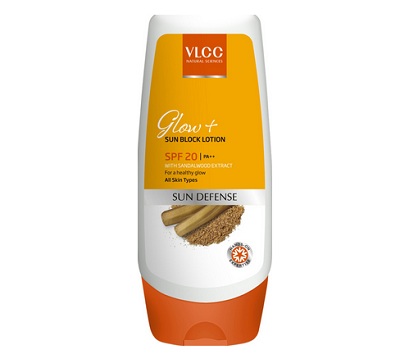 This is a very hydrating sunscreen which also adds glow on the skin.

It has sandalwood extracts and gives sun protection for 3- 4 hours.

Just apply this everyday when you get out in the sun.

It is ideal for summer time too.

Due to the sandalwood extracts the lotion can be applied by the combination skinned ones too.
Price: This VLCC hydrating sunscreen for dry skin is with SPF 20 and is for 150 Rupees.
2. Himalaya Herbals Protective Sunscreen Lotion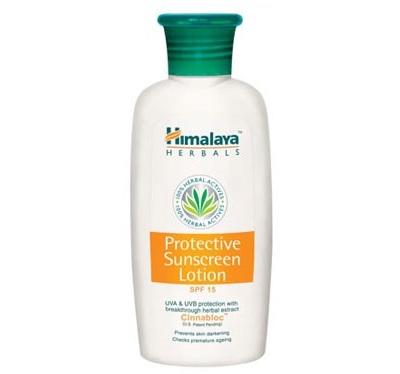 This Himalaya sunscreen has the natural ingredients like aloe vera gel, spiked winter lily, greater galangal, crab apple etc which makes this hydrating sunscreen for dry skin types.

It has SPF 15 which is ideal for daily wear.

Natural herbal ingredients heal the dryness and roughness of the skin
Price: It is priced at 110 Rupees in India.
3. Lakme 9 to 5 Hydrating Super Sunscreen SPF 50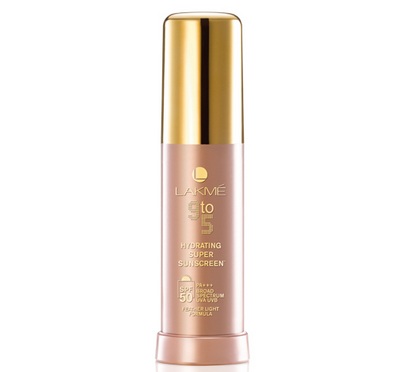 Lakme sunscreen is enriched with vitamins to reduce the dark spots and lightens the skin tone.

It has SPF 50 + that helps to keep the skin protected from sun rays, sun burn and sun tanning effectively.

This variant of sunscreen is good for dry  facial skin due to its hydrating formula.

For people with sensitive skin, this can be an ideal option.
Price: It is for 500 Rupees in India.
4. Nivea Moisturizing Sun Lotion SPF 50
Nivea Moisturizing Sun Lotion SPF 50 gives immediate sun protection and gets easily absorbed into the layer of skin.

This sunscreen is water resistant and has Vitamin E that nourishes the skin, prevent premature aging of skin.

It is quite moisturizing sunscreen lotion for dry skin to provide long lasting hydration.
Price: This is for 300 INR.
5. Kaya Daily Moisturising Sunscreen Plus SPF 30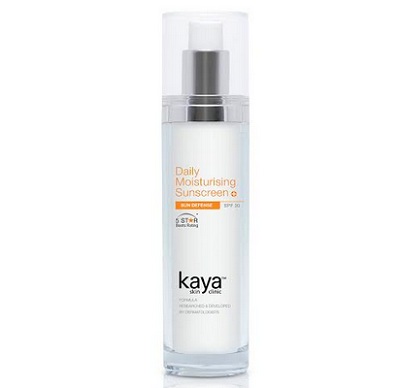 Kaya Daily Moisturizing sun block is a decent Sunscreen for dry skin with SPF 30.

SPF 30 protects the skin from the harmful UVA and UVB rays.

It also provides essential hydration to the skin.

It prevents sun damage, premature aging and the skin tanning.
Price: This dermatologist tested sun lotion is priced at 890 Rupees.
6. Vichy Capital Soleil Protective Sun cream with SPF 50+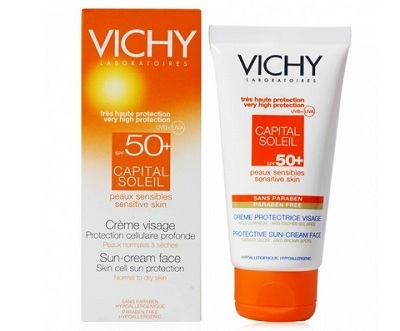 It's a light sun cream which gets absorbed into the skin pretty quick and has a non greasy and leaves no white residue behind.

This sunscreen helps to protect the skin from UVA/UVB rays with SPF 50 plus.

It is paraben free and also protects the skin's upper layer from cellular oxidation.

It also has hyluronicacid for instant smoothening of skin.

One of the best in the high end products
Price: This Vichy sunscreen suitable for dry to normal face costs rupees 1090 in India.
7. Avene Very High Protection Cream SPF 50+ for Dry Sensitive Skin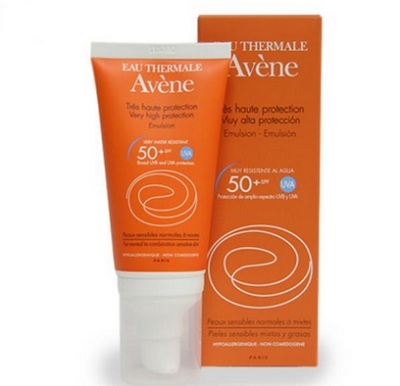 This is a high protection sunscreen lotion which is for the dry sensitive skin.

Avene sunscreen doesn't leave any white residue and is paraben free, silicon free and alcohol free.

It is rich in Avene thermal spring water which has soothing effects.
Price: This Avene sunscreen for dry skin type is for 1250 INR in India.
8. Fabindia Vitamin E Sunscreen SPF 30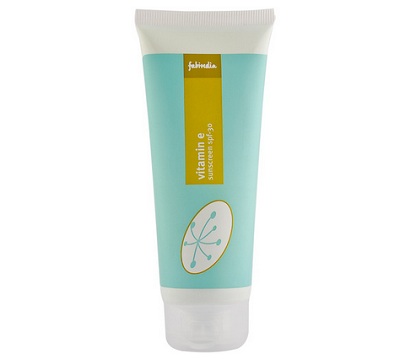 This is a medium protection sunscreen with vitamin E which nourishes the dry skin and comes with SPF 30.

The vitamin E will restore and repair the dryness.

Dryness of the skin will get healed and you get sun protection as well. this is a two in one bonus.

With the presence of Vitamin E in this organic sun lotion, it also gives glow to the dry face.
Price: This is for 300 Rupees in India.
Also See: Foundations for dry skin
9. Lotus Herbals Safe Sun Daily Multi-Function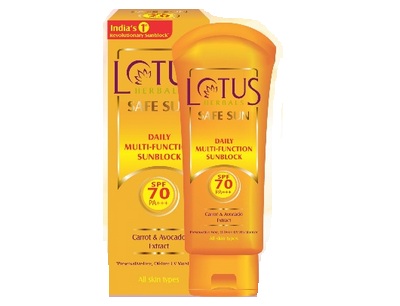 It is a preservative free sunscreen for dry skin type as well with a light formula with herbal extracts.

These extracts give high UVA and UVB protection which prevents the pigmentation, brown spots on the skin, sun damage and premature aging as well.

It has SPF 70, thus is a high protection sunscreen in India from Lotus herbals.

Lotus sun protection products are one of the most popuular ones, which are formulated for various skin types.
Price: 595 Rupees for 60g
10. Biotique Bio Aloe Vera Face & Body Sun Lotion SPF 75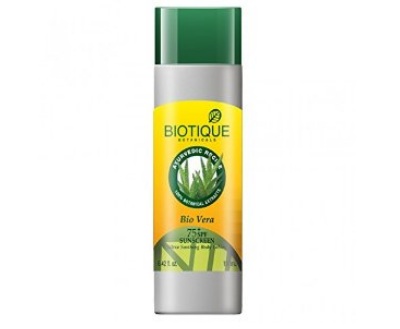 Biotique Bio Aloe Vera sunscreen lotion is rich with nutrients like pure aloe vera, sunflower oil and safflower oils.

These will help to keep skin softer, protected from sun rays and also makes the skin fairer with regular use.

It gives the protection against broad spectrum and is SPF 75 UVA/UVB sunscreen.

Other than shielding the skin from UV rays, it certainly gives you that glow and radiance with its aloe vera ingredient.
Price: This high protection sunscreen for dry skin type is for 580 Rupees.
These were the sunscreens for dry skin In Indian market that one can try. Have you used any of these? If dry skin is your concern then you should definitely read our posts on dry skin care.
Recommended Articles: