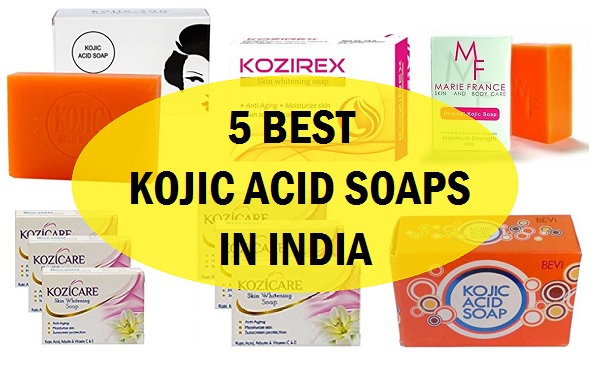 Are you looking for kojic acid soaps to lighten the complexion? Kojic acid is naturally derived from the fungus which is found extensively in Japan. This substance is responsible for lightening the skin tone. But how does kojic acid lightens the skin tone? It increases the cell renewal rate which accelerates the skin smoothness. The darkness of our skin color is due to the excessive melanin pigment and factor like UV rays, certain medications, pregnancy, hormonal imbalance may affect the production of melanin by the melanocytes. So, when the melanin is produced in a lot of quantity then the skin looks darker. Kojic acid works by reducing or stopping the release of more than the required amount of melanin from these melanocytes. Kojic Acid acts as a tyrosinase enzyme inhibitor which then reduces the skin's ability to produce and synthesize melanin.
Kojic acid should be used in 0.5 %- 2% concentration which is considered safe to whiten the skin and to get the naturally fair skin tone. This concentration is used in the kojic acid lightening creams and products like kojic acid soaps, lotions, oils etc. Therefore, always check for the concentration as more than the suggested quantity can be skin irritating and skin can get rashes. To whiten the dark skin, kojic acid is also used with other skin lightening ingredients like hydroquinone, Arbutin, vitamin E, Vitamin C etc. These ingredients enhance the efficiency of the product but at time they can be harsh for the skin. Therefore choose the skin lightening and whitening products safely.
How much time these kojic acid soaps takes?
Most of the times, it takes round 2-3 weeks to show some results. The results will be satisfactory but do not expect miraculous results. It can also be used on the other darker body parts like the dark elbows, hips, bikini line area, inner thighs etc which are darker too. Application should be as per the directions on the packaging.
Best Kojic Acid Skin Soaps in India (2021) For Skin Lightening
Now, here is the list which we have compiled that has the kojic acid skin soaps. These kojic rich whitening soaps should be used once in a day or as directed on the pack.
1. Kojiesan Skin Lightening Soap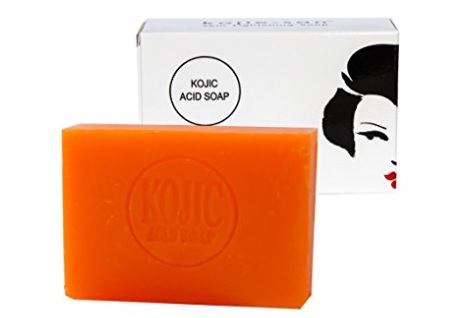 Kojiesan Skin Lightening Soap is used to lighten the dark spots, marks, skin blemishes on the face and body. This is a face and body soap which has the ingredients which are of herbal nature. Ingredients like Vitamin C, Sweet orange, glycerine, kojic acid etc are there in this skin whitening soap. This can be used once or twice in a day. But you should also make extra precautions like suing sunscreen when you step out of the home. Also use a light skin moisturizer when you use kojic acid soaps as their effects can be slightly drying for the skin.
Recommended for
All skin types
https://amzn.to/2C9dMxl
10 Best skin lightening Creams in India
2. Marie France Kojic Soap
This kojic acid soap contains pure kojic acid. It promises to make the skin fairer and even-toned when used daily. Marie France has a very high concentration of kojic acid which makes the skin fairer and smoother but this also means that if you have sensitive skin you should use this with care. The brand claims that it may take around 8-12 weeks to get the visible results. The price is expensive and availability is also not that easy. Online you can try. As an added ingredient papain is also added in this kojic soap which further peels the dead skin layer from the skin. So, in this soap one gets papain and kojic acid benefits which effectively whiten the skin. You can read how to use papaya for fairness at home
Ingredients: 
Virgin Coconut Oil, Aloe Vera, Glycerin, Pure Kojic Acid Extract, Papaya Extract, Vitamin E
https://amzn.to/2F52aN8
How to Use Rice powder for skin whitening
3. Kozicare Skin Whitening Soap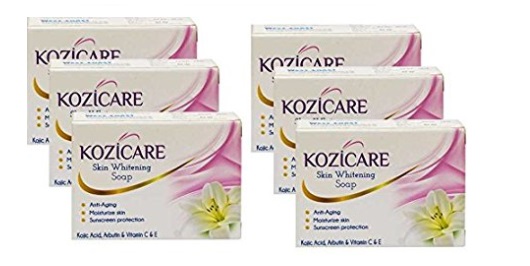 Kozicare whitening soap is rich in the natural extracts of the kojic substance. The soap can be slightly drying for the skin therefore, you can apply moisturizer according to your skin type. We have tried this soap and this was decent and very inexpensive for 85 rupees.
Recommended for
All the skin types
https://amzn.to/33Hl1Iq
10 Best Skin whitening Soaps in India
4. Kozirex Skin Whitening Bath Soap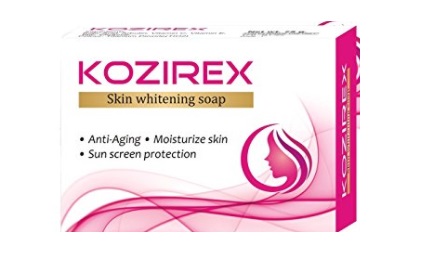 Kozirex soap is skin whitening product that exfoliates the top layer of the skin and aids in the removal of dead skin cells. Dead skin cells are also responsible for an uneven and rough skin complexion. It has ingredients like Kojic Acid, Arbutin, Vitamin C, Vitamin E. It claims to provide sunscreen protection, anti aging benefits and dead skin removal.
Recommend for
All skin types and hyper-pigmentation
Ingredients:
Kojic Acid, Arbutin, Vitamin C, Vitamin E
https://amzn.to/33BPfwp
5. BEVI Kojic Acid Soap for Skin Brightening and Hyper Pigmentation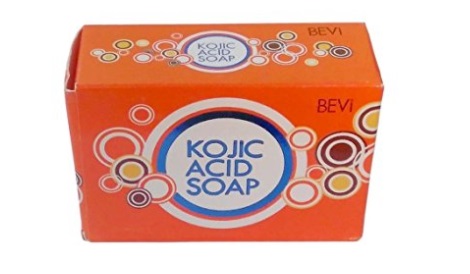 Bevi kojic acid soap is for hyper pigmentation especially as the contents in this soap will help to minimize the formation of the excessive amount of melanin in the skin which causes hyper-pigmentation. The smell is mild and subtle and it can be used for face and body both. But if you will try this for body then the soap last lesser. It can also remove dark areas or skin blemishes such as acne and pimple scars, melasma, hyper pigmentation, dark elbows, knees, inner thighs, bikini area, butt, knuckles, underarms, old facial scars, etc.
Recommend for
All skin types expect for the very sensitive skin
https://amzn.to/2Pybon5
Precautions to take while using kojic acid products
Kojic acid can aid in lightening the skin tone by a few shades and furthermore, they can also reduce the skin unevenness. But extra care and precautions should be take else rashes, burning, itching and red spots can creep up. Let's know what care you should take while using kojic acid or hydroquinone rich products.
Too much usage of kojic acid on the skin can cause the skin to become hyper sensitive. This hypersensitivity of the skin can be prevented by the use of the over the counter topical corticosteroid. Actually when the kojic acid exfoliates the skin then this situation may arise.
Too frequent use of kojic acid rich soaps can also cause allergic contact dermatitis. This happens when you use the product more than the recommended number of times. Use the kojic acid soaps once in day not more than that.
Kojic soap can cause the peeling and dry skin. This happens due to the exfoliation done by the kojic acid.  You can apply a suitable skin moisturizer or cream post using the kojic acid soaps.
Kojic soap can cause sun damage as the low levels of melanin in the skin can cause the skin damage. You can apply a sunscreen over 30 SPF which will protect the skin.
So, these were the best kojic acid skin soaps but do use them with care. Have you used any of these? Do share in the comments!!