10 Best Fairness Face Packs and Skin Whitening Masks in India
Fairness face packs are good to keep the skin tone brighter and to pamper your rough dark skin. In this post, we have compiled this list of the best fairness face packs and skin whitening face masks in India. These packs are ready-made and can be bought online and from the stores. While buying online, you can get some discounts too.
Top Best Fairness Face Masks and Packs in India: (2023)
1. Himalaya Herbals Kesar Fairness Face Pack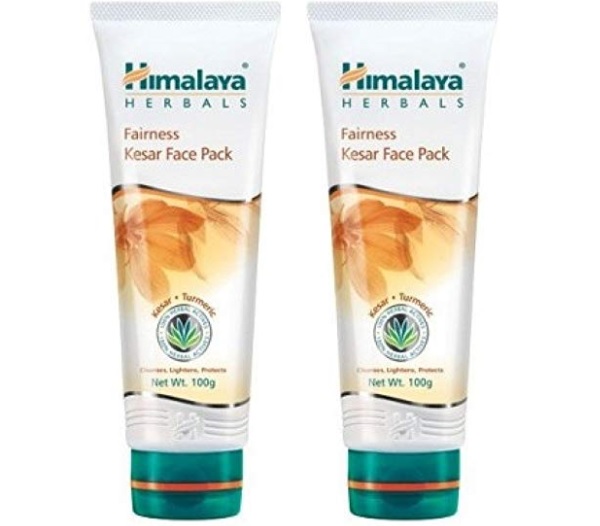 Himalaya Fairness Kesar Face Pack has a unique natural formula that improves skin tone with turmeric, Indian Aloe, Walnut and Saffron to rejuvenate and cleanse the skin impurities. Walnut removes blackheads and turmeric and Saffron enhances skin complexion. It is best for dry skin and glowing face instantly. It's one of the best face packs for fair skin that is affordable.
2. Biotique Bio Milk Protein Whitening and Rejuvenating Face Pack
The whitening and nourishing facial pack is enriched with pure extracts of milk protein, wheat germ, almond oil and honey. The fairness face pack lightens the skin and revives the complexion. This is the best packs for fairness and is for 540 Rs for 175g pack. The application of this best fairness face pack for dark skin is pretty easy and can be used daily just for 15 minutes. 
3. Joy Kesar Chandan Fairness Face Pack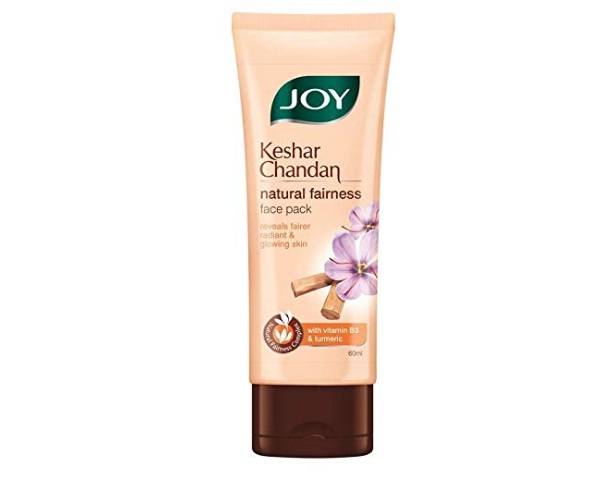 This fairness pack is enriched with the natural ingredients like saffron and sandalwood extracts. It deeply penetrates the skin and improves the complexion. The pack is suitable for the oily skin and acne prone skin as well.
4. Mamaearth Ubtan Fairness Face Pack For Tanning & Glow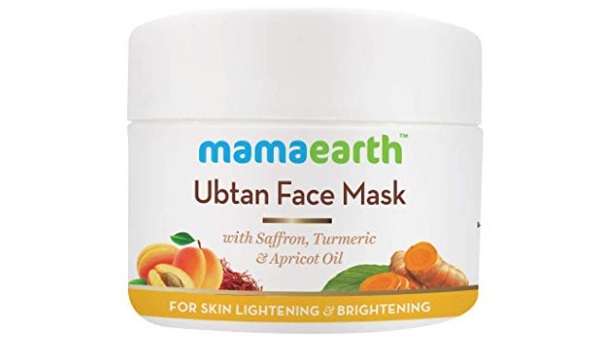 Mamaearth Ubtan Fairness Face Pack induces not just fairness but fades sun tanning and spots. It has plant extracts which reduces acne marks and spots. It makes skin tone brighter and also fights the melanin's excessive release. It's a good fairness face pack for dry skin which is rich in the extracts of Saffron, Turmeric and Apricot Oil and Cucumber which lightens the skin tone.
5. Lotus Herbals White Glow Yogurt Skin Whitening & Brightening Masque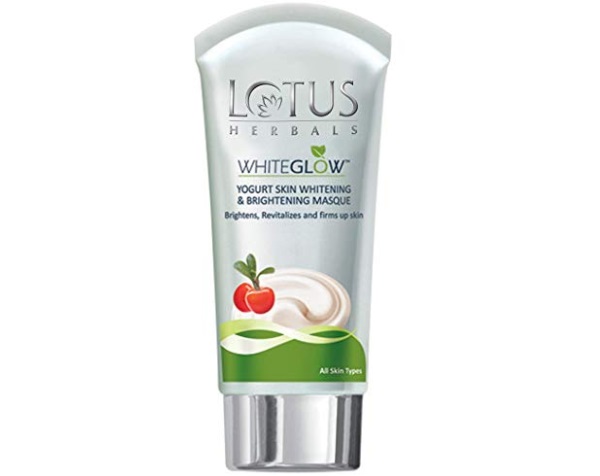 This is the best fairness glowing face pack, enriched with Yogurt enzymes and Bearberry extracts. This improves the skin tone and texture to make skin firmer. People of all skin types can try it. It is a good summer fairness pack for men and women. It is the best affordable herbal pack for oily skin to achieve fair skin tone.
6. Dhathri Fairness Face Pack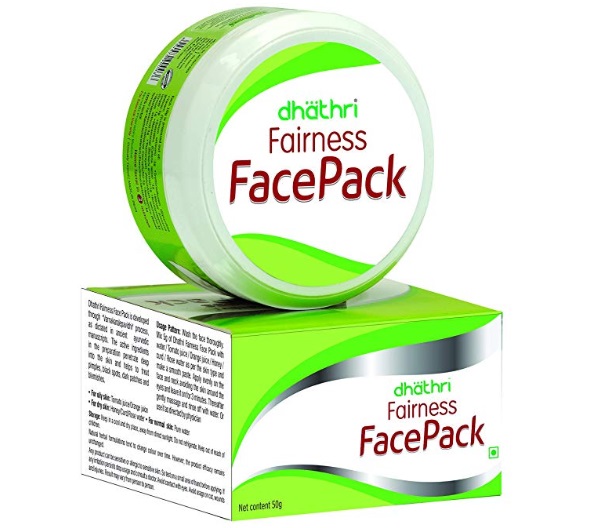 It is formulated with the Varnakaralepavidhi and penetrates deeper into the skin to remove the pimples, dark spots, dark patches, and darkness under the eyes. It is an effective fairness face pack for dark skin. This Ayurvedic face pack is effective for dull and dry skin. Read: White tone face powder for fairness
7. Vaadi herbals Kesar Chandan Haldi Fairness Face Pack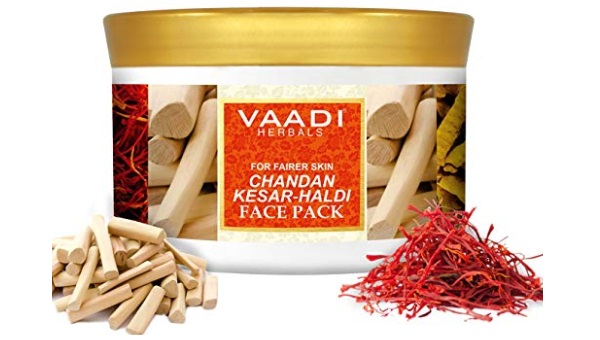 This Vaadi face pack has saffron, sandalwood and turmeric which enhances complexion naturally and helps skin whitening. It also removes blackheads and black spots on skin. The natural fairness face pack makes skin even toned, lightens the skin and reduces dark spots and blemishes. It has natural ingredients like walnut particles which removes dead cells and makes skin softer.
8. Oshea Glopure Fairness Face Pack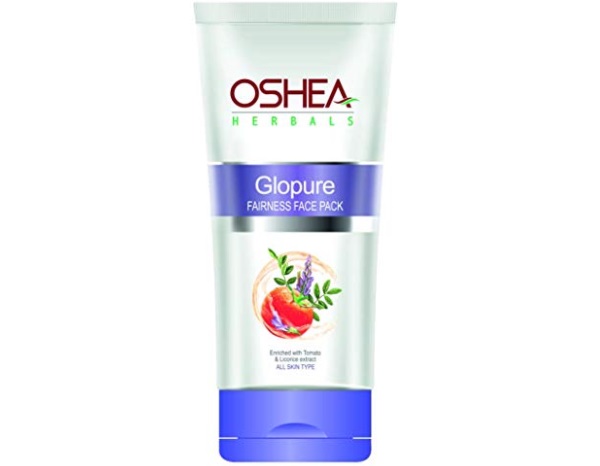 With the active ingredient like extract of licorice or mulethi, this lightens complexion and brings a glow to your face. While you apply this once in a week, it gives a refreshing feel. It's dermatologically tested facial mask to get rid of the darkness, dullness and also pigmentation.
9. VLCC Specifix Skin Brightening De-Tan Pack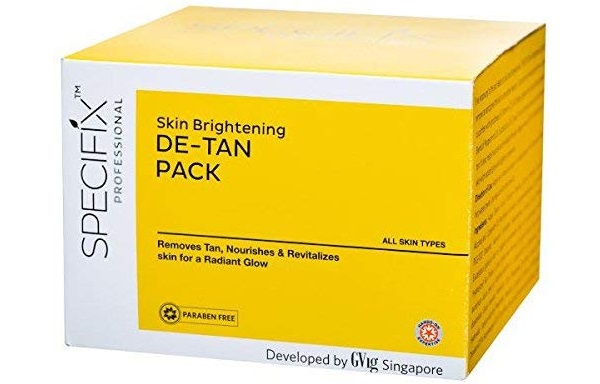 This mask is formulated to visibly lighten the sun tan, dark spots/ marks on the skin. This fairness mask also provides glow and makes skin brighter. Regular application can make the dark spots lighter that they are not noticed anymore. It is the best skin brightening face pack in the market that comes from a professional skin care range. People of all skin types can use this once in a week.
10. Bella Vita Organic De Tan Removal Face Pack For Fairness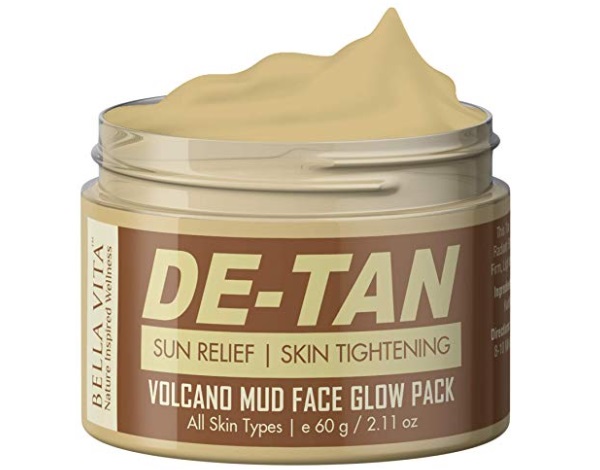 This whitening and detanning face pack has the herbal extracts of Bentonite Clay, Apricot Oil, Poppy Seed Extract, Clove Oil, Vitamin E Oil, Kaolin, Aloe Vera, Grapefruit Extract, Sandalwood Powder & Glycerine which enhances skin complexion. It claims to improve the quality of skin and texture by reduces the sun tan during summers. It also slough off dead cells, skin blemishes and reduces the melanin formation of your skin, making you naturally fair in just few weeks.
11. Biotique Bio Fruit Whitening And Depigmentation & Tan Removal Face Pack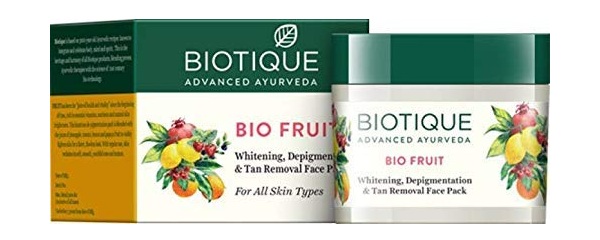 This fruit fairness pack helps skin whitening. It mildly removes the outer skin layer and dead cells to reveal a brighter fair tone. Fruit rich this fairness mask is capable of lightening the dull skin. It's a face pack to get bright skin at home without going to the parlour. It's the best herbal fairness face pack in India.
12. Nutriglow Bridal Glow Facial Pack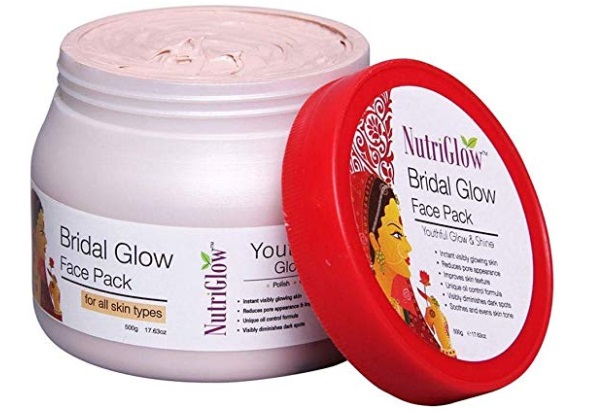 The bridal glow face pack is for fairness and glow. It's basically for dry facial skin but normal skin can also use this. It's not much suitable for oily skin therefore only for rough flaky skin which is dull and dark. It adds radiance and whitening to your skin.
13. Richfeel Skin Whitening Pack

Richfeel Skin Whitening Pack is a special pack made for tanned skin. It removes dead cells and also tightens the saggy dry skin. Mix Richfeel Skin Whitening pack powder with some clean water and make a thin consistency of paste. Apply the paste evenly on face and neck. Once you have applied the mask, let it get dry. After 10 -15 minutes, wash it off. It's the best fairness face pack for combination and dry skin in India.
14. Lakme Clean up Fairness Face pack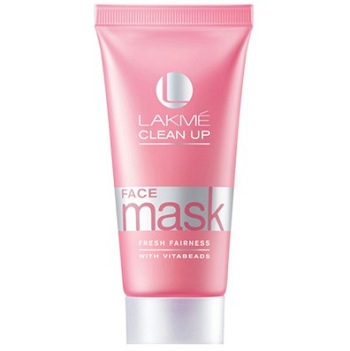 Lakme fairness face pack has vitabeads which enhances the complexion and takes off the extra oils. It is for 225 rupees. It gets dry easily and makes the skin glowing. You can apply it before going to a party.
So, these are the best ready-made fairness face packs available in Indian market. Have you used any of these?Which is the one that you like? You may also read about the homemade skin fairness face packs that you can make at home.