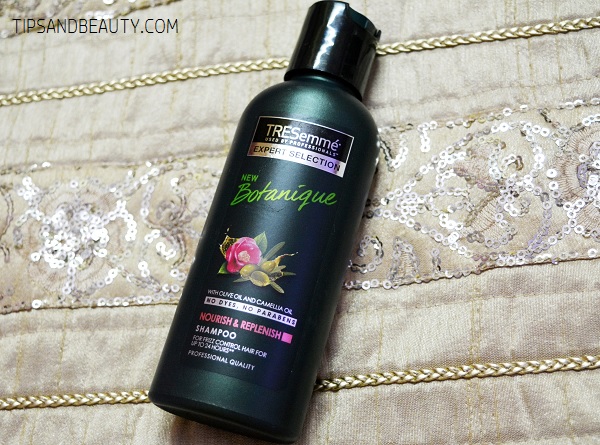 Tresemme Botanique Nourish & Replenish Shampoo Review. Hi everyone!! Recently Tresemme launched two new shampoos and conditioners in their Botinique range. I got both of them few weeks ago from some online shopping site. I will share this Tresemme Botanique Nourish & Replenish Shampoo review. After watching the advertisement that features Jacqueline, I was intrigued to try this shampoo. Even some of my relatives have said good things about these new shampoos. And most importantly some of my dear readers also wanted to know about this Tresemme Botanique Nourish & Replenish Shampoo. The good thing is that this shampoo is rich in the Camelia Oil and Olive oil. Olive Oil is one of my favorite herbal ingredients. So, let's find out friends, if this Tresemme shampoo is truly worth having or not. By the way, I did not buy the conditioner just the shampoo as I thought in anyways my conditioners are not used fully. Moreover, I do not have dry hair rather my hair is quite silky and smoother.
Price of Tresemme Botanique Nourish & Replenish Shampoo:
70 Rupees for 80ml, 120 rupees for 190ml and 580 ml for 440 rupees
Product Description:
It helps to aids in frizz control hair for up to 24 hours. It is expertly crafted system is infused with rich botanical blend of olive oil & Camelia Oil. It also gently nourishes hair, leaving hair feeling moisturized and beautifully soft. The shampoo is free of the Parabens. No dyes and safe for colored treated hair.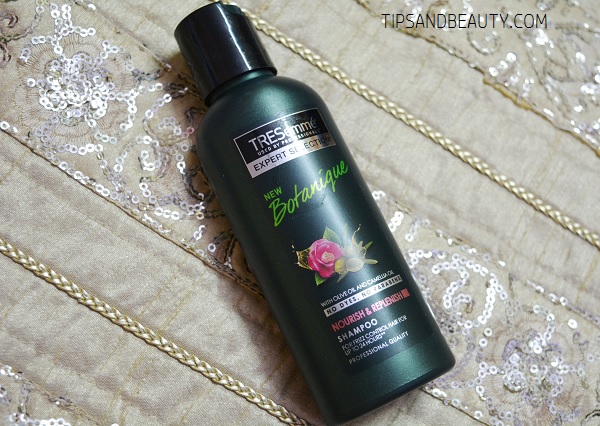 My Experience with Tresemme Botanique Nourish & Replenish Shampoo
The shampoo is packaged in a dark green colored bottle. I find the packaging to be really good and it is also very travel friendly pack. I like that I just have to press the button and the shampoo dispenses easily. The shampoo is clear white in color just like the clear gel like shampoos that you must have used.
Smell and Texture:
I liked the smell of this shampoo a lot. This smells so good that the first time I used this, I was literally smelling it. It smells like sweet coconut milk sweet that we eat. I loved the smell. So, when a product smells subtle and nice then using this also becomes a luxurious and pleasant experience.
Best Biotique Shampoos and Conditioners in India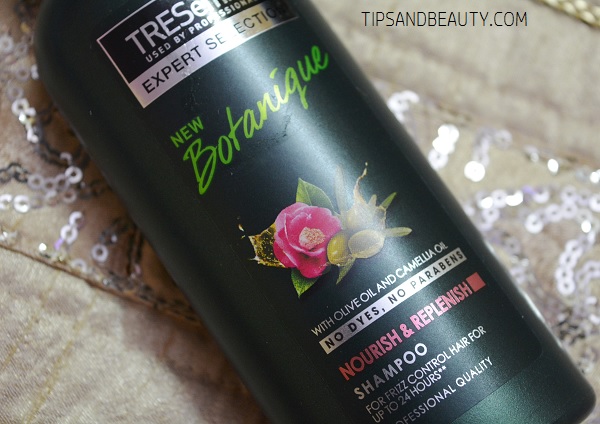 How to Use: 
I only take around a teaspoonful of this shampoo and I have shoulder length hair. So, for me a teaspoonful of this shampoo was sufficient. This lathers so much and gives that sweet smell which is highly refreshing. What I liked the best is that, the shampoo will leave its mild smell even after the hair is rinsed off. My hair is reshreshingly sweet smelling after the use of this Tresemme Botanique Nourish & Replenish Shampoo.
Post washing, my hair feels very soft and silky. I tend to let my hair gets dried as this is the best way to let them get dry unless I am getting very late. So, when my hair is dry, I feel that hair looks smoother and silkier. Honestly, I am in love with this shampoo the way I liked all the shampoos from the Garnier Ultra blends range.
Best Himalaya Shampoos Available in India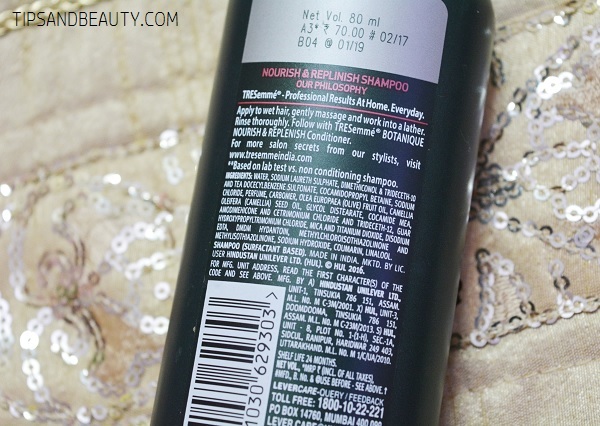 I absolutely loved the Garnier Ultra blends range as tall the shampoos were hydrating, sweets smelling and gives a intense shine and softness of the hair. These Tresemme shampoos are also wonderful for the all hair types. I am not sure how this will turn out for the very dry hair but for girls and guys with normal hair, this is really good.
So, even without the use of the corresponding hair conditioner, this shampoo worked well for my hair type. I loved that the shampoo has camellia oil and olive oil which further nourishes and heals the hair.
12 Best Aloe Vera Shampoos in India
Pros of Tresemme Botanique Nourish and Replenish Shampoo
Inexpensive and travel friendly packaging
Helps in minimizing the frizz to certain extent
It is highly moisturizing and hydrating
Does not make the hair end dry in order to cleanse the scalp or hair.
Lathers well to cleanse the  sweaty oily scalp thoroughly
Sweet delicious smell
It ahs Camelia oil and Olive oil which nourishes the hair
Cons of Tresemme Botanique Nourish and Replenish Shampoo
It may not work on extremely dry hair
Rating: 4.5 out of 5
Tresemme Botanique Nourish & Replenish Shampoo is a very sweet smelling shampoo that lathers really well and have got that beautiful feel while I use it. It moisturizes my hair and give them this shine and smoothness that I love. But this shampoo may not be able to control the excessive frizz and dryness of the hair ends. Apart form that this is a very good shampoo for men and women of all ages.