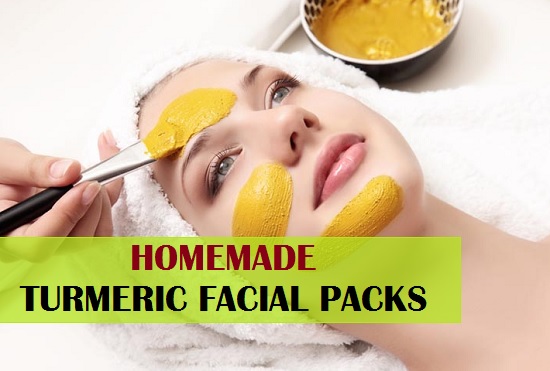 Turmeric Face Packs for Fairness and Glowing skin
Glowing skin is the desire of every woman. We love fair and attractive looking face for which we make several efforts to achieve. Now people are aware about natural way to keep skin healthy and it has wonderful effects on the skin too. But do you know friends that you can get gorgeous glowing skin by using the turmeric  Yes, turmeric or haldi can be used as a fairness enhancing skin lightening agent. It will give you glowing smooth and fair skin. Turmeric can give you instant and permanent light face and enhance your beauty. Let's have a look how you can use turmeric or haldi to become fair, glowing and to cure the acne, pimples.

Turmeric Facial Packs for fairness, glowing skin and pimple cure
Turmeric facial pack with tomato juice:
Tomatoes are rich in vitamins like A, C, K.  This is a good source of anti-oxidants that protect your skin from free radicals. It ensures skin firmness and glow. Tomato juice is very beneficial in treating acne, wrinkles and spots on the skin. With the regular use of tomato, you can feel the change in your skin color and health. Turmeric has anti-bacterial properties that clean your skin cells and removes all the dirt away.  It induces fairness and heals blemishes. Also read: how to use tomato for curing acne and spots

How to make it?
Take one tomato and wash it with water
Now cut it and remove the seeds from inside
Now blend the tomato in a blender
Take out the tomato juice in a small bowl
Add a pinch of turmeric powder in the juice and mix well
Dab a cotton ball and apply this face mask onto the face and neck properly
Wash it after 20 minutes with lukewarm water. This turmeric skin whitening pack will make the skin lighter and cure the acne marks.
Besan and yoghurt with turmeric face pack:
Yoghurt helps in inducing skin's glow and shine. It contains lactic acid that maintains the skin elasticity and makes it fairer and brighter. Moreover, It has essential fatty acids that improve skin complexion and increase softness of the face. It controls wrinkles and fine lines on the face. Besan exfoliates the skin naturally and gives a fairer looking face. Besan or gram flour has iron, vitamins and minerals, which makes your skin healthy and youthful. This is a perfect turmeric fairness ubtan for brides as well who wish to have a beautiful glowing skin on their wedding day.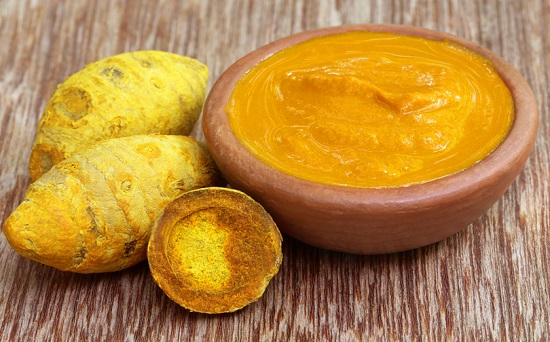 How to use it?
Take 3 full spoons of gram flour and add 1 spoon of yoghurt.
Mix a pinch of turmeric powder and then you need to mix all the ingredients well.
Your ubtan pack is ready! Now apply this mask onto the face and neck
Massage it a little on the face in circular motion and leave it for 20 minutes
Wash it with cold water. Apply this at least thrice a week for the best results in achieving a beautiful light skin.
Turmeric facial Pack with milk and saffron:
Saffron is a skin whitening and lightening agent. It has lots of anti-oxidants and a very soothing smell. Turmeric has anti-bacterial and anti-inflammatory components that protect your skin from sun tan and bacterial spread. It also removes excessive oil from your face and makes it look clean and fresh. Milk on the other hand, is very good home remedy for dark and dull skin. It injects new life to the face by giving it required nourishment and protection. Furthermore, it improves skin tone and reduces pigmentation. Milk has proteins that build the tissue in the body. The high fats of the milk make your face glowing and young.
How to make and use it?
Take a small bowl and add 5 spoons of raw milk in it.
Now add 2 saffron strands in it and let it soak for a while or overnight.
Mix a pinch of turmeric powder in the milk and in the end apply this face mask onto the face and other dark skin areas.
Massage it for a few minutes so that the skin can absorb the natural ingredients evenly
Leave it for 25 minutes and let it dry and wash it with warm or cold water.
For best results, use this mask in winters everyday.
So here were the facial packs with turmeric that will help you combat the dullness, darkness, spots, dark spots and aging of the skin.
Post by Ratna Balani