U-B Fair Cream for Men Price, how to use this cream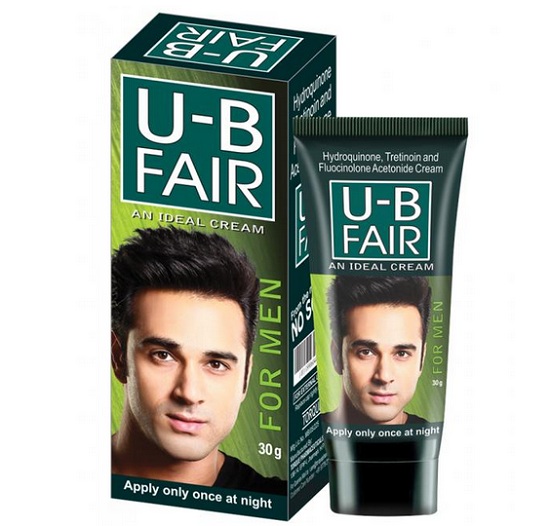 Hi everyone, few days ago, my brother was keen on trying a new product. This is the new fairness cream for men that had been launched. This cream has been endorsed by Pulkit Samrat. So, after watching the ad, my brother said that he would like to try this. So, I thought just like him a lot of you guys will be excited to try this new U-B fair cream. In this post friends, I will share how to use this cream and its price. By the way, this U-B fair cream is from Torque pharma which makes ketomac shampoo, ear drops, eye drops etc. I have used several products from this brand.
Price of U-B fair cream: This cream is for 180 rupees for a 30 gram tube pack
How this Cream works: This is not a regular skin fairness cream. But this has hydroquinone which inhibits and slows down the melanin production. Melanin is the dark pigment which gives the skin its darkness. This also has Tretinoin, which is good for lightening the marks, spots and dark marks from the face.
You must have seen this ingredient tretinoin in the prescribed pimple creams also. I tried a tretinoin and retinol skin cream once which was prescribed by dermatologist at the time when I was having too many pimples and acne. This cream also supposes to lighten the hyper pigmentation in the skin.
10 Best Kojic Acid Creams in India
How to use this U-B fair cream:
This is not a regular skin cream that you use in the day two times and you will get the fairness. But this cream should be used only at night. This is because the ingredients in this U-B fair cream react in the sunlight. So, you have to use this cream on the face only at night when you go to Sleep. You have to just take small amount and massage on the face lightly and leave it. Wash the face in the morning as you normally do.
It will be good if you use sunscreen in the day time when you go out in the sun. So, that the melanin is not produced much. This claims to give good results in 2 weeks but should be used for 6-8 weeks for better results. So, guys this is not just a fairness scream but more of a prescribed cream for fairness, pimple acne marks etc and should be used with care.
I am excited to get this product not for me :) but for my brother. It is because so that he can try this cream and let me know if this works or not. And I can share the review with you people. :) I will share the review soon guys.
By the way, you can check out the review for MeGlow fairness cream for men.
Image courtesy: Torquepharma website