Castor oil to treat stretch marks and blemishes
Stretch marks can be a quite annoying and irritating beauty concern for many females. So, Have you visited various doctor treatments for those rigid stretch marks around your waist and abdomen area? Stretch marks are a common issue that arises during pregnancy and after delivery. At times they can be also due to the sudden weight loss or weight gain. It is very noticeable and looks really bad at the time when you wear saree or crop top. You might have consulted numerous skin specialists for the removal of stretch marks but they can be really expensive at times.Stretch marks are the stripes on the waist line, back and abdomen area caused by obesity, pregnancy etc. You may have tried many oils or creams to cure those marks but hardly such things works. So, in this post friends, we would suggest you the easiest way to get rid of stretch marks with the help of castor oil. Castor oil is good for health as well.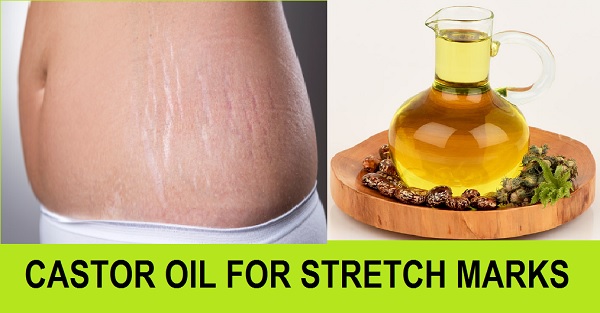 This essential oil is very beneficial to the skin and over all beauty of skin and hair. You can try various castor oil brands that are available here.
Benefits of Using Castor oil for stretch Marks
Castor Oil is enriched with the natural fatty acids and minerals which are known to deeply moisturize the skin.
This natural oil will replenish the lost moisture from the skin cells hence the skin looks dewy and radiant.
Moreover, the oil will also enhance the elastin and collagen production which are known to tighten the skin, hence this oil is a very good oil to treat the sagging skin as well.
The marks that we face with stretch marks can also be lightened by the use of castor oil since this will fade the marks, spots and blemishes etc.
Castor oil has antibacterial and antiseptic properties which helps to fight other skin infections as well.
Furthermore, this will also cure the skin inflammation as this has got the ricinoleic acid in it.
So, here are the remedies with Castor oil for treat stretch marks and blemishes on the body skin. These are the natural ways to lighten stretch marks faster.
1. Hot castor oil for stretch Marks
Castor oil is a good source of vitamin-E that makes the skin elastic and supple. Humectant is a substance that is present in castor oil to promote skin moisturizing. Hot castor oil absorbs easily and deeply into the skin and works more effectively. Moreover, this will also make the skin firmer and tighter.  Let's see how you can try this remedy with castor oil to get rid of stretch marks on the body.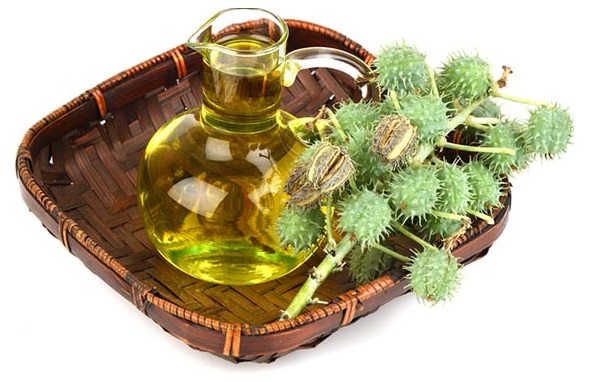 Application to use castor oil
Heat a pan and add 3-4 teaspoonful of pure cold pressed castor oil in it. Heat this oil for less than 40 seconds. Now clean the affected area with a wet cloth.

Apply this oil and massage it in an upward motion first. If the oil get too hot then allow this to get cool down a bit before the application.

Lastly, massage it for a few minutes in a circular motion, now wrap your abdomen with a hot wet towel and let it sit for 20 minutes.

Apply this oil every morning and night to see visible results.

You can also try this homemade stretch marks removal cream
2. Castor oil and Aloe vera gel:
Aloe vera gel is truly amazing product for skin hair and health. Just like castor oil, aloe vera is good for stretch marks removal. It consist essential fatty acids that reduce the stretch marks and stop its recurrence. It is rich in vitamin C, vitamin A, vitamin E that penetrates the skin layers deeply and makes the skin look very smooth and hydrated all day long. Here is how you can try this aloe vera castor oil remedy to lighten the stretch marks on the body parts like arms, thighs, stomach, waist etc. Other than the skin benefits, castor oil also aids hair growth
Method and procedure
Take one aloe vera leaf and remove its thorns from each side, now peel its cover and take out its gel or pulp in a round bowl.

Now, add 6 spoons of castor oil and mix both the things quickly so that no lumps are left. After making a smooth pack, apply it onto the stretch marks and massage it slowly into that skin.

Let it dry for sometime like at least 30-45 minutes. Then rinse it off with cold water. This can be tried every day or just use this at night and leave.
3. Castor oil and tea tree oil for Marks
Castor oil is very beneficial to the skin and overall beauty of the skin. On the other hand, tea tree oil is a very good mark healer. It has rich contents which teats the skin blemishes marks, spots etc and also has anti bacterial and anti fungal properties. This will remove all types of scars and spots as well as detoxify the lymphatic system. It also works great for treating acne and fades wrinkles. Below is the method of usage friends.
Method and process
Take 2 teaspoonful of castor and tea tree oil. Combine castor oil and tea tree oil in a small bowl and then mix them evenly.

Now clean the abdomen, thigh or other affected skin area with a wet tissue. After cleaning, apply these essential oils onto the skin and massage it for 15 minutes slowly.

Be gentle and do not rub it too hard. Allow this to work on the skin for  40-45 minutes.

Lastly wash it thoroughly with cold water. Overnight application is also suggested for this remedy to remove stretch marks from the skin.
4. Castor oil and Beetroot to cure stretch 
marks
Beetroot is an excellent source of anti-oxidants and essential vitamins that helps in reducing any type of scars and marks. Stretch marks can be visibly diminished by regular application of beetroot. You can try any castor oil brand.
Application
Peel off a beetroot and cut it into pieces. Now take out its juice by using a blender.

Pour this juice in a bowl and add 5 spoons of castor juice in it.

Mix all the ingredients well and then apply it onto the stretch marks and massage it for 20 minutes.

Later on, rinse it off with chilled water.
Some extra tips while using Castor Oil
You should use cold pressed castor oil since this is the purest form of castor oil which is not adulterated with any chemicals etc.

While using any of these remedies with castor oil if you face any redness and skin irritations, then you should wash the skin immediately with cold water.

This is safe for everyone, but at times there can be allergies which are unknown for individual's skin.

You should not apply castor oil over the cuts, wounds and blisters.

These remedies should be used at least 2 times in a week or as mentioned for best results.
This is how you can try castor oil for stretch marks and other scars, blemishes on the body. If you like castor oil then do read the other castor oil posts too.
By Ratna Balani