How to use mustard oil for hair for curing loss and Initiating hair regrowth
In this post, we will be talking about how mustard oil is good for hair. Application of Mustard oil which is also called as sarson ka tel is beneficial for hair. With the changing lifestyle and climate, people are going through some major hair problems. Not only that some lifestyle changes and habits are also to be blamed for this hair fall, hair loss, hair greying and balding in men and women. Hair styling treatments like straightening, perming, curling causes high damage to the hair cuticle and scalp that leads to hair fall and eventually hair loss too. Moreover, the highly expensive hair products like shampoos, serum, masks, conditioners, etc will make the hair appear dull, rough and dry with long term usage. As these hair care products contain so many chemicals like silicone, alcohol and SLS that may indirectly affect the functioning of the scalp and hair.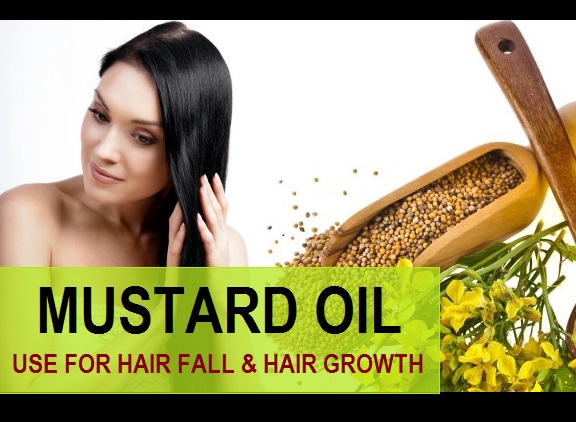 Even young individual are facing hair related problems at an alarming speed, so if you would like to know an easy cure with mustard oil to treat the hair fall, hair loss and hair thinning in males and females. There are several good brands of mustard oils though we prefer pure unadulterated versions like Patanjali Mustrad oil. You can also grind the mustard seeds to get fresh oi to use for hair.
Causes of Hair Loss and Hair Greying

Hair loss is a common symptom of bad hair health. There are many causes of hair loss. Some of them are:
Improper diet and lifestyle

Regular use of hair styling tools

Deficiency of vitamins and minerals in the body

Any disease like sugar or blood pressure

Hypertension, stress or depression

Poor mental or physical health

Malnutrition

Over use of hair products like serum, sprays, conditioners contains silicone

Exposure to sun

Irregular hair care routine

Other factors, including genetics and health issues.
Benefits of Mustard Oil for Hair Growth

To avoid hair loss, it is really important to give nourishment to the hair. Nourishment is important to make the hair look healthy and lustrous.
The best home remedy to cure hair loss, hair fall and blandness is mustard oil. It is an essential oil commonly used in India for various purposes.
It prevents hair loss and premature graying of the hair. This essential oil is extracted from mustard seeds. It also has a strong pleasant aroma with yellow color.
Mustard oil wonderfully aids hair loss and hair greying quickly without any side effects. You can use mustard oil for regrowth of hair as well.
It is useful in stimulation of hair growth and hair strength. It can also make your strong and shiny, in just few days!
Remember those days of grandpa's chumpies, she had always used mustard oil for oiling your hair because it's the best among all. And yes along with the coconut oil.
The consistency of mustard oil is thick and it is sticky in texture but it makes the hair thicker faster.
This is also highly recommended hair oil which is very economical to buy. After regular use, you can see great results arising from it.
How to use Mustard oil for Hair Loss, Hair Fall and Baldness

Hair loss is a common issue seen in men and women. It can also be controlled by doing proper care of hair and scalp. Now you can do it at home just by using the simple home remedies using mustard oil given below: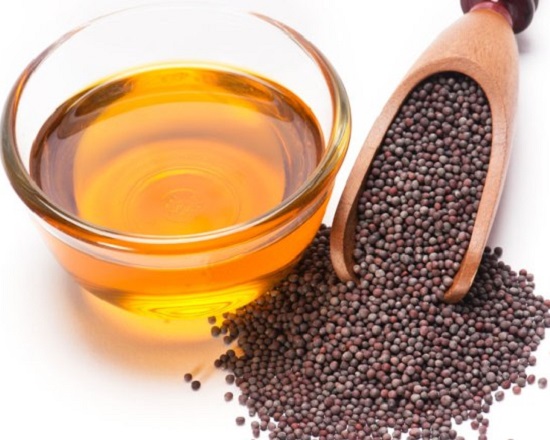 1. Oiling with mustard oil and coconut oil

Regular oiling with mustard oil will make the hair stronger, soft and smooth. Applying mustard oil to hair scalp can prevent itchy scalp, dandruff and lice from the hair. It removes dandruff and fungal hair infections by regular usage. It is a great medicine for baldness and premature graying of the hair. Furthermore, sarson oil is considered good to treat the condition like dry scalp and also makes hair black, long and shiny.
How to apply mustard oil?
First of all, take adequate amount of mustard oil  and coconut oil in a pan. For long hair around 6-7 teaspoonful will be fine and for short hair 3-4 teaspoonfuls.

Heat both the oils for a minute in a pan.

Make sure it doesn't get too hot as it will be little tricky to use. You need only luke warm oil.

Now massage the roots, scalp and also the tips of the hair

Keep it for 2 hours before washing your hair.

Applying mustard oil at night time with mild hair massaging is recommended for better results.with this oil is the best treatment for hair problems. You can also use triphala for hair loss by mixing some triphala powder in mustard oil.
2. Fenugreek (Methi) seeds and Mustard oil for Hair Growth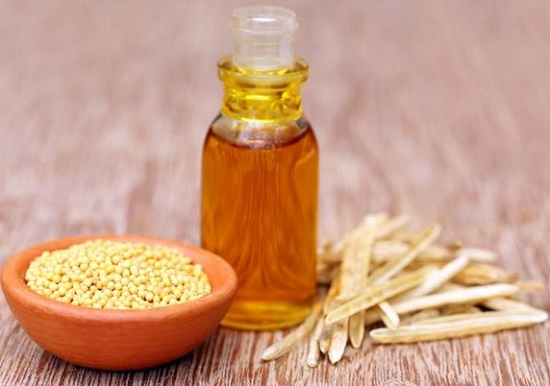 This is a very powerful and efficient formula to take care of the hair fall. In fact, fenugreek remedy is best for premature greying of the hair. Fenugreek seed extract will also add shine and smoothness.  Make sure you try this remedy with fenugreek and mustard oil for hair loss for at least 2 times in a week. Regular application can result in sprouting of the new hair thus, gives hair growth. 
Recipe and application:

Soak a half cup of fenugreek seeds in mustard oil over night.

In the morning, warm the oil so that the seeds of fenugreek turns grey.

Let it cool down then apply the mixture on your hairs and ends gently

Keep it for 2-4 hours or overnight

Wash it with mild shampoo and conditioner.
When to apply:
Apply this at night and two times in a week.
3. Mustard oil and curry leaves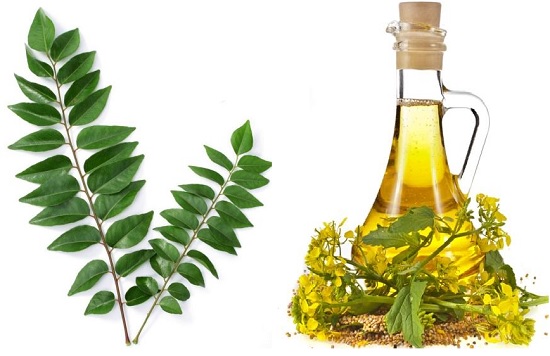 Curry leaves or kadi patta are good source of amino acids, antioxidants and essential vitamins that stimulate hair growth and treats the hair thinning and baldness. Mixing mustard oil with curry leaves aids in the prevention of early hair graying and hair fall. It protects hair follicles and repairs dry and damaged hair very fast. This can be used as a hair tonic, hair supplement in diet, hair mask or in hair oil. Curry leaves are easily available at any grocery store. However, for best results, use fresh curry leaves.
Recipe:
Take half cup of pure mustard oil in a pan and add handful of curry leaves in it.

Heat the oil and let the curry leaves get soaked in the oil. Let this oil get cool down.

Apply the oil on scalp with some massaging using the finger tips. Also, apply the oil from the tips and ends of the hair.

After 2 hours, wash it with shampoo and don't forget conditioning your manes.
These home remedies will certainly help you get rid of the hair problems faster, but give it sometime so that the remedies work the best. Just try the mustard oil regularly to get benefits in your hair woes.
If hair loss and hair growth is your concern, you will enjoy our other posts too.
Hibiscus Flower to treat  hair loss and hair fall
Egg Hair Mask for Hair Growth and Hair fall
Onion Juice for Hair Loss Treatment
How to cure Pregnancy Hair Loss and Hair Fall
Written by Ratna Balani