V neckline blouse designs looks really beautiful. Most importantly, the V Neck line blouse designs can be used for the front neck line as well as for the back neck. V neck line blouses also makes your neck look elongated and makes you look really glamorous. The depth of the V can be decided depending on your preference and it looks really amazing. So let's take a look at the latest designs of everyday wear and party wear a v neckline blouse designs. The blouses are suitable for women who would like to try something new other than the round, sweatheart or square necklines.
Latest V Neck Blouse Designs for casual and Party wear Blouses
1. Cotton V Back Neckline Blouse Design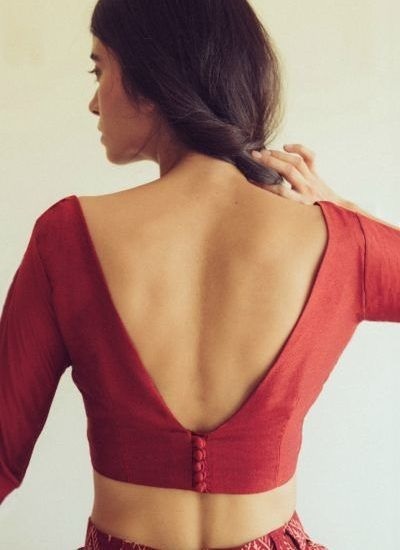 This looks really beautiful and is suitable for the casual wear. The deep V shaped neckline at the back also bears the back buttons. It looks really beautiful and the best thing is that it is suitable for everyday use as well as for the formal events where you have to wear the saree.
2. Blue Embroidered Back V Neckline Blouse Design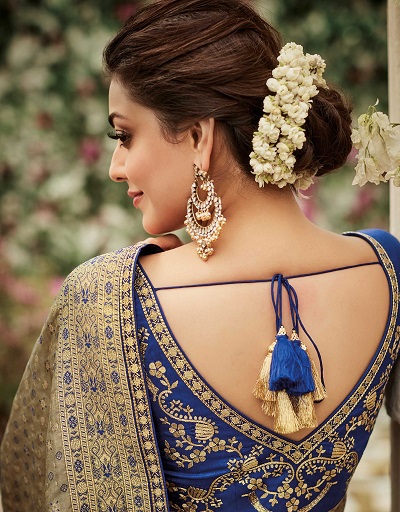 It's not just that for your party wear blouses you can have a front V neckline blouse but for the back neck line as well V shape is really popular. Here the V back neck line has strings also with tassels. It is a party wear blouse that has Golden embroidery on a blue Silk fabric.
3. Cotton Wrap Around V Front Neckline Blouse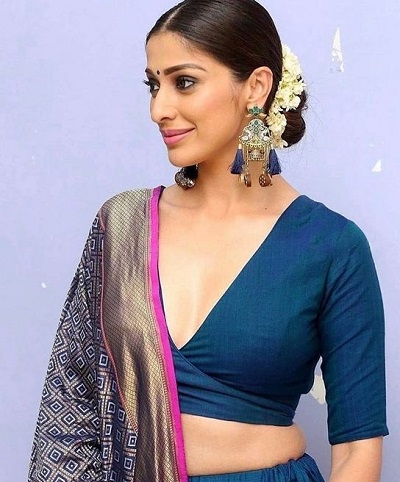 The blouse is beautiful and has that glamorous feel to it. Here it is paired with Banarasi silk saree and blouse is made with a cotton material. The front part of the blouse has a wrap around kind of pattern with the elbow length sleeves. The depth of the V can be adjusted according to your preference and liking.
4. Party wear Silk V Neckline Blouse Design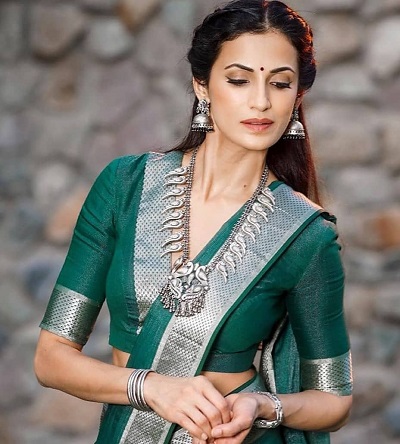 The beautiful blouse has a front V neckline with a border on the sleeves. The same border that is on the sari can be seen on the front v-neckline portion. It looks really beautiful and is pretty for the festive wear silk sarees.
5. Satin V Neckline Front Blouse Design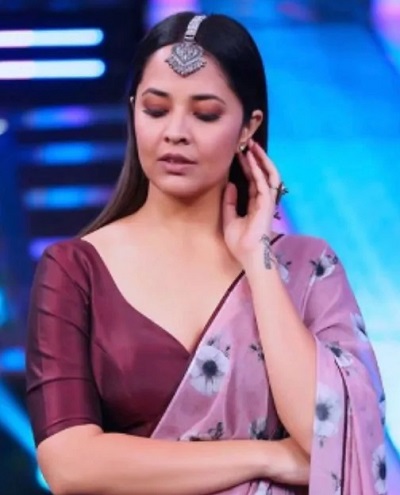 The gorgeous blouse is made with a Satin wine colored fabric and looks really beautiful. It has the princess cut pattern and the beautiful blouse has been paired with a Georgette lavender colored printed saree. The beautiful saree looks amazing and it is a very fresh combination.
6. Half Collar V Neckline Embroidered Blouse Design
This silk blouse has hand embroidery all over and sequin work. It is being paired with a light grey colored sari which is in organza fabric. A beautiful green stone necklace has been used which looks more like a choker. It is such a beautiful blouse and saree that it would make you look stunning.
7. Designer V Neckline Blouse With Lace Fabric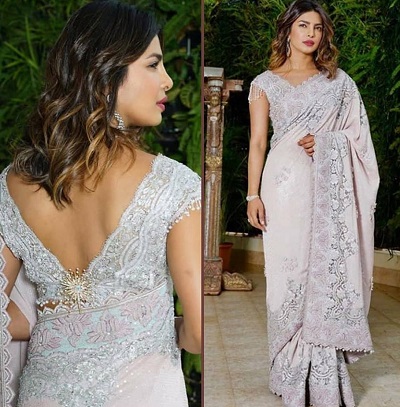 The lace fabric blouse with front and back V neckline is for the party wear heavy sarees. The sequin studded saree in a pastel color looks pretty amazing with this blouse. The lace fabric is used to create this stunning blouse piece with sequins and brooch a