Vanesa Pour Home Room Air Freshner French Flora Review
Hi everyone! Today, I am going to review a room freshener, I know this is not a beauty or wellness related product but since I liked this I thought of sharing this with you. I find that room fresheners should be used as this helps to uplift the mood and brings positivity. Honestly friends, good fragrances do have a good effect on your senses. This is available in 2 variants, the French Flora and French Fusion. I will be reviewing the French Flora. By the way do you like using fragrance in the room, I love doing that friends. let's see how this product is.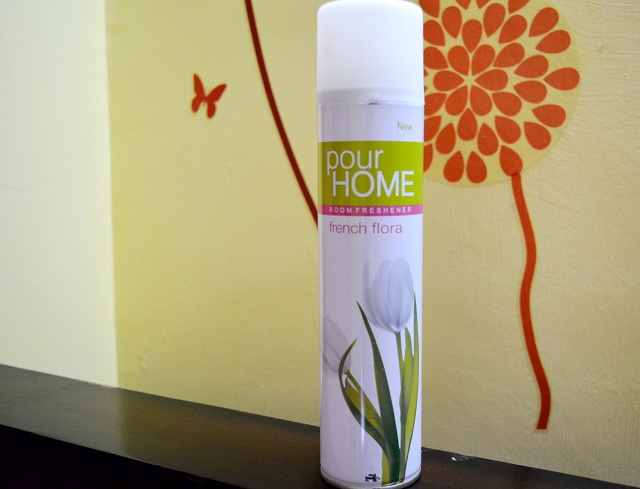 Price: Vanesa Pour Home Room Air Freshner French Flora is for 125 rupees
Vanesa Pour Home Room Freshner French Flora
This room air freshener is packaged in a tall bottle and smells really nice.Do you know that the great smell helps to make the senses revive and rejuvenate. This is not just true for yourself but for the room you live in. Moreover, this can be used in your office, car as well. I like to use this in my care as well and also in my bathroom too. Just loved the scent of this air freshener. Bad smell or unwanted smell in your room can be such a turn off this is why it is important that you sue a room freshener at least twice in a day. It also  help me sleep nicely. I always do that like I would spray this every night before going to bed.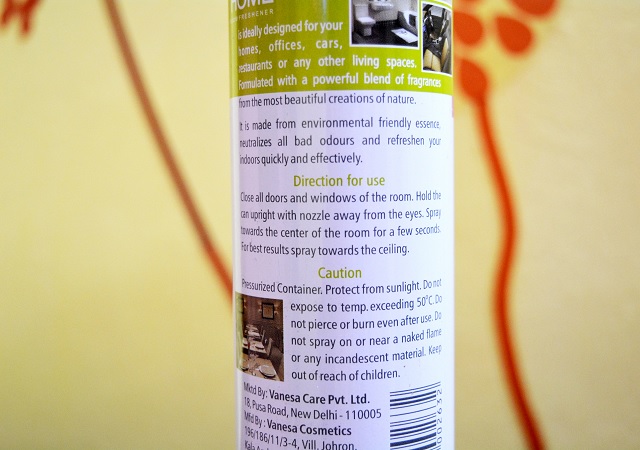 To create a neat and smell goo environment in home, car or office we use such products. Car is one of the place that is bound to smell bad if not taken care of with fresheners.  Like when someone has dirty socks, during monsoon, alcohols, cigarettes etc. These things can create bad smell that gets trapped in the car thus, to get rid of those faster people should try to use suitable car fragrances.
Good fragrance gives peace and relaxation that you need after a hectic day. Moreover, it makes positive attitude. I will highly recommend you to try this as this is just for 125 rupees which is very economical. You need to just spray this on the room, like on the curtains, sofas etc and the smell will last longer.
So, do you like to use the room fresheners or Air freshener? They are actually used to lighten the air with a sweet nice some. Basically, room freshener has got 2 basic features. One is the deodorizing part that masks the smell and odor. This part of the room freshener includes condensed gases, alcohol. While the second element in a room freshener is the freshener which has the substances that helps to create nice subtle scent.
These have got so many advantages like they would freshen the air in various places like office, home, bathrooms, car etc. Closed spaces of them get suffocated with trapped air or with the smell of certain things that we have. Therefore, room fresheners will help to overcome that and makes a good ambience.
Air Fresheners are very easy to use and the spray can like packaging makes them extremely easy to use. Just open and spray. They are available in various scents that makes the room, car etc filled with a whiff of freshness. Women generally like the sweet and citrusy scent while men can go for woody or oriental. There are variety of odor and variant that one can try. Gas based fresheners are thus very much in demand.
Now that we know about the good things associated with these room fresheners. We would like to also point some bad effects that they can cause so that you may know about them.
There are certain ingredients or substances in these room fresheners. They can pose a threat to our overall health like the chemicals used in them. At times, cheap quality room fresheners can also be a risk for the environment and causes air pollution which we may not even know about since we would be concentrating on the smell only. These chemicals can also harm the human nervous system and also the functioning of brain to certain degree. For small kids, the level of harm increases and also for the pets. Respiratory problems are the most common that is associated with such room fresheners which lot of chemicals involved.