Velvet Dress for Women
Velvet dresses are classic and stylish and can be worn for any occasion especially, during the fall and winter season. There is something about the velvet as a fabric that makes it quite elegant and warm. The comfort and warmth that a velvet dress gives you is unparalleled. During the summers, one can opt for a flowy, lighter and sure fabric while for the winters velvet dresses are recommended. Velvet is so classy and stylish that no matter how you wear it will certainly highlight your best asset. Velvet is a popular fabric and here we are going to share the latest designs of Velvet dresses for women.
But before that let's see how you style a velvet dress.
How to Style Velvet dress?
One can pair the velvet dress with studded boots or long boots. Even with the short velvet dress pumps in neutral color also works well. Velvet can also be worn as a wedding guest dress for a wedding. It can easily become a day time appropriate, because it depends on the styling that you do with the velvet dress. Balancing the look is the key while donning velvet attire. Velvet and Leather goes hand in hand, hence short leather boots can also be paired with short velvet dresses.
Certainly, velvet dress can also be a formal dress. You can wear this formal dress to the event, party and more. A velvet ball gown is also yet another option that women would love to carry. Velvet is not just formal but it actually depends on the style and pattern of the dress. If the velvet dress is plain and simple and you are wearing it for the date and then keep it minimal with less emphasize on the accessories. However, for the night time the velvet can be accessorizes with bags, jewelery and even the metallic belts would do.
Let's take a look at the latest designs of Velvet dresses for women.
1. Wine Short Bodycon Velvet Dress Design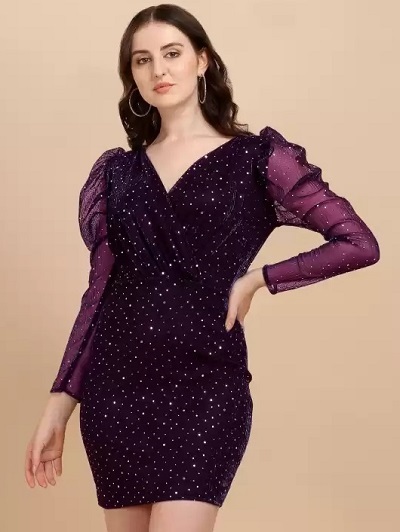 The short dress is quite body hugging and actually is suitable for your assets. It has puff sleeves in sheer fabric that makes the overall dress look quite breathtaking. The velvet dress is not a plain velvet fabric but it has small tiny embellishments that go all over the dress. Such addresses are amazing to pair with a dainty necklace or a pair of statement earrings the black.
2. Embellished velvet short dress design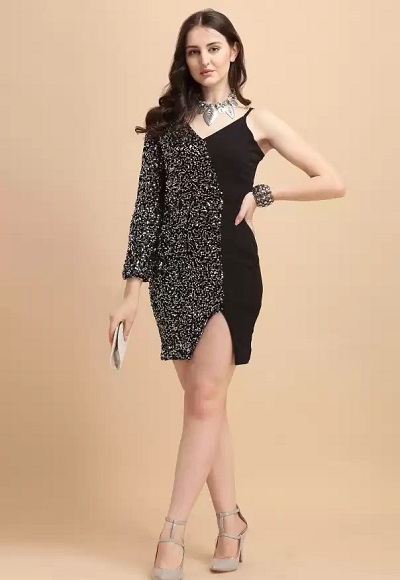 The short velvet dress is undoubtedly Uber cool and pretty fashionable dress. It has a side cut and the design is quite fashionable. It doesn't have one of the sleeves which makes it quite attractive and best. It can be paired with neutral pumps and a structured bag.
3. Velvet full sleeves midi dress for women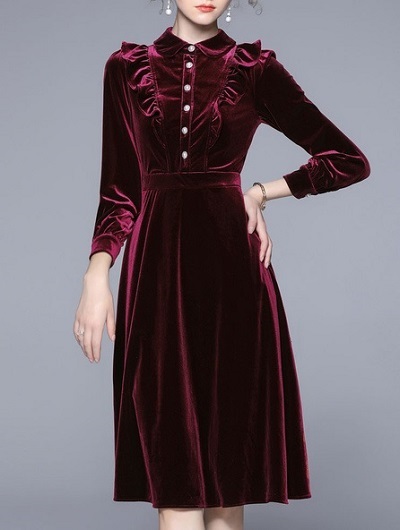 The midi dress is actually a fit and flare dress for women made in an astounding and elegant looking wine colored fabric. This is a color which is between a wine and maroon. Buttons are also added on the stand collar. The ruffled design on the bodice part also makes it quite formal yet sophisticated.
4. Halter style cold shoulder velvet dress design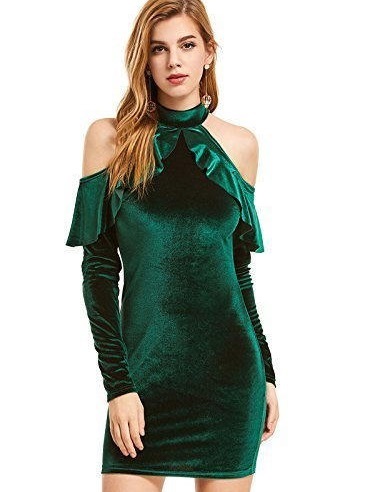 The velvet dress in dark green color is a beautiful thing to style for this fall season. It has full sleeves and ruffled cold shoulder pattern. Actually, the design is more on the Halter style neckline kind.  The dress is indeed quite attractive, which is why keeping the accessories and the jewelery minimal would be the key to style this dress without looking garish.
5. Long Tiered Velvet Ethnic Dress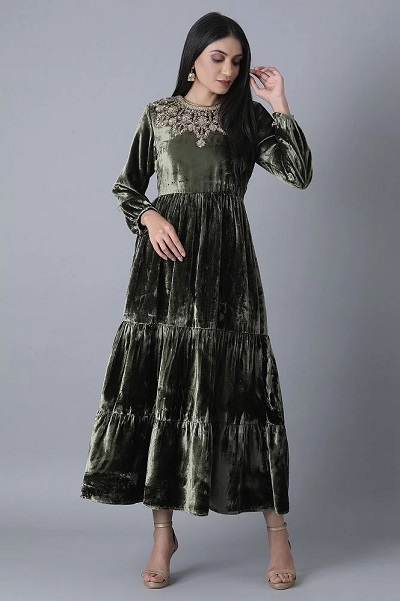 The velvet ethnic dress with embroidery on the neckline is a true beauty. It has full sleeves with elasticized band on the cuffs. The tiered pattern of the dress makes it a beautiful dress for the Indian functions
6. Fit And Flare Velvet Dress Design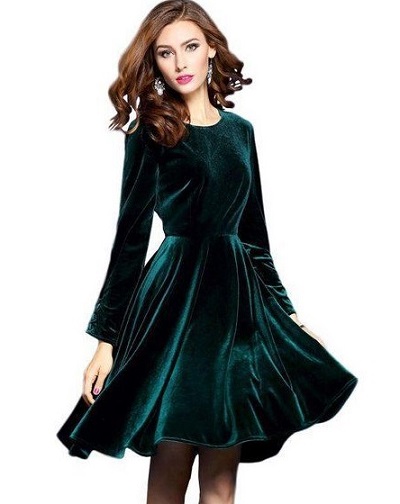 The fit and flare velvet dresses can add that much-needed style and grace to your personality. Velvet is definitely one of the most gorgeous and beautiful looking fabric. Yes, there are certain restrictions, while wearing a velvet fabric but it is for sure make you look flawless. This dress with A line pattern is ideal for the date and night.
7. Long Side Slit Velvet Dress Design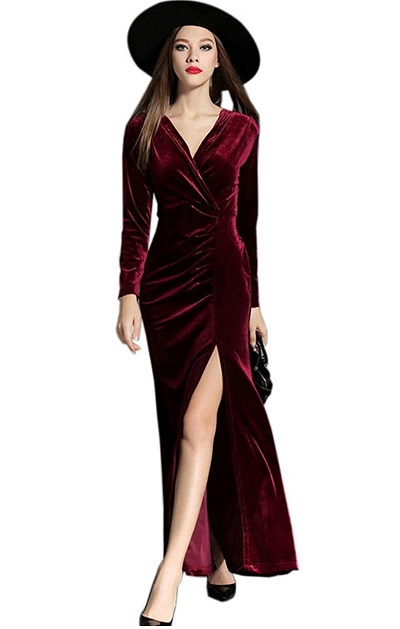 The dress is ideal for clubbing and for the occasions, where you have to look sassy and chic. The super stylish dress is ideal for woman with toned figure. The proper footwear and the right amount of jewelery would definitely make you look like a head turner. Undoubtedly, the dress has gorgeous color and the wrap neckline is yet another thing that adds beauty to this gorgeous looking dress.
8. Pink Wrap Style Midi Velvet Dress For Women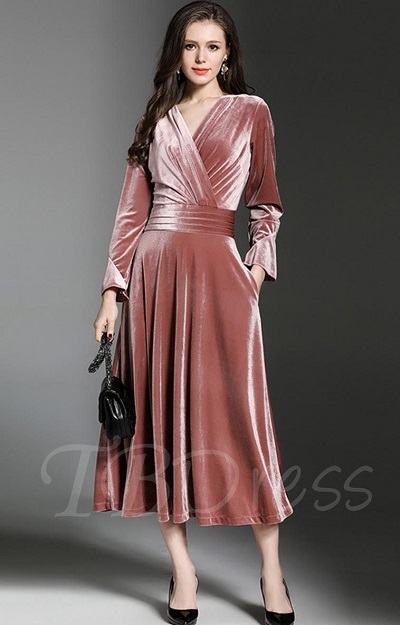 This velvet dress has a very corporate like formal look to it. Even though it looks formal it has it that design and pattern that also makes it look quite suitable for the date Nights, clubbing and during the winter season because of the fact that it is long dress. It is over your ankles so it is ideal for the autumn and winter season. With the proper structured is small bag and a dainty necklace is going to complete your look.
9. Red Full Sleeve Pencil Dress For Women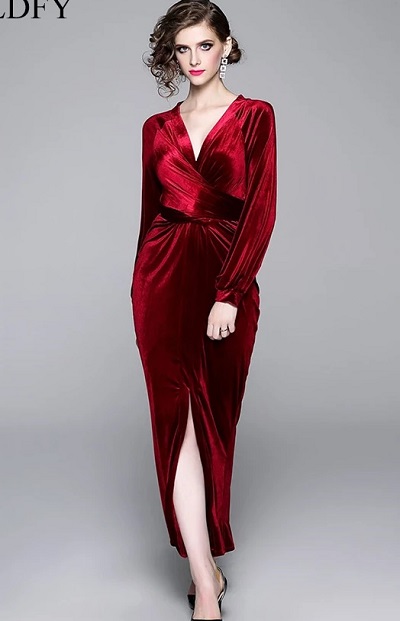 10. Blue Velvet Fit And Flare Long Dress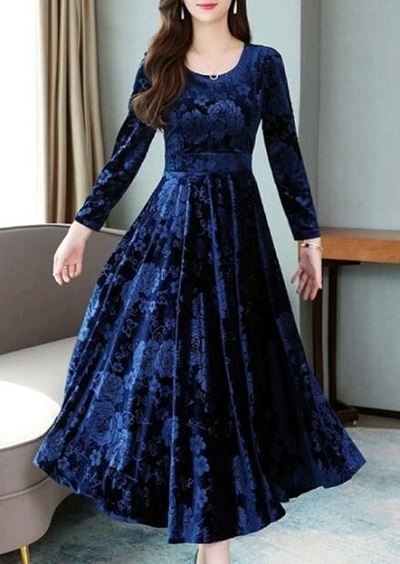 11. Velvet And Georgette Embellished Dress For Women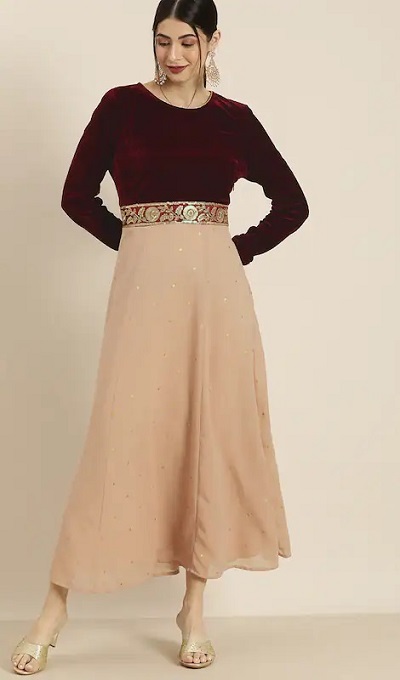 12. Stylish Velvet Gown With Sequin Work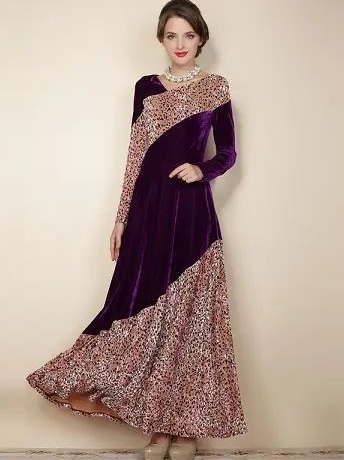 13. Velvet Indian Style Long Gown For Women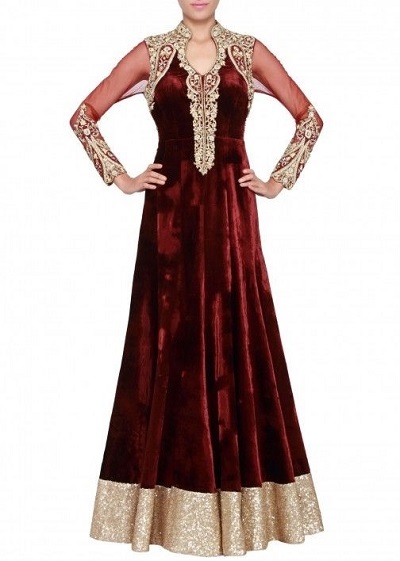 14. Long Velvet Dress With Waist Belt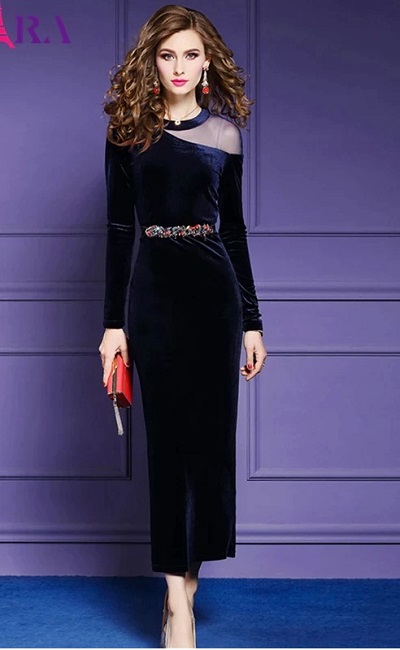 15. Wine Colored Velvet A Line Dress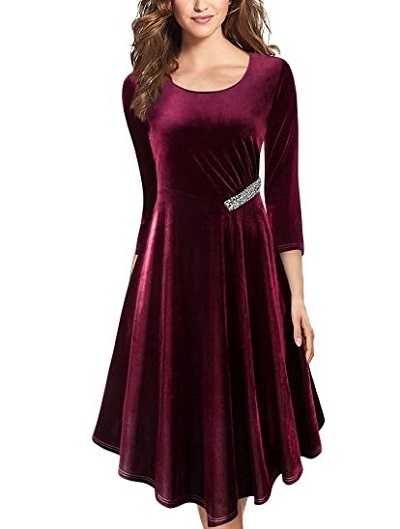 16. Full Length Velvet Dress For Parties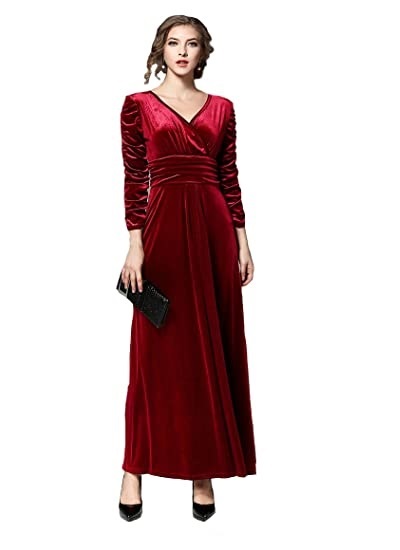 17. Wrap Style Pink Velvet Dress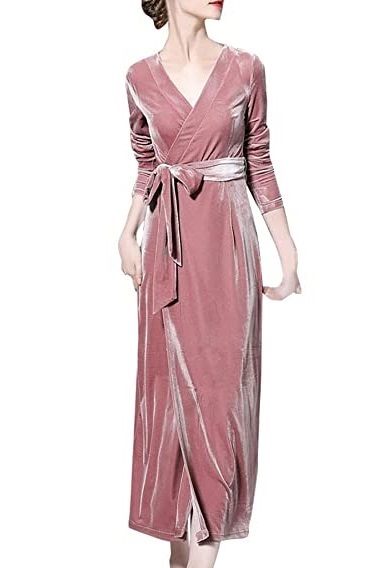 18. Short Velvet Bodycon Dress For Women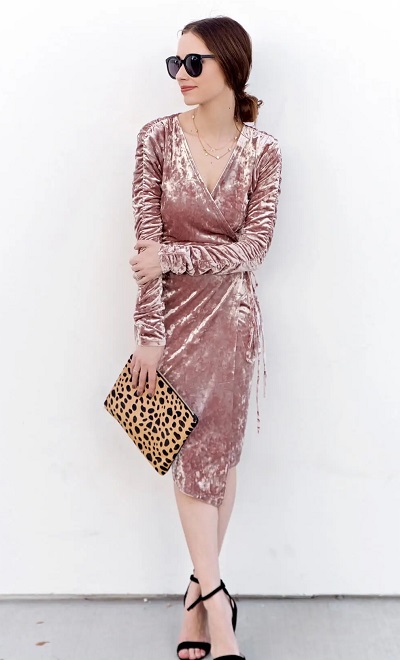 19. Short Sheath Lavender Velvet Dress Design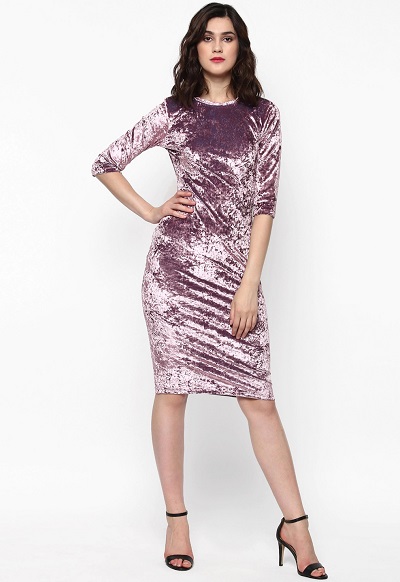 20. Pink Fit And Flare A Line Velvet Dress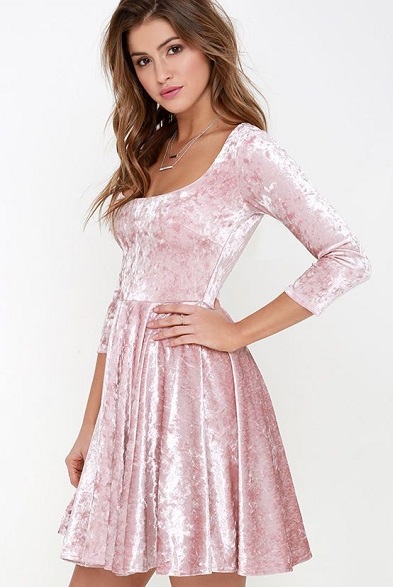 21. Off Shoulder Velvet Short Dress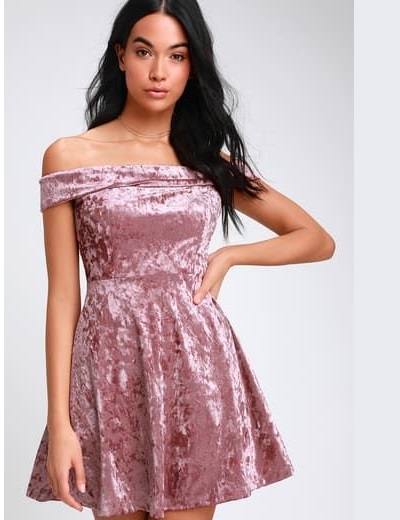 22. Off Shoulder Bodycon Velvet Dress Design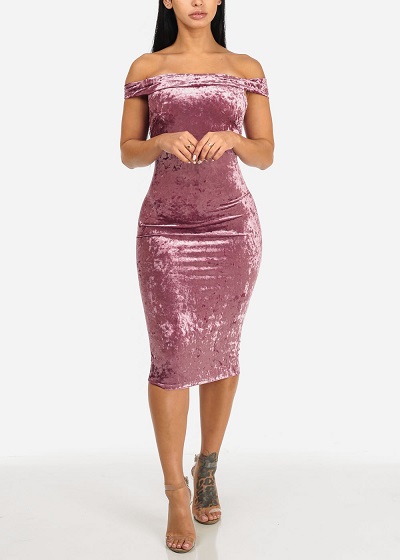 23. Loose Velvet Kurta Style Dress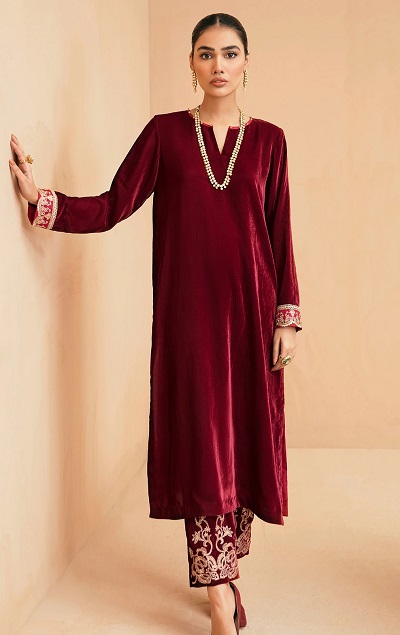 24. Cold Shoulder Velvet A Line Dress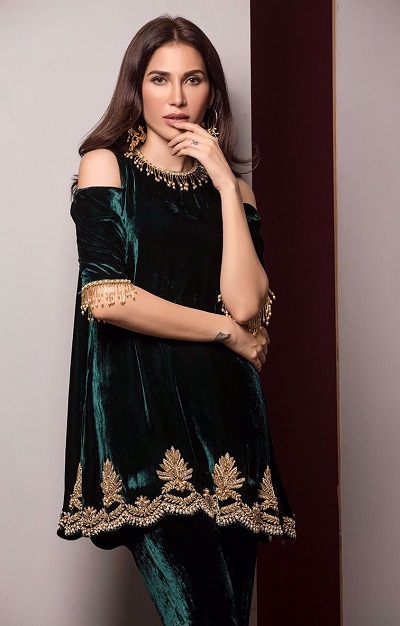 25. Heavily Embellished Velvet Kurta For Women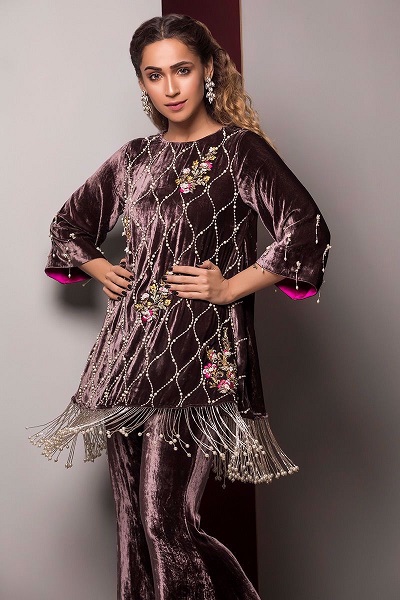 26. Heavy Embellished Velvet Maroon Kurta Design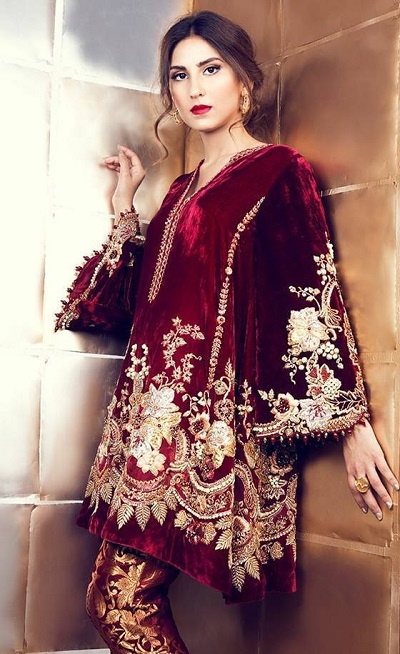 27. Simple Green Velvet Material Dress For Women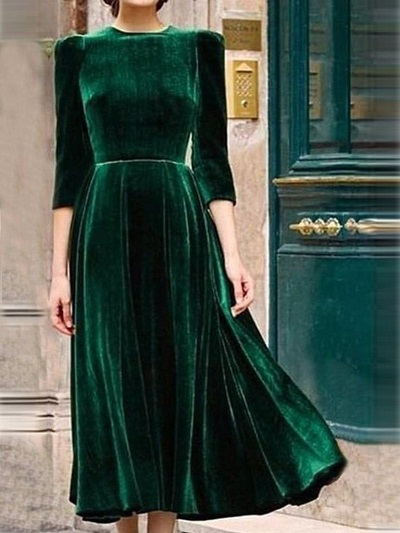 28. Velvet And Lace Fabric Midi Dress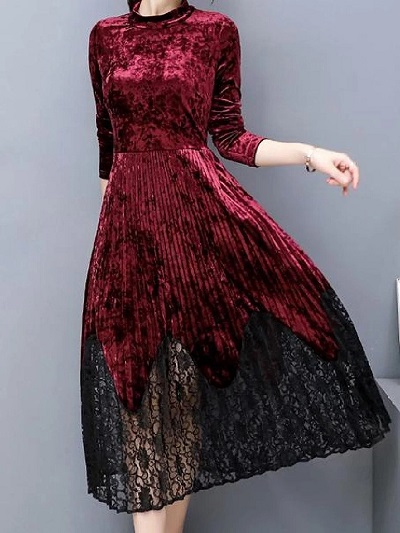 29. Colored Velvet Short Dress For Women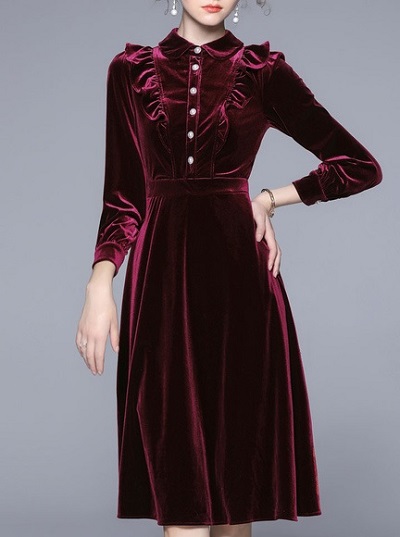 30. Velvet A Line Dress With Waist Belt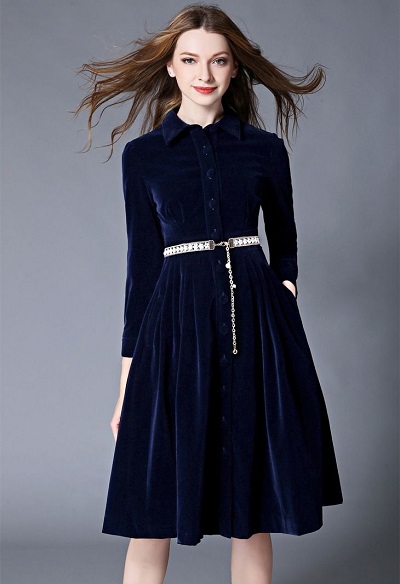 31. Blue Embroidered Velvet Dress Design