Velvet is a luxurious fabric that is also used a lot in Indian ethnic wear. One can have a velvet salwar suit, velvet Dupatta, velvet lehenga and so many things. Velvet fabric gives that elegance and royal feel and the fabric in itself is quite comfortable especially during the cold winter season. So, here in this article, we are going to share this catalogue that has the latest designs and patterns of the velvet dupatta designs. The dupattas are very unique because they have so many different designs and the embroidery also adds more beauty and elegance plus ta ke a look at the latest velvet Dupatta designs with salwar suit.
1. Wine embroidered velvet Dupatta pattern for women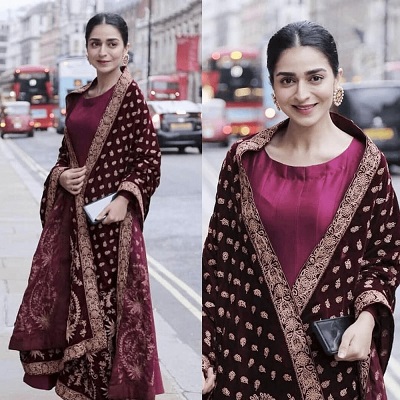 This dupatta can also be used as a velvet shawl with your sarees and other things. The dupatta has beautiful colored embroidery done all over. The dupatta is for sure one of the best looking velvet dupattas in wine maroon color. Here, it is paired with a wine colored cotton Silk anarkali dress.
2. Black and gold velvet dupatta design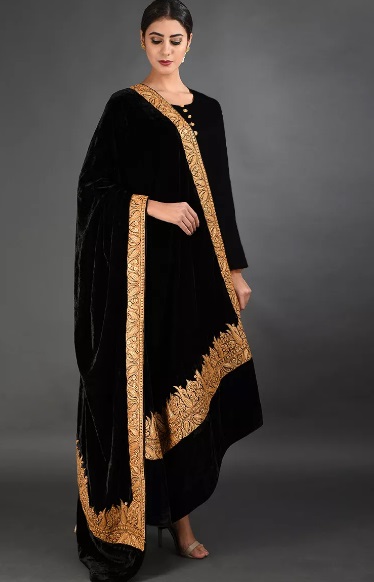 This is also a beautiful velvet dupatta in black color that has the gold detailing. The dupatta looks really beautiful and it can also be used as a shawl during the winter weddings and winter parties. The dupatta is beautifully embroidered and such a nice and neat embroidery is done all over the dupatta.
3. Green velvet wedding and party wear Dupatta pattern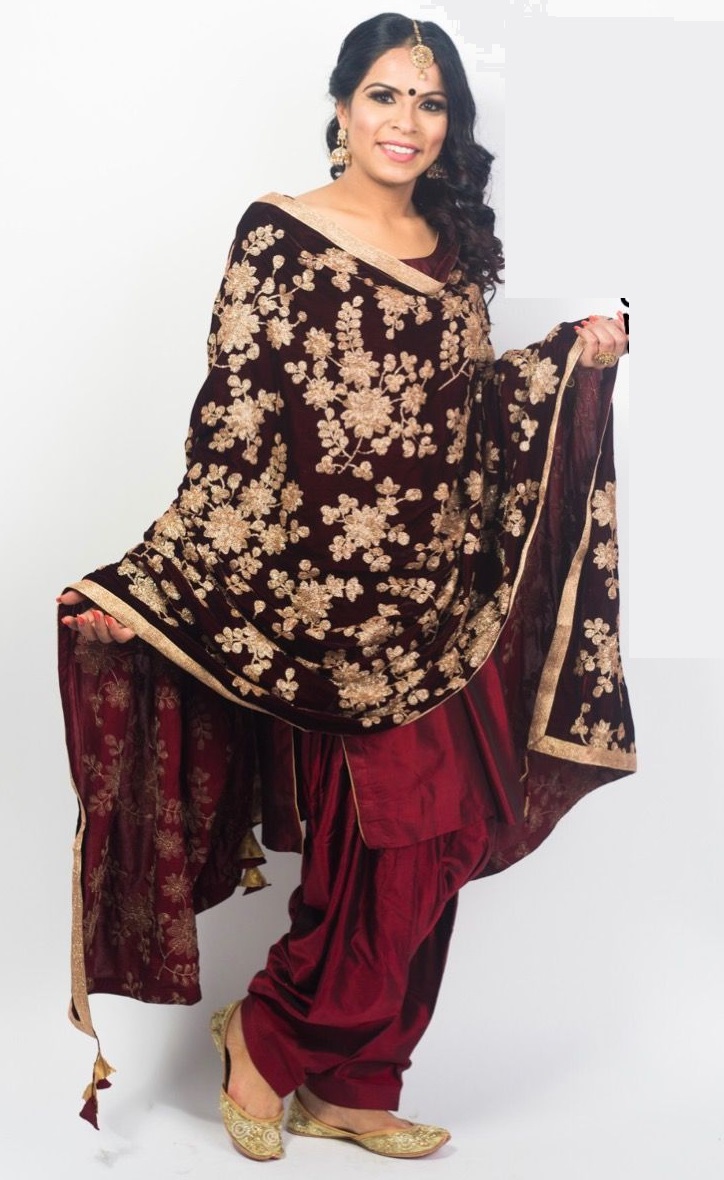 There is gorgeous embroidery on all over the dupatta. This velvet dupatta also has the golden thread work fringe border lace. The latkans also add more charm and beauty to this velvet dupatta in green color. It can be paired with sarees like a shawl and even with your salwar kameez. This is for sure a bridal as well as a party wear velvet Dupatta design for women.
4. Teal embroidered velvet Dupatta for ladies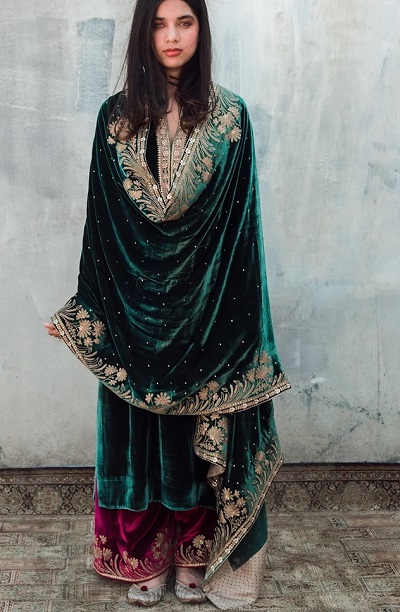 This dress is a beautiful and reminds us of the native Kashmiri dresses. This has nice and detailed embroidery on all the four sides with some sequin work. The color of the Dupatta is extremely amazing and beautiful to look at. The embroidery is also done impeccably and gives a lot of detailing. This velvet dupatta is also for parties and weddings.
5. Simple red velvet Dupatta with mirror border
Mirror work is seen a lot in the Indian dresses and actually Indian ethnic dresses look beautiful when they have the mirror work in them. This velvet Dupatta looks and tireless gorgeous and quite elegant with the mirror lace border on all the four sides. It is a wine red color dupatta that can be paired with different types of Salwar suits and even the anarkali full length gowns.
6. Heavy embroidered Blue Velvet Dupatta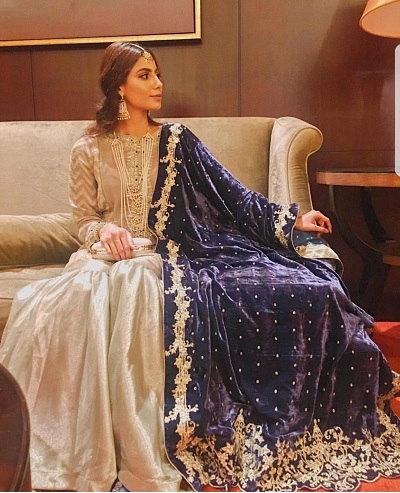 Blue Velvet Dupatta design in velvet is a fabric that can instantly make your dress look Royal. This dress in Ivory gold color looks amazing. It's paired up with a blue purple looking velvet dupatta with loads of beautiful embroidery done all over. For sure, this property is a party wear dupatta for ladies.
7. Maroon heavy embroidered velvet Dupatta for salwar suit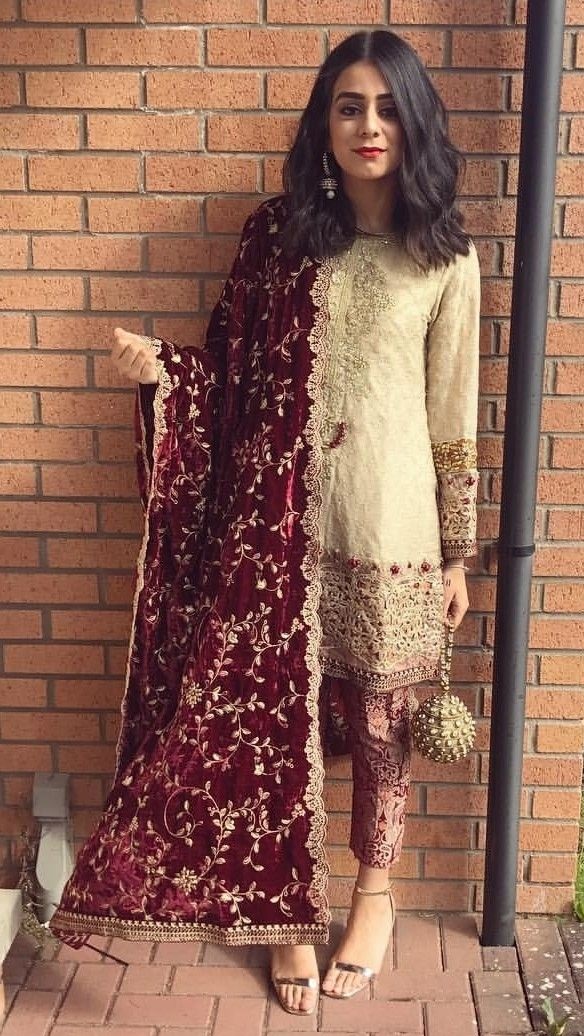 It is velvet Dupatta or salwar suit that looks beautiful and it is a heavily embroidered dupatta that has sequin and bead work as well. Here are the Dupatta is being paired with a short kurti in Ivory gold color with red detailing and a brocade red trouser cropped pants.
8. Red embroidered bridal wear velvet Dupatta design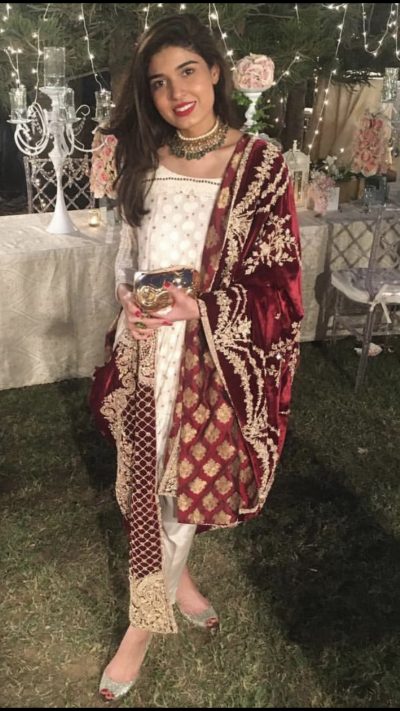 Velvet a sport shoe or a party wear and wedding wear fabric for ladies. Dupatta can also be used as a bridal Dupatta especially when it is in the colors like wine red and orange. This Dupatta is also heavily embellished and it has a brocade lining and the velvet fabric. This also looks really beautiful and here it is being paired with a white colored outfit.
9. Simple red velvet Dupatta with border work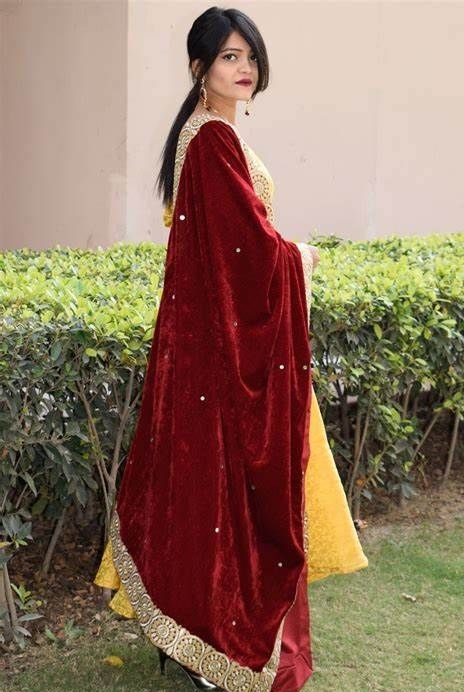 It's a simple red Dupatta that has borders all over. The border has the Gota Patti and Golden lace work. This also adds more beauty to this dupatta. This Dupatta can be paired up with different types of Salwar Kameez. Even for the floor length anarkali dresses and gowns, this will also work. Even women can also try that a nicely made velvet Dupatta with their sarees during the winter season.
10. Designer deep red velvet Dupatta for wedding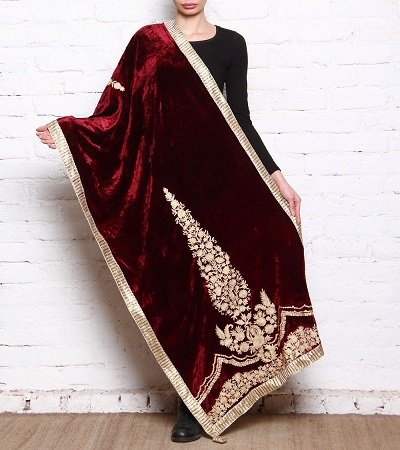 It is for sure a wedding wear velvet Dupatta because of the nice embroidery on both the sides. The dupatta is also easy to carry around because of the lesser width if you are not too tall. The Dupatta in the looks very charming and alluring.
11. Heavily embellished gold and velvet red Dupatta pattern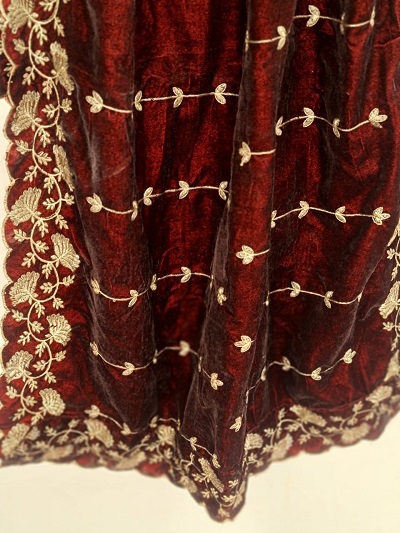 12. Stylish deep Maroon embroidered velvet Dupatta for party wear suits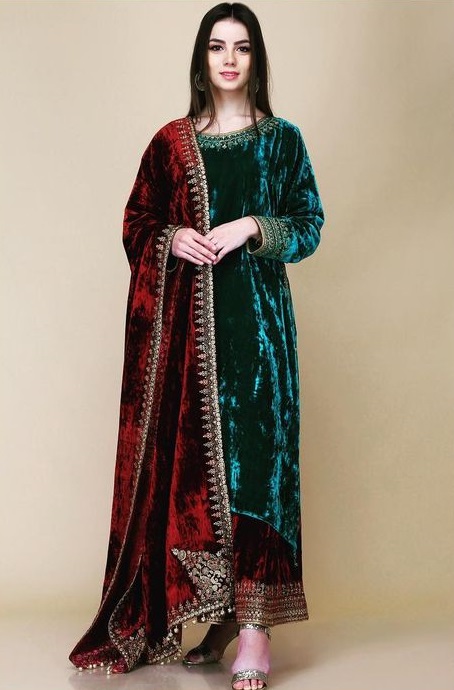 13. Blue velvet Dupatta for salwar suit and dresses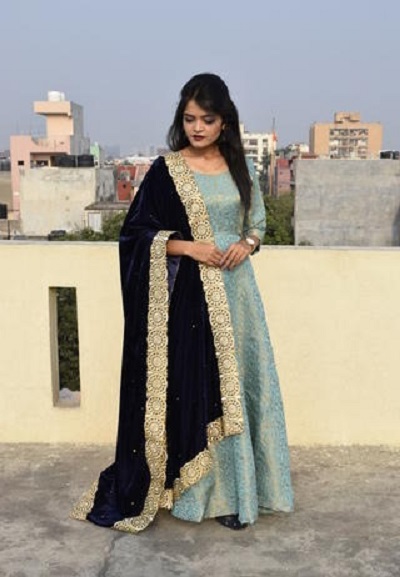 14. Stylish Greenish Blue Velvet Dupatta pattern for women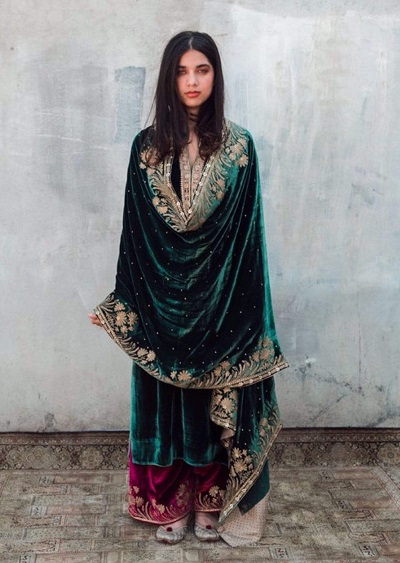 15. Beautiful Dark Green Heavy Embroidered Velvet Dupatta Pattern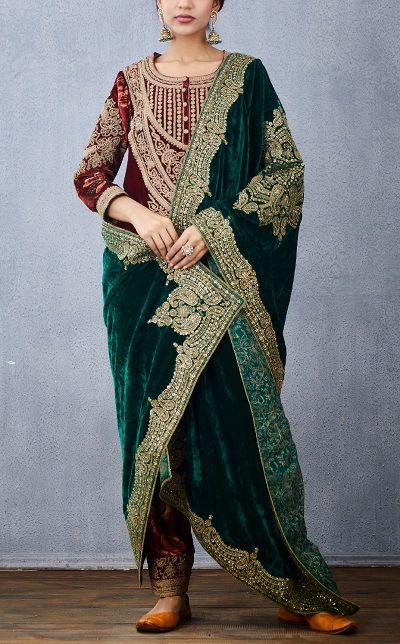 16. Dark Green velvet Dupatta with mirror work and lace border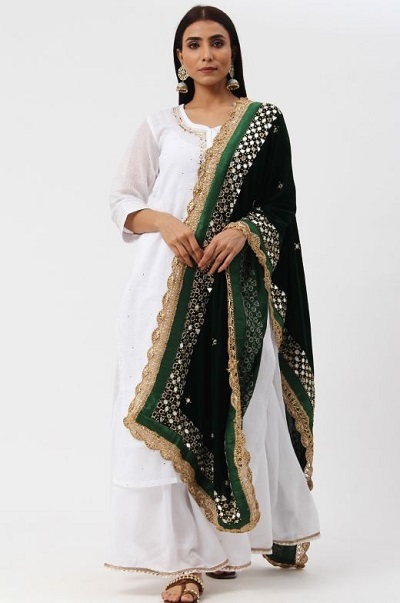 17. Royal Plain Velvet Dupatta with Silk border work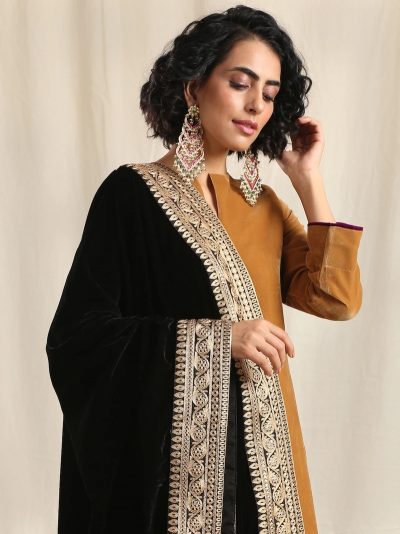 18. Very Heavy Designer Embroidered Maroon Velvet Dupatta Design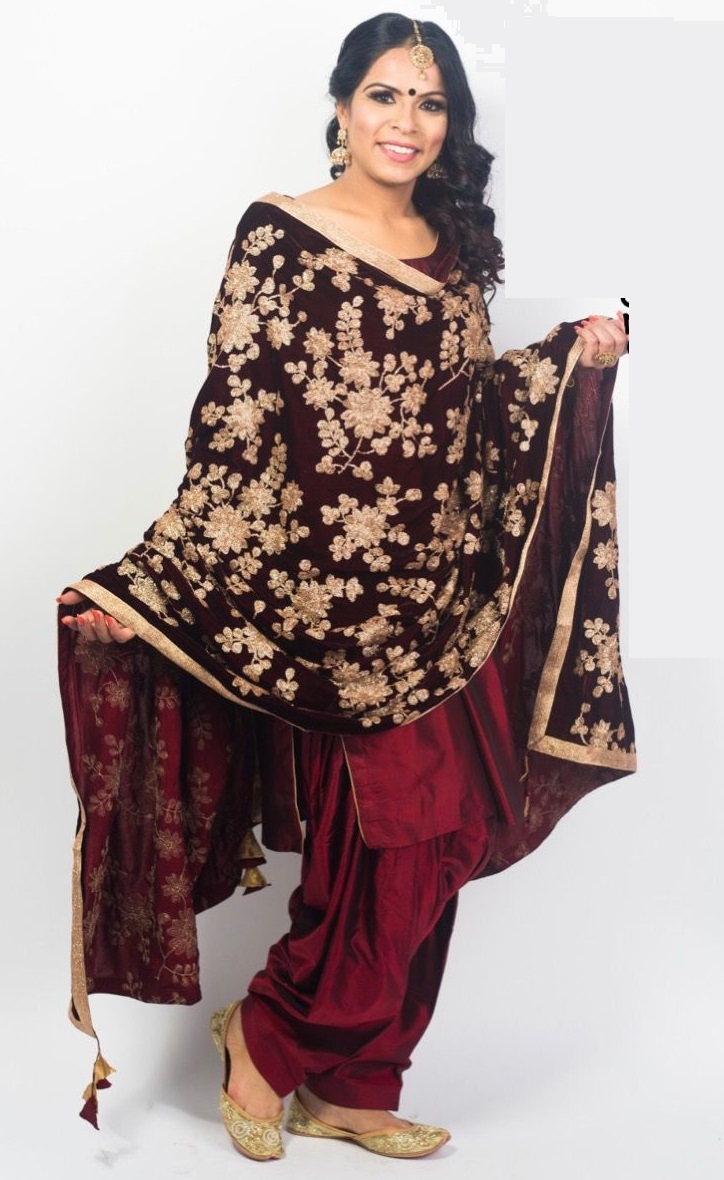 19. Thread work and embroidered red velvet Dupatta for silk salwar suit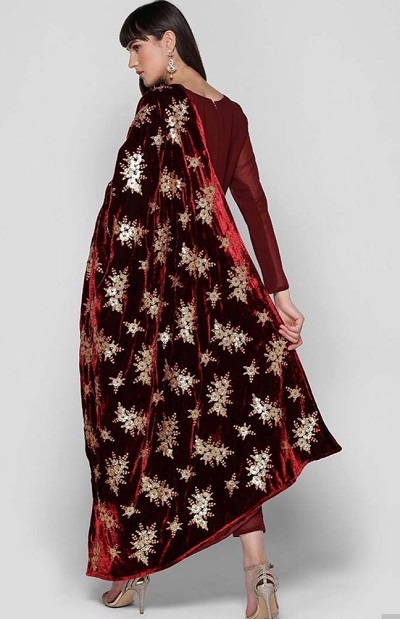 20. Stylish thread work Blue Velvet dupatta for lehenga and salwar suit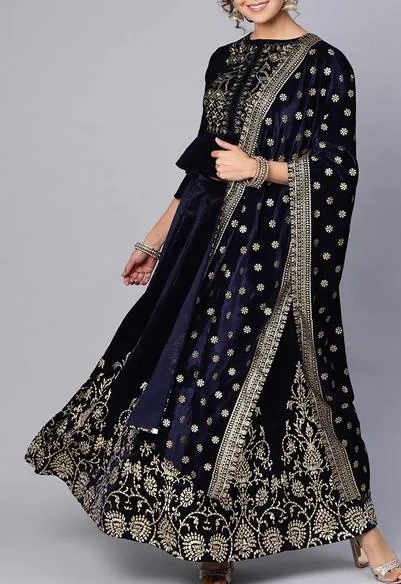 21. Purple thread work velvet Dupatta design for salwar suit and lehenga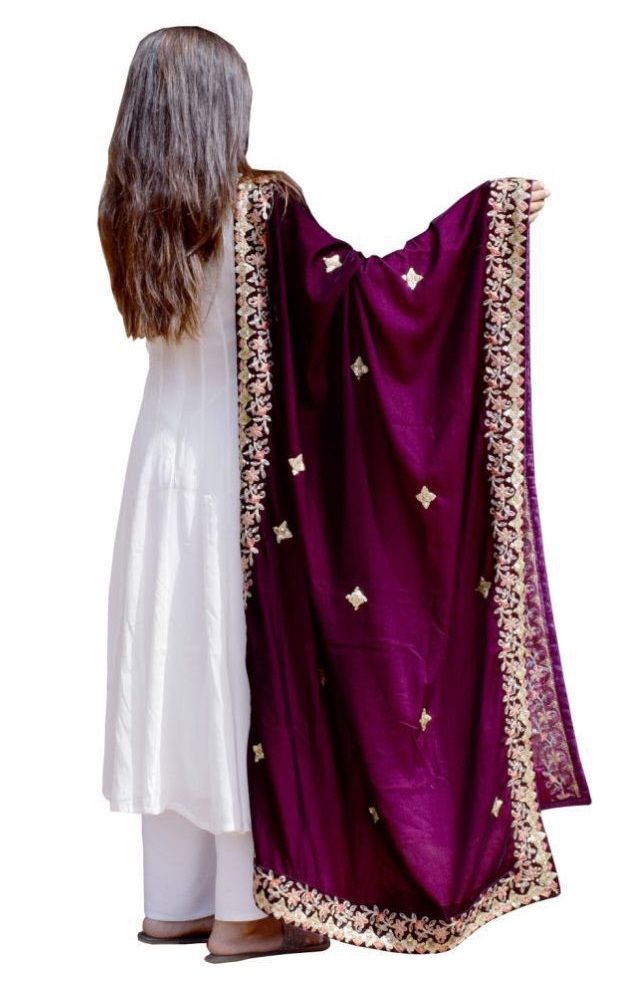 22. Red bridal velvet Dupatta with border and lace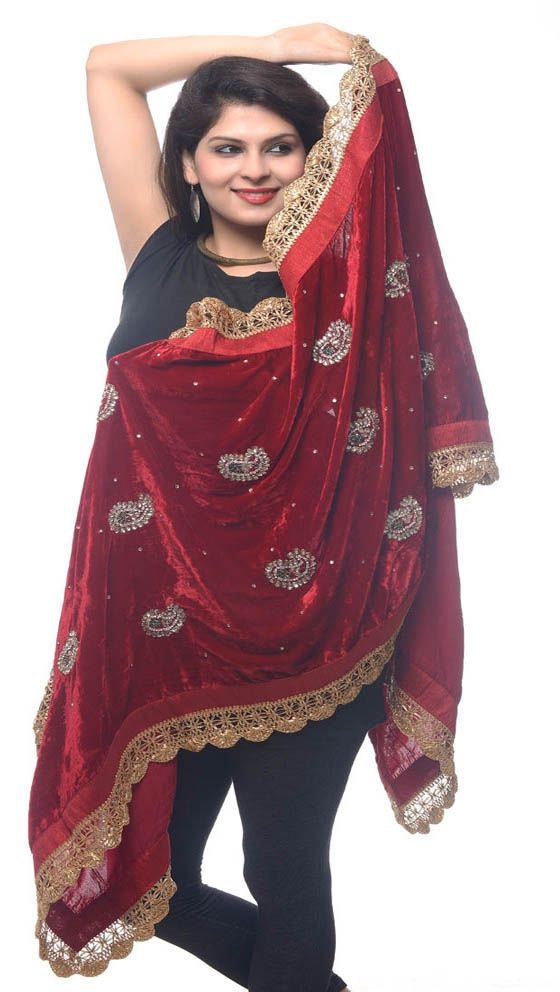 23. Simple pink border work velvet Dupatta for bridal attire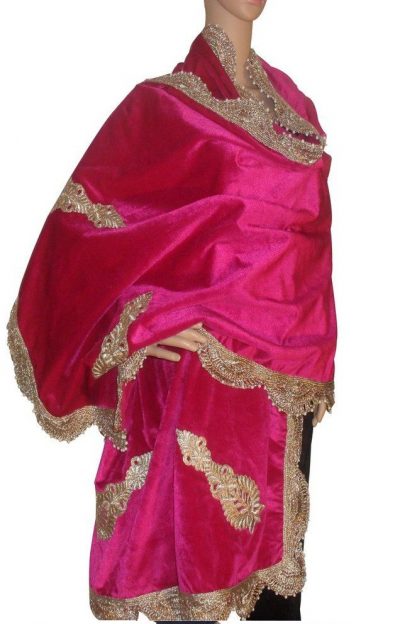 24. Maroon velvet Dupatta with mirror border work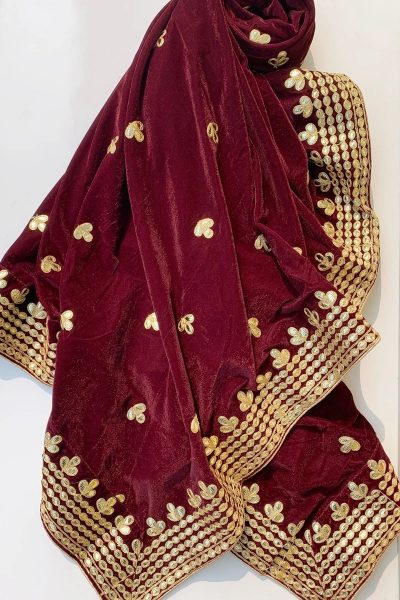 25. Very heavy lace work wine Maroon Embroidered velvet Dupatta design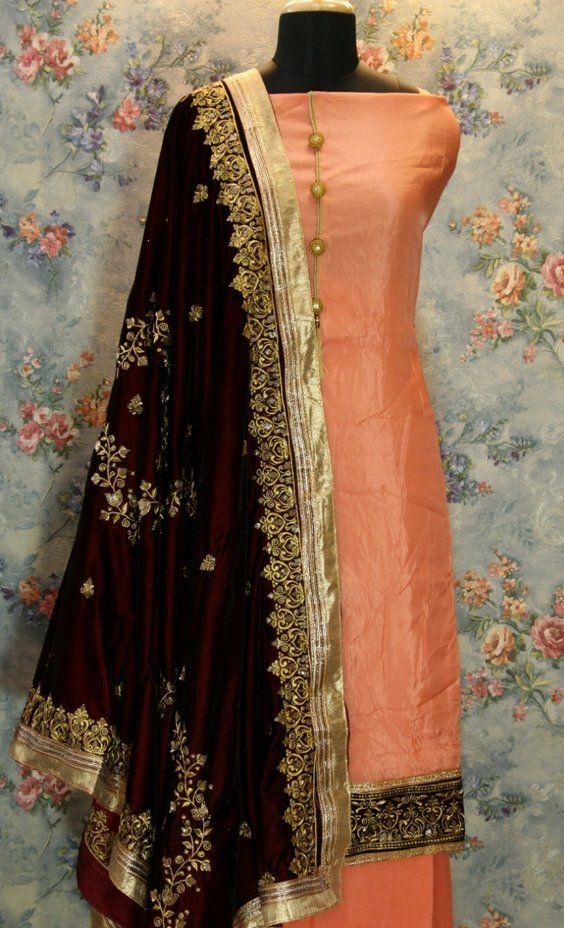 26. Designer red embroidered velvet Dupatta with golden suit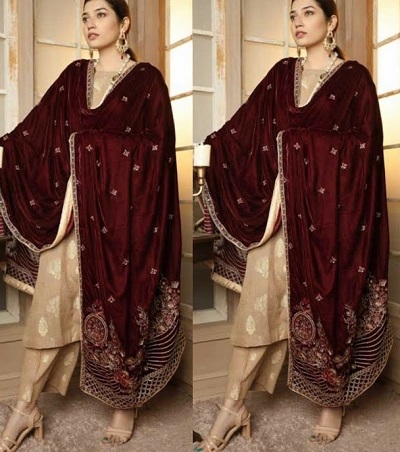 27. Deep wine velvet Dupatta with golden thread work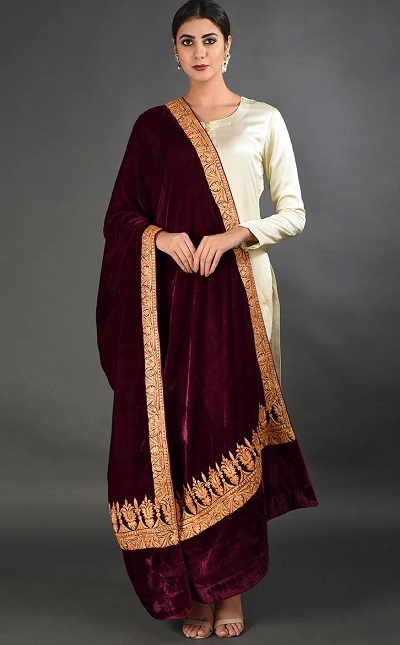 28. Stylish black Golden velvet Dupatta for ladies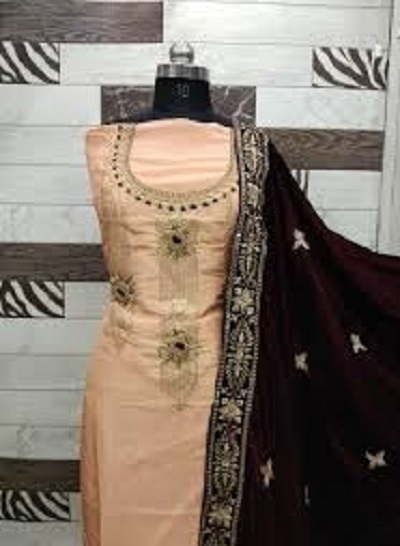 29. Royal blue simple velvet Dupatta with thread work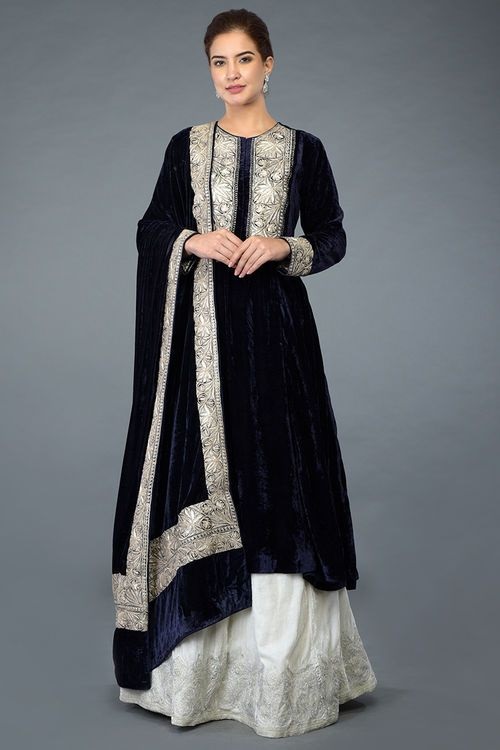 30. Zari and embroidery work black velvet Dupatta design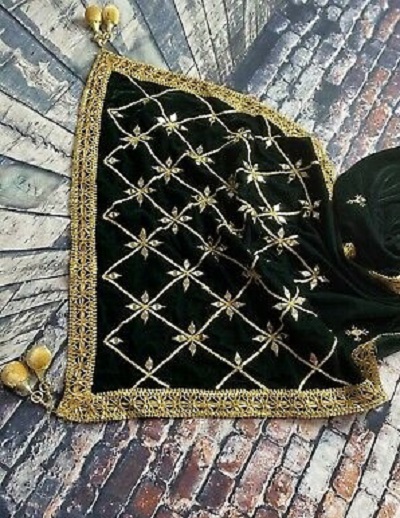 31. Very heavy wine colored velvet Dupatta design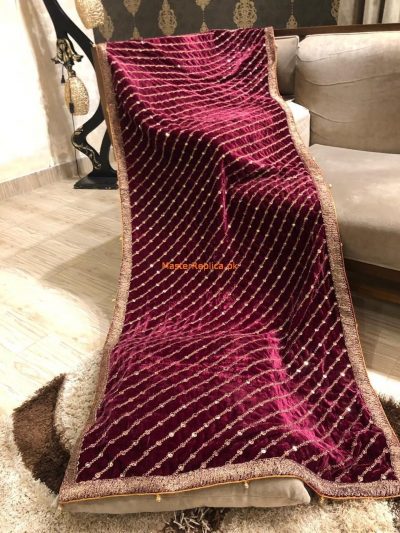 32. Maroon velvet Dupatta with thread work and embroidery
33. Bright Blue Velvet Dupatta with sequins lace border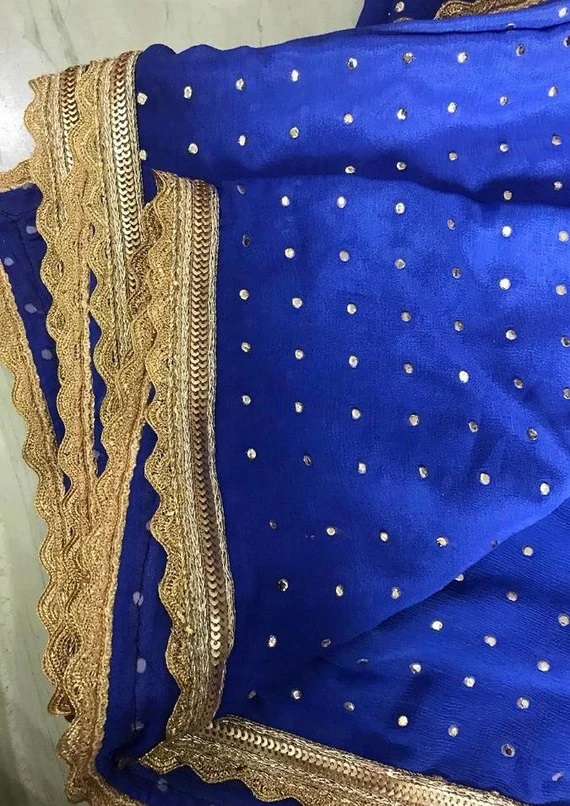 34. Black velvet Dupatta with Zari and embroidery with stone work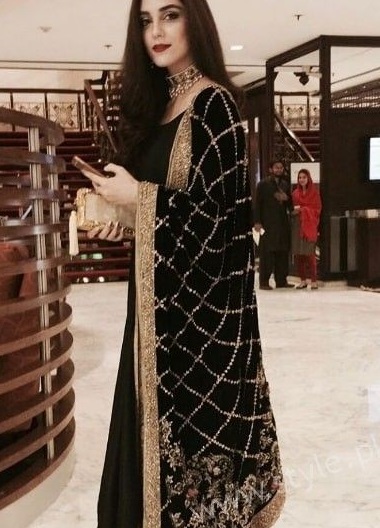 35. Very heavy embroidered velvet Dupatta design for ladies