VLCC Diamond Facial Kit Review
 Facials are important for maintaining a beautiful and glowing skin. Beautiful skin needs care and attention. Facials can do that for you, in this post, I will be reviewing VLCC diamond facial kit. Diamond facials are very expensive out of all the commonly available facials. This VLCC diamond facial kit includes 4 steps. So,, let's have a look how to use this diamond facial kit by VLCC and what results it has given me.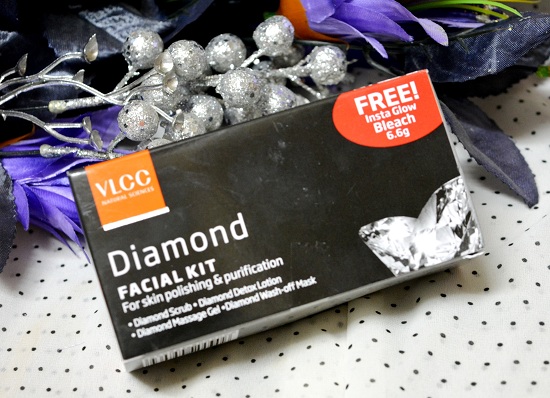 Price: 225 rupees for single facial kit
Experience with VLCC Diamond facial kit
The diamond facial kit has 4 products instead in small 10g satchets. These 4 products are for 4 steps like as follows. I will describe them one by one.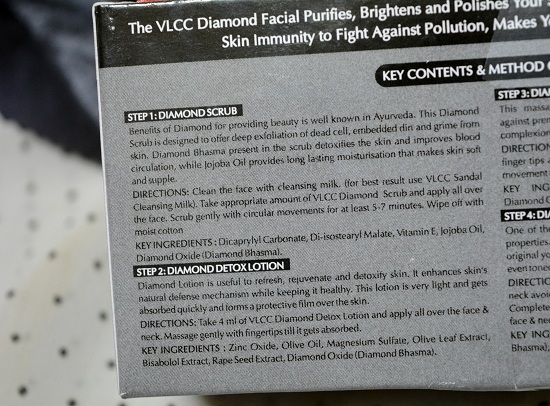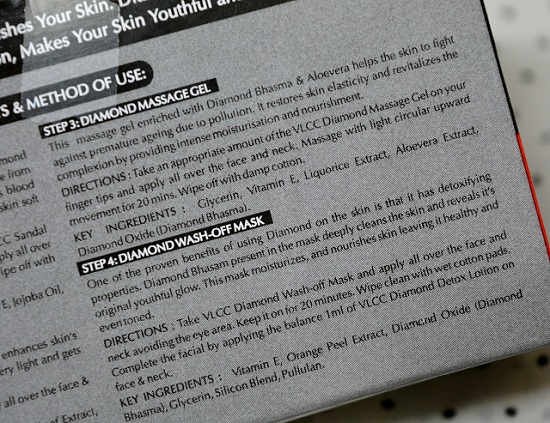 1. Diamond Scrub: This scrub has tiny silver sparkly particles that may be of diamond if that is true that this diamond facial kit contains the real diamond bhasma or the ash. The scrub has a base of jojoba oil and due to that this will make the skin a little greasy but I liked scrubbing with this. When I use this it feels as if I am using a scrub that has tiny but dense scrub particles in a silicone like slippery base. This is good but be careful not to be too hard handed with this scrub. Use this gently. When I go to remove this scrub this will not be washed quickly as this had jojoba oil hence needs a little bit of extra washing. I wiped this off with a face towel soaked in a warm water.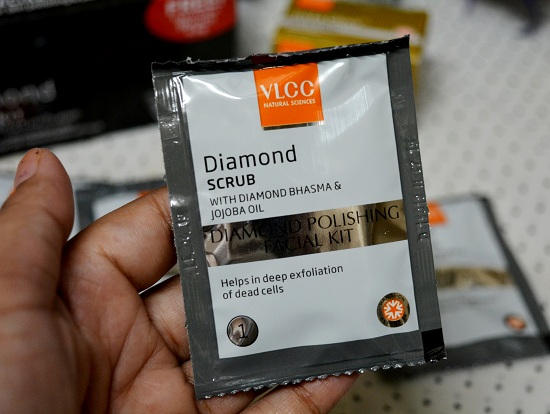 2. Diamond Detox lotion: This detox lotion is a milky white with diamond glitters and sparkles. When I applied this on the face, it feels like a lotion which is velvety and oft but when I saw my face in the mirror then it gave a white cast so this needs to be applied and keep massaging or at least 3-4 minutes. This is basically a detox lotion that will help to detoxify the skin by eliminating the deep set impurities.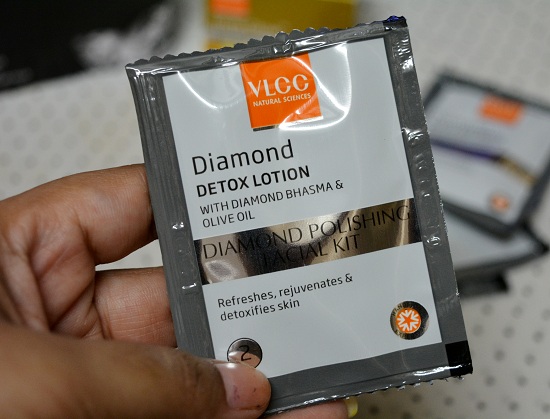 3. Diamond massage gel: This gel has a clear gel like texture that resembles as that of an aloe vera gel but with again those shiny gritty diamond particles. I really liked this step as the gel was very slippery and gives an appropriate gliding movement for my fingers while I am massaging. This is little cooling as well. After this step the skin feels a lot glowy and supple since a lot of massaging and lotions have been applied.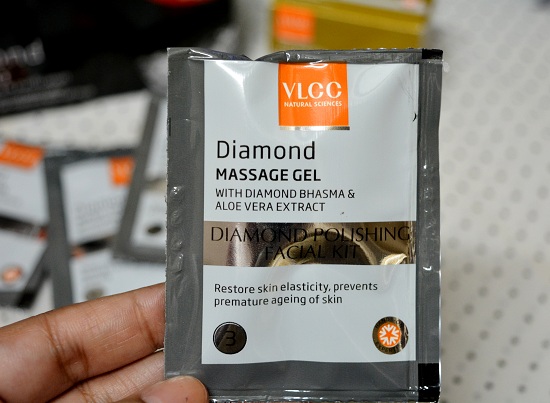 Diamond wash off mask: I earlier thought that this will be a peel off mask but no that was a wash off mask. So, I applied that like a thin layer on my face and then after 15 minutes. I washed it off. This wash off mask was also good.
Let me also tell you that this kit can be used 2 times, have used this and I realize that most of the products I guess all of them you will not need much, like the scrub can be used twice, the detox lotion and the gel also. Mask can be a little less for two times but this is clear that this single use kit can be used at least 2 times.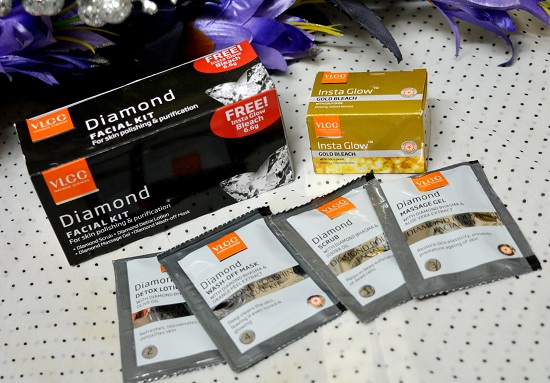 So, do I get the glow after using this VLCC diamond facial kit? The glow wash but there on the first day but on the second day when I woke up my skin was a lot clearer and toned but again, I faced problems like two big angry acne were there on my chin. This makes me realize that this will be a good to try kit for the mature females or those who have got dry mature skin but this is not very good for the oily acne prone skin hence I will not be using this since this is not suitable for my skin type.
Rating for VLCC Diamond facial kit: 3.5 out of 5
This VLCC diamond facial kit was a good kit that was affordable and gives 4 step home facial that is easy to do, this kit has very moisturizing and hydrating therefore good for dry mature skin but since this also has an oily scrub and rather oily detox lotion therefore this will not be very suitable for oily skin.