This post is about VLCC Insta Glow Oxy Bleach Cream Review. Hey girls! When the unwanted facial hair bothers us all we want is to vanish them. So, to get rid of the facial hair you can try some home remedies, threading, waxing, laser or simply apply some bleach cream and make them invisible. Today, I will review VLCC insta glow oxy bleach cream review. I have tried a couple of VLCC bleach creams and this VLCC insta glow oxygen bleach was my most used one. If you are new to bleaching the face then do check this post on how to bleach the face using the bleach cream. And if you already know about that then let's move on to the review and features of this VLCC oxy bleach cream.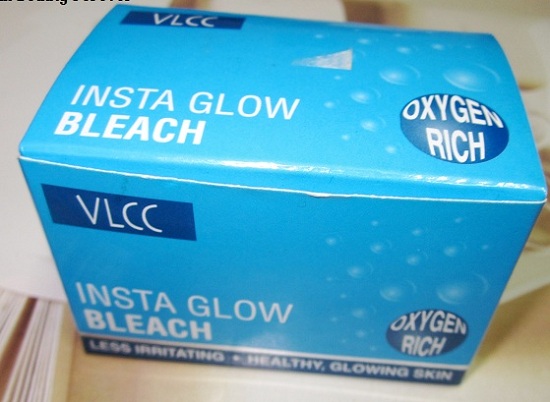 Price of VLCC Insta Glow oxy Bleach cream: This bleach costs 60 rupees for a small pack of 25.7 gms and this can be used 2 times for the face and some on the neck as well.
Contents in this VLCC insta glow Oxy bleach cream: In this Vlcc insta glow oxy bleach kit you will receive a bleaching cream, a tube of activator powder and a pre bleach cream. It also has a page for directions.
Product claims: VLCC insta glow oxy Bleach gives the skin a fairer look in just 10-15 minutes. This bleach cream releases the nascent oxygen which helps to declog the skin pores and thoroughly deeply cleanses the skin. This also comes with a pre bleach cream that protects the sensitive skin against the irritation caused by the bleaching action. This oxygen bleach is mild enough to be used on the sensitive skin.
Experience with VLCC Insta Glow Oxy bleach cream
I always like to use the most trusted fem bleach cream but got this as VLCC is also a good brand that makes some very good facial kits and bleach creams. My skin is not too sensitive so I usually don't take the patch test but you should do if you are applying for the first time. This tub of Vlcc insta glow oxy bleach can be used twice as it has sufficient amount of the product.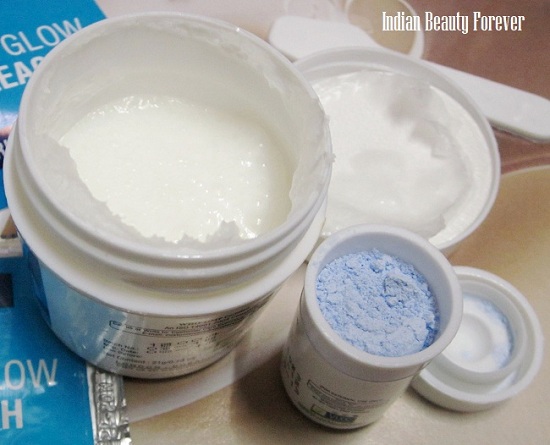 How I use this VLCC Insta glow oxy bleach (Directions)
I will take around 2 scoops of this Vlcc insta glow oxy bleach cream as that is sufficient to be used on the entire face and the neck as well.
This says that we should add just a pinch of powder activator with 1 scoop of the bleach cream, but with 2 scoops of bleach cream I use 4 pinches of powder. The powder looks like bluish salt and has a smell of chemical ammonia like which we use to use during chemistry tests in the laboratory.
So, I will mix both the Oxy bleach cream and the activator powder with my fingers. I will apply this bleach mixture on the face evenly. You will observe that applying bleach cream is slightly difficult task as it is slightly gooey and sticky.
Hence, the best way is to apply is in circular motions. Then there will be an even application. I will leave my eyes, eyebrows and mouth. If some bleach applies on the eyebrows etc by mistake then I will wipe that with my finger nail.
Now, it is time for me to wait for the bleach cream to work. While the bleach is working which means the chemical reaction is taking place you will feel that the bleach on your face gets fluffier as chlorine gas is released.
As per my skin complexion, I will keep this bleach cream for 15 minutes so that this should match my facial hair with that of the complexion. If your skin is slightly darker then keep the bleach only for 10 minutes.
How I remove this VLCC Oxy bleach cream
To remove the bleach cream, I will not go and directly wash my face. This can make the bleach go into the eyes and the process is messy too. Therefore, I will wet a white towel or handkerchief. Make sure you take white cloth or towel else if you take colored one then the color will be faded due to the bleach and your mom will scold you. :)
So, I will wet that towel and clean the face with that to wipe off the bleach cream. Now that the bleach cream is wiped off. I can now easily wash the face.
Results after face bleaching and benefits

My face looked so bright and a lot fairer than it was. Bleaching takes off the sun tan, matches the facial hair with skin so the skin looks fairer.
Bleaching also deep cleanse the skin and removes the uppermost darker skin layer.
I am highly satisfied with this Vlcc insta glow oxy bleach cream. But I will be honest that this is the same results that I get with the other bleaches like Fem, Olivia bleach etc but the only difference is that this VLCC Insta Glow oxy bleach is a lot milder for sensitive skin.
The pre bleach cream further makes the skin irritation lesser that comes along with this Vlcc insta glow oxy bleach.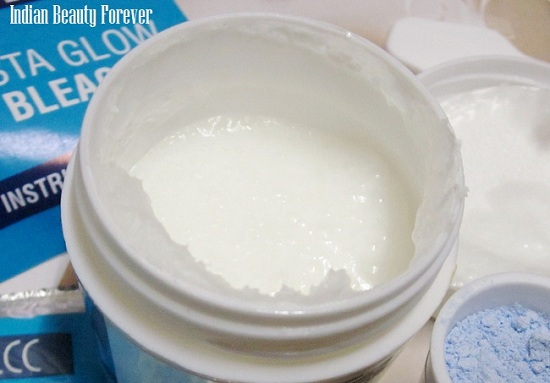 Good about VLCC Insta Glow Oxy Bleach
This small pack can be used 2 times and is very affordable.
Bigger packs of this bleach cream is also available
Price is very affordable
This is suitable for all skin types
Comes with a pre bleach cream for good bleaching experience
Pre bleach cream reduces the irritation that bleach causes for sensitive skin
Bleaches the facial hair nicely and no side effects
Deeply cleans the skin
Reduces the fresh sun tan and skin looks brighter just like the spinz sun tan remover does

Not so good about VLCC Insta Glow Oxy Bleach
Bleach is sticky so application is tricky
Removing it is also difficult as the eyes gets red when the bleach water goes inside but as I told you the easier way above I think that should not be a problem now. :)

The pre-bleach pack can be used once but the entire kit can be used twice so, that is a little less.
Eyes can water while the bleach is on the face as the reaction is taking place so, close the eyes and relax.
Rating for Vlcc insta glow oxy bleach: 3.75 out of 5
VLCC Insta Glow Oxy Bleach is a good bleach. The things that I don't like about this bleach cream like the removing part and application. Trust me this is same with every bleach so, we have to bear it. But as I have mentioned some easy ways to use it, you can use the bleach cream conveniently. But remember to use the bleach cream at night dearies and never go out in the sun after the bleach application this is why evening is the best time. If you are interested in the fruit bleach cream then read this post on Best Fruit Bleach creams in India.