VLCC Party Glow Facial Kit Review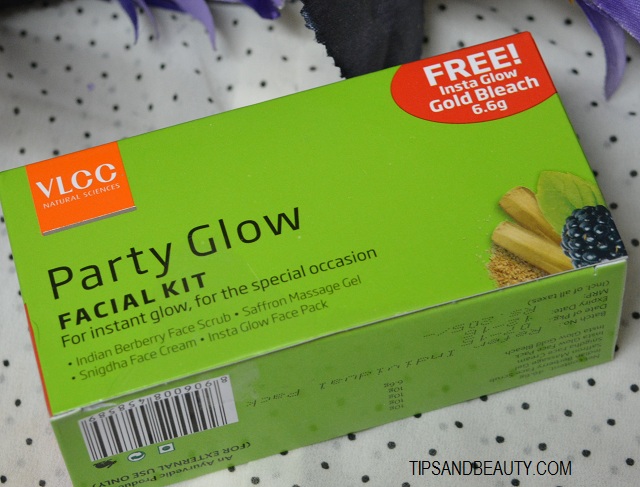 Hi everyone! Facials can be excellent to get smoother and glowing face. Facials also get rid of the tiredness from the face and rejuvenate the dull and lifeless skin. This is the main reason why we go for facials. Home facials are also good therefore; home facial kits are beneficial in doing facials at home. I will share this VLCC party glow facial kit review. This facial kit is ideal to be used before leaving for a party as when I go for a party I will wash this. My skin should look smoother and glowing. Not only me a lot of girls would want glow that is why we use the facials. This VLCC party glow facial kit has fruit extracts. Earlier the packing of this VLCC party glow facial kit was a bit different by now VLCC has revamped packaging of some its products. I like the new bright green colored kit. In my VLCC party glow facial kit, I also got a free small VLCC gold bleach pack. This bleach can be used just once, so I have already used that before the bleaching so, let's start the VLCC party glow facial kit review my friends.
Price: VLCC party glow facial kit is for 195 rupees for one time usage kit.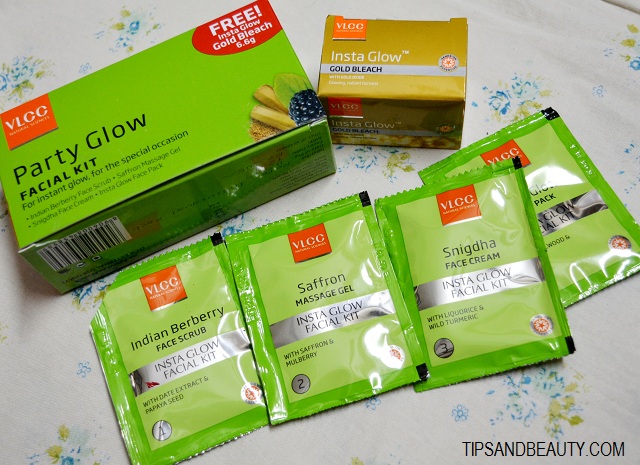 Product contents: This VLCC party glow facial kit contains following products along with a free bleach cream.
Indian bearberry Face Scrub

Saffron Massage Gel

Snigdha face cream

Insta Glow face Pack
Experience with VLCC Party glow facial kit
VLCC party glow facial kit comes in a white carton and inside there are 4 pouches. The steps on each pouch is written that we have to follow accordingly. I will tell you how I used this VLCC party glow kit step by step.
Step 1: Indian Bearberry face Scrub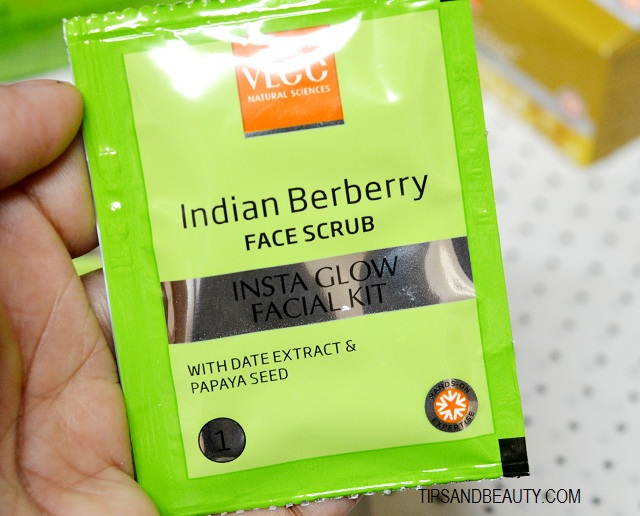 I first started using VLCC party glow facial kit with this scrub which is step no 1. I had already cleansed my face. Usually cleansers are included in the facial kit but this time there was no cleansing step thus I used the regular face wash. I splashed my face with some water then I applied the bearberry scrub on the face. The scrub has a white base with small granules in it. This is not a gel scrub like had experienced with the VLCC gold facial kit, you can read my VLCC gold facial kit review here. I used only half the scrub as the quality was enough for 2 times usage therefore. I took half and then scrubbed my face for 2-3 minutes. I then rinsed my face and wiped with a small face towel. It will be good if you keep a face towel with you when you go for home facials as they are very handy.
Step 2: Saffron Massage gel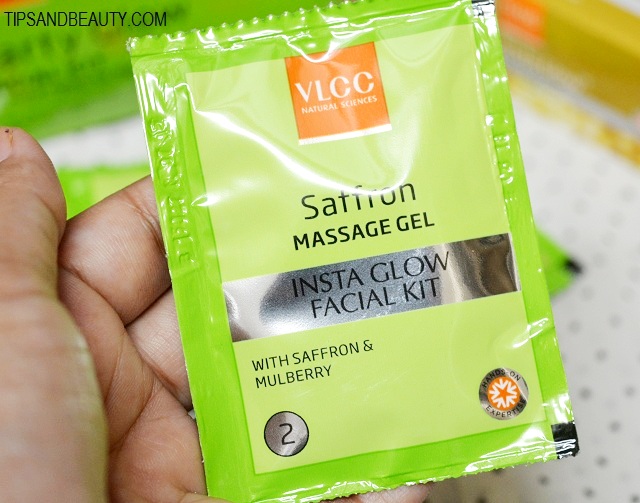 This saffron massage gel is a very pale orangish colored massage gel which in these pictures almost looks colorless. This gel smells very subtle but nice. This is a gel hence I will have to massage the face with this and then when it gets fully absorbed I will take some more and then massage again. In between, I will also add few drops of rose water to make the hand movements swifter and to make them glide softly on the face. I really liked this massage gel I think gel is very good for all the skin types especially the girls with oily to combination skin.
Read: VLCC Diamond Facial Kit Review
Step 3: Snigdha Face Cream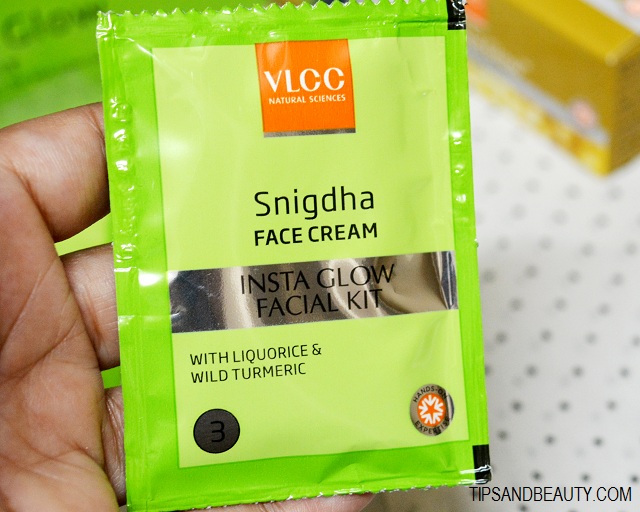 After the message gel step, there is step no 3 which is snigdha face cream. This Snigdha face cream is also a part of the skin whitening VLCC products. This cream is a not on the oily side but very moisturizing. I liked this too but not as much as the saffron massage gel. This is quite heavy for oily to combination skin but good for dry skin. After massaging my skin with this cream, I will wipe off the excess and get ready for the step no 4.
Step 4: Insta Glow face pack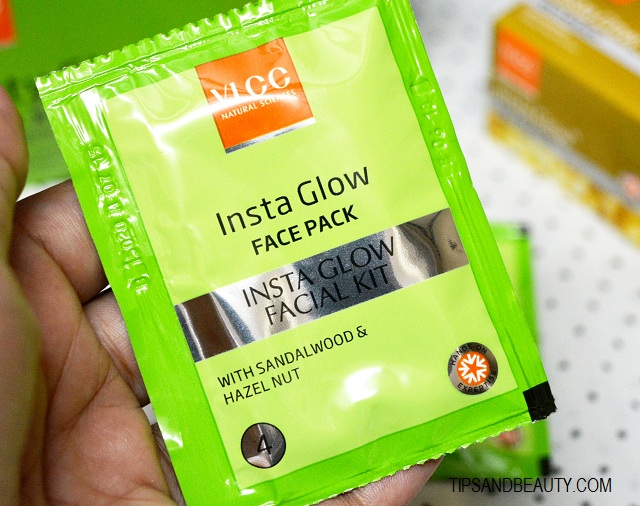 This insta glow face pack is  whitish colored pack which is ideal for the glowing skin. This is not hydrating but more of a pack which tightens the skin and also makes the circulation better. This will be better if you apply this on the wet face as the pack is creamy but very thick therefore, you can either mix some rose water in the pack to dilute it. Or else you can spray some rose water on the face, then apply this pack.  After 15 minutes when my pack got dried I washed my face with normal water.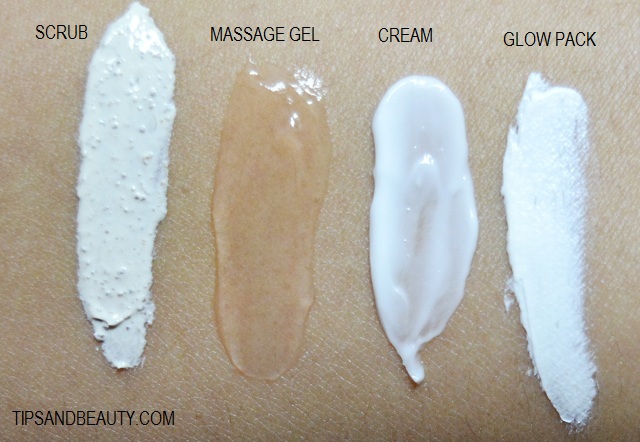 Results: After the entire facial procedure with this VLCC party glow facial kit. I felt that my face looks a lot smoother and yes, flow was there.  Liked this kit but this isn't my favorite. This is ideal for people with all the skin types except for very oily skin. This will be good for dry skin as well.
The scrub was good that gives smoother dead skin free face. The massage gel in this VLCC party glow facial kit was brilliant in giving extra radiance to the skin.
Rating for VLCC party glow facial kit
4 out of 5
Take: I feel that VLCC party glow facial kit is a great kit at affordable price and which we can try at home easily. This gives the glow and smoothness to the skin. This also clears the skin with the scrub and massage gel helps to receive dull skin. This VLCC facial kit will be best suitable for the ladies with dry to combination skin. The only this I didn't like was the snigdha cream, that was a bit heavy and greasy for my oily skin. Just that else this was a great facial kit at inexpensive price. I will recommend this VLCC party glow facial kit.