VLCC Pedicure Manicure Kit Review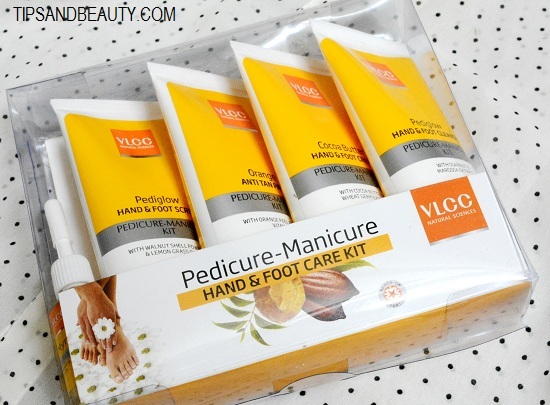 Hi everyone!! How much importance you give to your hands and feet, says a lot about you. Have you noticed that rough hands and feet can steal some of your beauty? Since beauty is not only about the face. Our feet and hands too need love and care. Our hands and feet do a lot during the days thus they need some care as well. I will share this VLCC Pedicure and Manicure kit in this post. This kit was bought by me around 3 months ago before my wedding and I have been using it since then. The amount of the product needed isn't much hence the kit lasts long so, let's have a look if this VLCC Pedicure Manicure hand and foot care kit is worth spending or not. So, let's start the VLCC Pedicure Manicure kit review.
Price:  This kit is priced at 475 rupees and can be bought from VLCC counters shops and online. If you get it online then you may also get some extra discount on this product.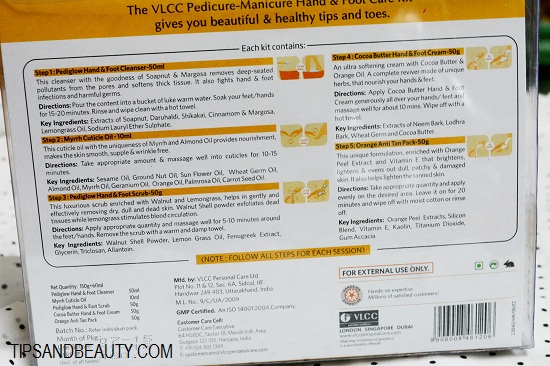 Shelf life: Shelf life of VLCC Pedicure Manicure kit is 3 years hence you can use it for that long.
Experience with VLCC Pedicure Manicure kit
VLCC Pedicure Manicure kit contains 5 products in total i.e. 4 tubes and a small bottle of cuticle oil. I like products like VLCC home facial kit etc that I can do on my own. It is because, I do not have time to visit salon generally so beauty products that I can do at home, are just perfect for me. In this VLCC pedicure manicure kit you will find, A cleanser, scrub, massage cream, hand and foot pack and a nail cuticle oil.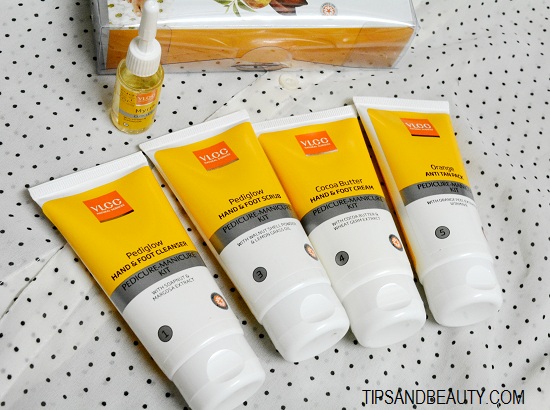 Let me tell you how I use them on my hands and feet.
Step 1. VLCC Pedicure Manicure Kit Pediglow Hand and Foot Cleanser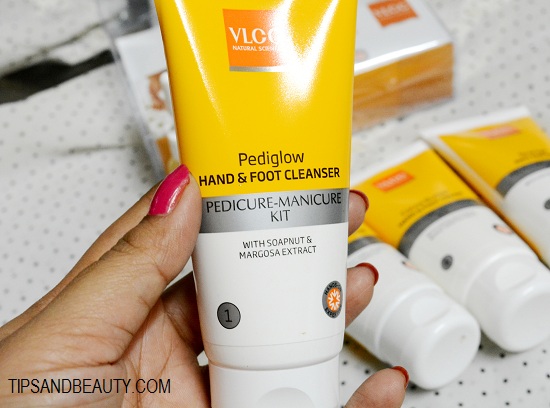 Every facial or pedicure, manicure starts with a cleanser. Proper cleansing makes sure that your skin is all clean for the next pedicure and manicure step. This cleanser is in a tube pack so very easy to squeeze it out. I take around 1 coin sized amount and then will use on the foot, I am saying foot since I have used this VLCC pedicure manicure kit for the pedicure first then for the manicure. So, I will just massage this cleanser cream on the foot and wipe off with a damp towel. It is always good that you keep a damp towel with you while you do beauty treatments like pedicure, manicure, facials etc. After the cleansing, my feet look a lot cleanser and fresh. See: VLCC Part Glow facial kit Review

Step 2. VLCC Pedicure Manicure kit Cuticle Oil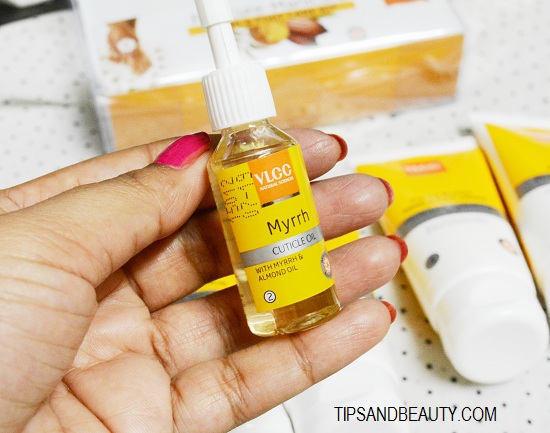 This cuticle oil is the second step. A cuticle oil actually will make the cuticle softer so that the problems of getting the cuticles is dry is not there anymore. Soft and moisturized cuticle makes the hand or feet look polished. I will just squeeze a drop of cuticle oil on every nail and will then massage them so that the oil gets inside the cuticles and they gets softer and easy to get rid off. Read: VLCC Diamond facial kit review

Step 3. VLCC Pedicure Manicure Kit Hand and Foot scrub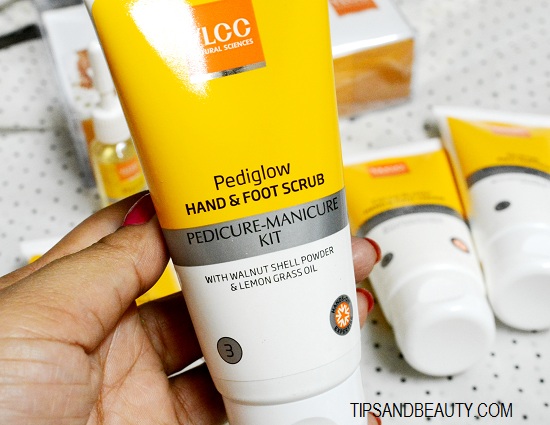 This is the hand and foot scrub whether you do facials or manicure & pedicures, scrubbing is always there as the next step. It is because scrubbing away the dead skin cells is extremely crucial for the smoother skin. This scrub is very creamy and I will take around a dime sized scrub in my palms. I will then scrub off the foot. I concentrate more on the rough heels, toes and the sole of the foot. After scrubbing process, my feet/hands feel so softer. Do you know that when you scrub the skin then it also makes the skin glow and smoother. By the way this foot scrub also lightens any marks are blemishes on the feet. The cuticle oil has softened the cuticles by now so the scrub also removes the dry cuticles.
Step 4. VLCC pedicure manicure kit Cocoa butter hand and foot cream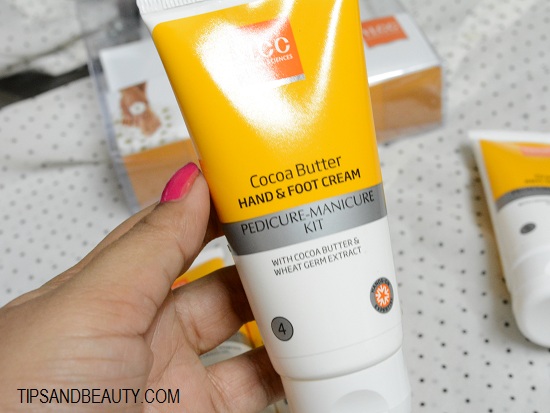 This cream is rich in cocoa butter and is extremely hydrating in nature. Massaging my foot and hands with this takes them sooner soft. I have very dry feet and after suing this, my feet look a lot supple and smoother. The hand and foot cream is pale yellowish in color due to cocoa butter and other moisturizing ingredients. Read: VLCC Pearl Facial kit Review

Step 5. VLCC pedicure manicure kit Orange Anti Tan pack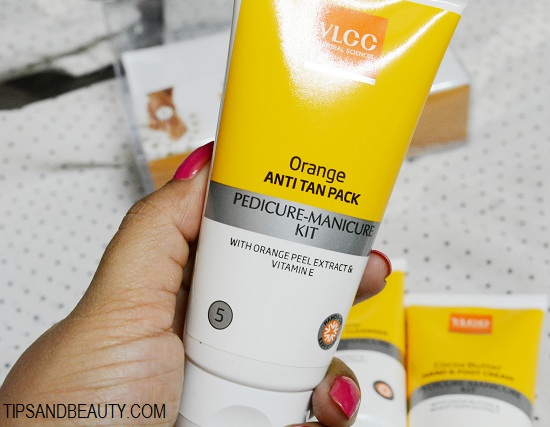 You may have realized that tanning is mostly seen on the hands and feet as we do not take care of them as much as we do to our face. So, this is an orange anti tan pack which takes off the sun tanning with continuous use. This is a cream like pack so you do not have to mix and apply. Just take out the pack off the tube and evenly layer on the hands and feet. This is great to tighten the skin and to lighten the tan. I have not seen many changes in the tan removal but hopefully it will do at least something.
So, after using this kit, I can say that my feet looked polished and supple. It is very important to go for regular pedicure and manicure and they are essential to maintain beautiful hands and feet. You will not seen major changes in just usage but will continuous use like 2 times in a month, you will realize that your feet and hands look a lot better than not using anything at all.
Rating: 4 out of 5
VLCC pedicure manicure kit is just good to maintain the beauty of the hands and feet. This is ideal for getting smoother and supple hands and feet when used regularly. You can try this 2 times in a week for good results.  Doing manicure and pedicures at home will also save money and time. You increase the results you and also try to dip your feet in warm water for 15 minutes before starting this VLCC pedicure manicure kit beauty treatment.