Application of Honey for Glowing Skin
Honey is a fabulous product that heals the skin gives anti septic benefits and also keep the skin moisture locked liked honey because of these wonderful quality. But do you want glow on your face using honey? Yes that is correct honey has so many minerals and beneficial compounds that it gives a healthy glowing skin when used on the face in the form of honey packs, masks and lotions. I will share 4 ways with which honey will bring beautiful shining glow on your face.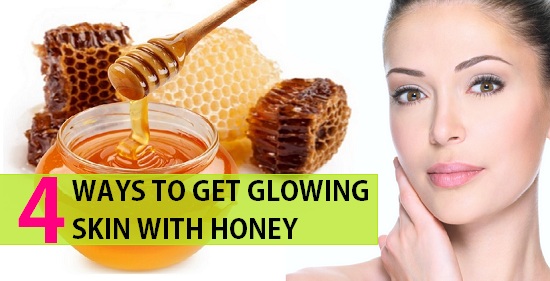 How Honey Gives Glow on the Face?
Honey is a fortified with the essential nutrients, antioxidants and some skin healing substances. It has anti septic benefits and also fights off the acne causing germs. Honey is a natural humectant which retains the moisture in the skin. This moisture retention capability helps to give a glow on the skin. Dry skin which feels stretchy and parched can be healed with using honey. For oily skin honey plays an bacteria eliminating role therefore will keep the skin acne free and glowing. Honey is indeed useful when you apply it on the face as it also fades the scars and blemishes.
Homemade Recipes to Use Honey for Glowing Skin
below are some effective recipes that can help you get the desired glow while applying honey on the face. But honey can also be used for the body skin to make it radiant as well. 
1. Lemon and Honey Lotion for Glowing Skin
To prepare a wonderful homemade glowing skin pack with honey, you need to obtain 2 things, Organic pure honey and lemon. Now mix one lemon's juice with 1 teaspoonful of honey. Use this honey lotion on your face like you massage your face with a lotion. This will make the honey and lemon juice mixture go into the skin and skin gets a glow. But how long to keep this on the face. You can keep this for 30 minutes then wash off with water. Do you know that as a bonus, this lotion will remove the sun tan and darkening? By the way this combination of honey and lemon also has the effectiveness to heal the acne scars.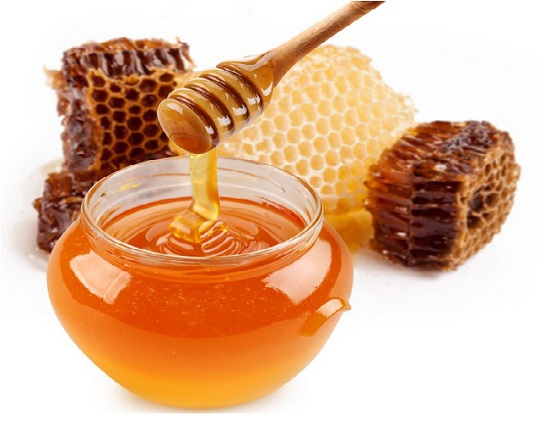 2. Honey Massage Cream Recipe for Glowing Skin
To prepare a homemade massage cream with honey. Take a small chunk of banana and mash with a spoon or finger so that you get a smooth pulp like paste. In that add 1 teaspoonful of honey. Mix them and use on the face like massaging cream. You have to massage with this banana and honey cream for 5 minutes then leave this on the face for 20 minutes after which you can go and wash your face. Try this 2 times in a week for a glow that lasts longer on your face. By the way, this is a best recipe using honey for dry skin and glow. 
3. Honey and Papaya Mask for Acne Scars
Take one thin slice of the papaya. Keep this in a plate and mash with your fingers or with a spoon. Mix some honey in it and apply on the face. Wash after 30 minutes. This honey glowing skin face pack can be tried by everyone and all the skin types. This is a also good for men who have black spots, marks and dull skin. This is perfect to get glow and softness on the skin. Just try this regularly once in a day daily. This can surely get rid or completely lighten those undesired dark spots and scars.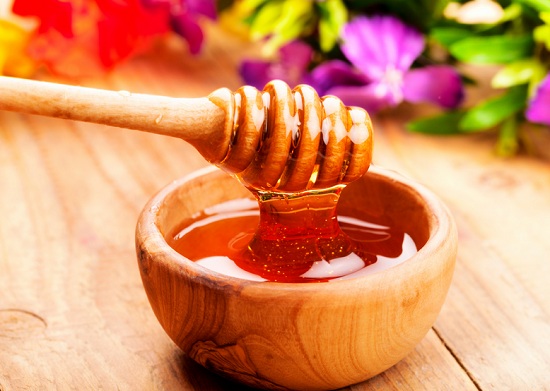 4. Sugar and Honey Facial Scrub for Glowing Face
Scrubs are good to boost the smootheness and glow on the face. When you scrub the uppermost dead skin goes away and your sin gets mother. When the skin gets smoother it glow naturally. For this facial honey scrub. Mix 2 teaspoonful of honey and 2 teaspoonful of sugar in equal amounts. Then use this mixture to massage the face and scrub the face gently. This will enhance the blood flow and skin looks glowing.
When done regularly, this scrub pack can boost the skin's cell renewal and repair rate. Furthermore, application of this treatment twice in a week gives smooth and glowing skin. This is not just a face scrub with honey for glowing skinbut can also be used for the body.
5. Honey and Cinnamon Pack for Glow and Pimple Treatment
This combination of cinnamon and honey can be said as a boon for the people who have got oily and cane prone skin but wish to have glow. To make this you need powdered cinnamon sticks or cinnamon powder to be precise. You can yourself prepare the cinnamon powder by grinding it. You have to mix 2 teaspoonful of honey with ½ teaspoonful of cinnamon powder. If you have pimple then add 2 pinches of turmeric else leave. Mix this and lightly massage the skin like a cream. Then leave it for 20-25 minutes.
Post this rinse the face using normal water. Repeat this treatment with honey and cinnamon once or twice in a week for good skin and of course the glow.
Benefits of Using Honey on the Face
Honey will moisturize the facial skin
It gives anti aging features to the skin so that skin stays younger for long. The anti aging features of honey is indeed due to its moisture retaining qualities. 
It is very moisturizing and skin soothing therefore honey will keep the skin dryness away and also soothes the irritated skin in summers.
Honey clarifies the skin pores due to which the whiteheads and blackheads on the skin are leaser
Honey also improvise the skin complexion. It makes skin fairer by moistursing and minimizing the melanin responsible for the dark pigment of the skin. 
So, these are the effective methods and ways that can make the skin appear glowing and radiant using the honey as the main ingredient. So, you must try honey to make skin glow. 
Recommended Articles
Glowing Skin face packs for Summers
Papaya Face Packs for Glowing skin
Overnight Face masks for Glow and Fairness