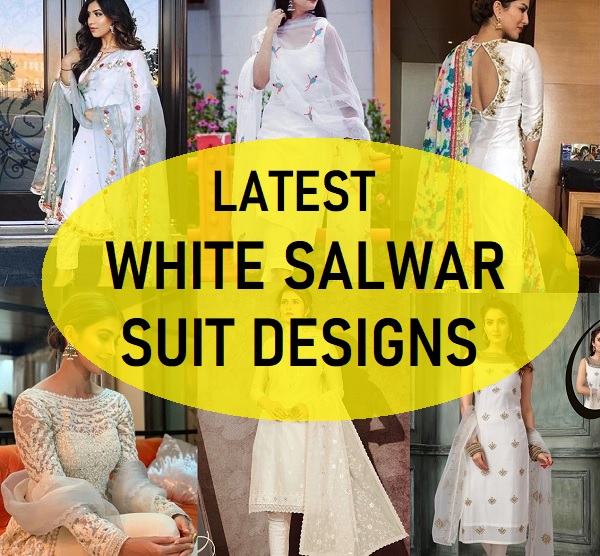 White is a color that looks royal, regal and elegant. White salwar suits have always been in trend and women would love to flaunt it. There are different patterns and Designs of white salwar kameez. In fact, white kurta palazzo is also very beautiful. You can we are a nice white salwar suit with nice Dupatta for your college office event or any other pooja ceremony or function. If you would like to wear something colorful with your white salwar kameez then you can take different colored dupattas with pure white salwar kameez. White is definitely a color that makes you look royal and elegant. So, considering that let's take a look at the latest white salwar suit designs for women.
Latest White Salwar Suit Design For Women (2022)
1. White Thread wok stylish salwar kameez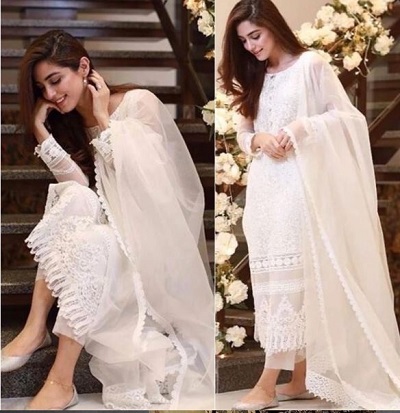 This is an extremely beautiful dress for different occasions like Pooja ceremony weddings or even for the ok. It has a red embroidered white lace fabric with chiffon Dupatta. Lace border is used all over the Dupatta and on the suit itself. Here, the suit is paired with ankle length trousers pants.
 2. Stylish white sleeveless kurta trouser with printed dupatta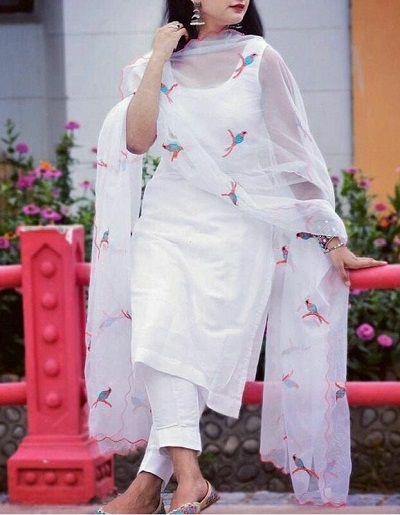 The dress also looks beautiful. It has a round neckline and sleeveless pattern. It is not a very long kurta but reaches just beyond the knees. The kurta is paired with nicely fitted ankle length trousers pants in white colour. This entire kurta and trouser is paired with a chiffon Dupatta that has bird motif printed. It is definitely a beautiful looking dress.
3. White Party Wear Satin Suit Salwar For Women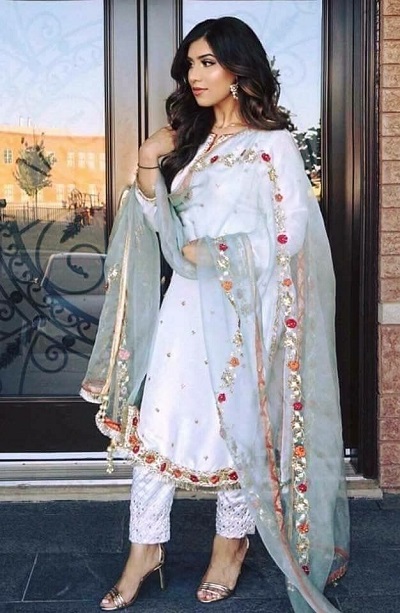 This is definitely a party wear set. Who says that one cannot wear white for weddings or parties. When a white is as embellished like this, it will certainly make you look the best. White Satin Silk fabric is used to create the kurta which has full sleeves and round slit neckline. The kurta has embroidery in red colour and Golden beads are used all over it. Ankle fit the same embroidery and bead work is used to create this beautiful white kurta trouser set. Dupatta is in net fabric which is light grey with the same embroidery and border work used.
4. White Silk kurta with multicolor printed dupatta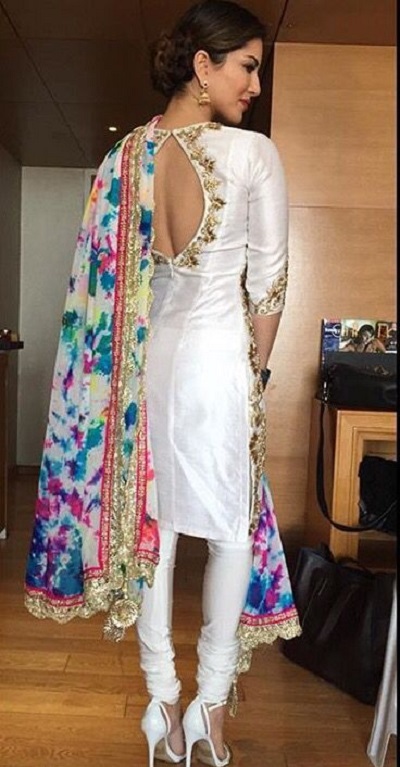 This is an equally beautiful churidar kurta dress man with a nice back keyhole shape neckline. The back design makes it look even better and the printed dupatta with embellishment makes it festive and party wear as well. Dress is appropriate for different ceremonies and occasions.
5. Heavy white embroidered suit salwar with net dupatta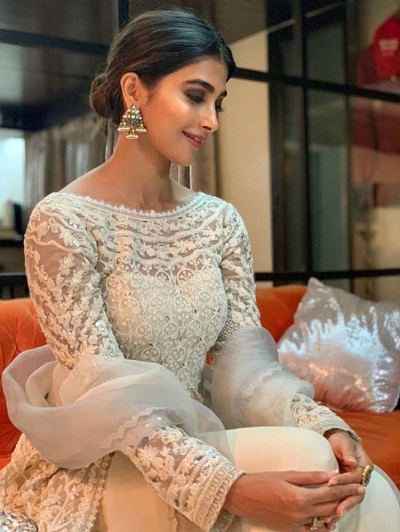 This is really a gorgeous white salwar suit dress for women. The embroidery done on this white color salwar suit design is so amazing and precious time that it would definitely make you royal and elegant. Trouser pants are used with this dress and it's a straight centre slit cut A line kurta for women.
6. Stylish white embroidered kurta with trouser pants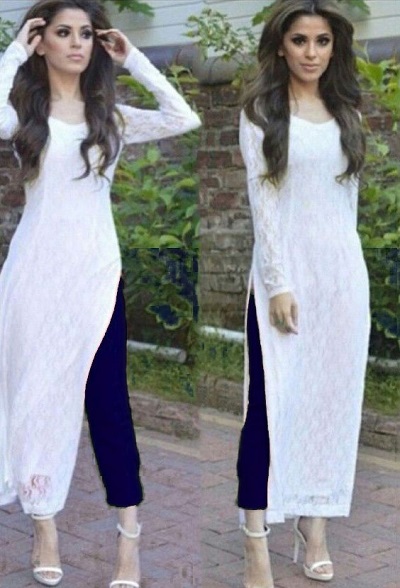 If you would like to wear something simple yet impressive, then this is the best dress to try. The full sleeves white red embroidered cotton kurta is paired with blue trouser pants. It is a long kurta that goes all the way to the ankle.
7. High low pattern white kurta with black trouser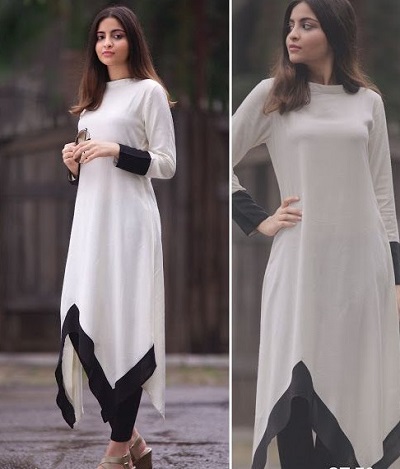 This is also a very office wear or college wear kind of casual dress for women. This casual white kurta trouser has a nice Indo Western feel to it.
8. White embellished Anarkali kurta with black embellished dupatta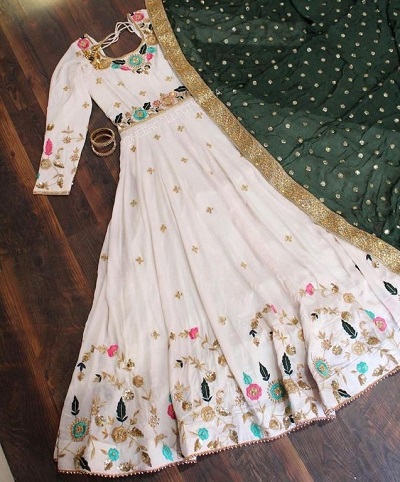 This is one of the best looking white dress that we have seen in this catalogue. The white kurta has huge flair and lots of embroidery is done on the hemline. It comes with embroidered and embellished Kurta in Georgette fabric.
9. Stylish sleeveless white kurta with chiffon dupatta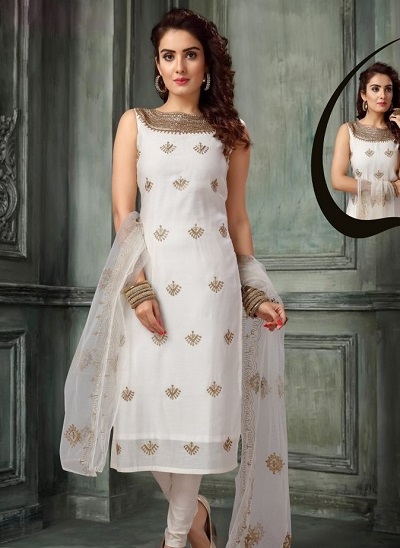 This dress is also nice because it is simple yet looks quite impressive. Embroidery is done on the neckline and it is a churidar salwar suit for women in white color. 
10. Stylish White Party Wear Suit Churidar Set For Women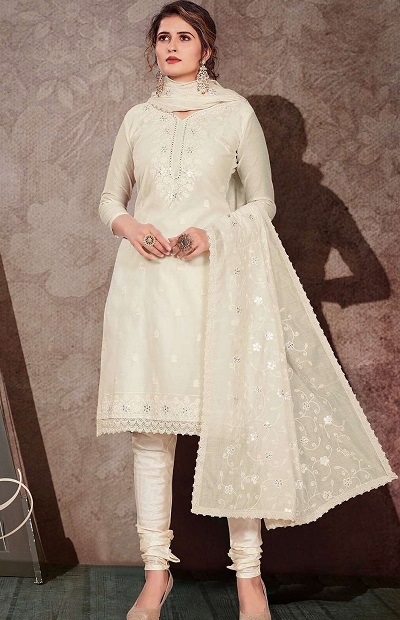 11. Anarkali White Embellished Suit With Churidar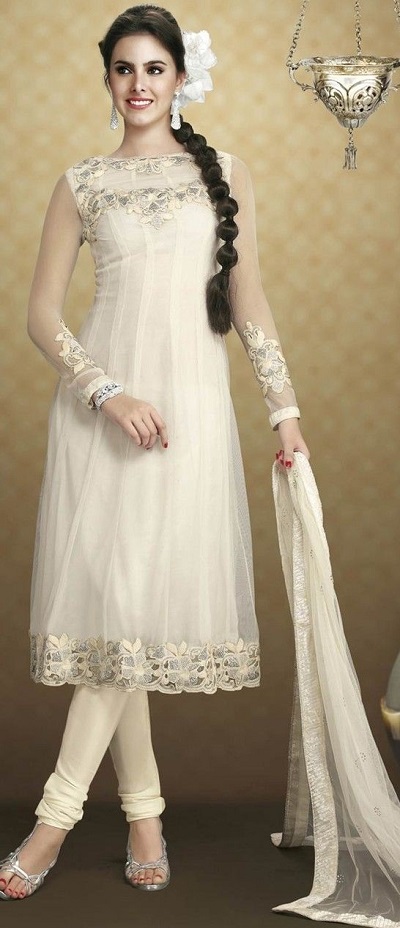 12. White Embroidered Net Suit With Silk Churidar Pajami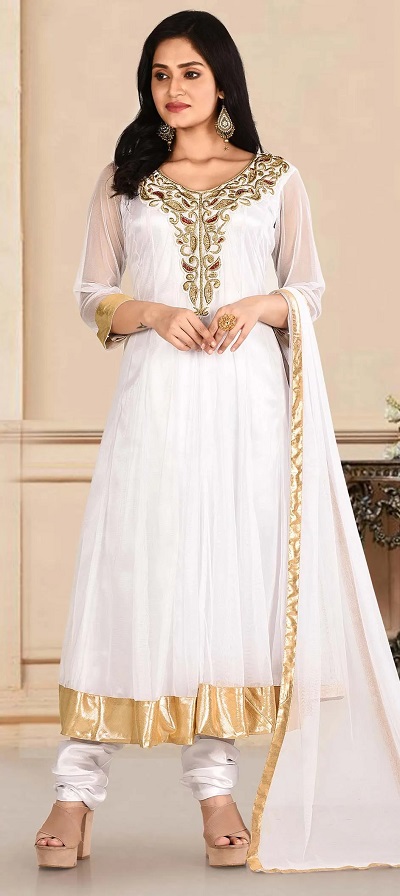 13. White Embroidered Kurta With White Palazzo Pants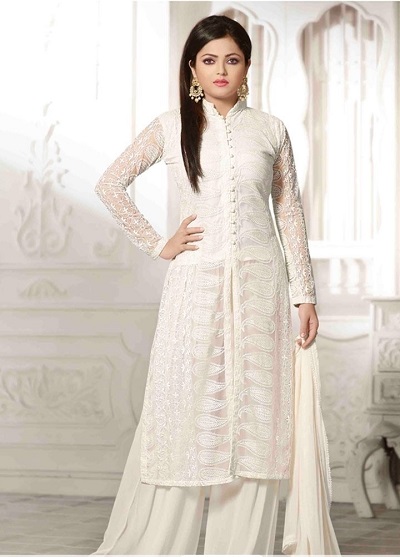 14. White Cotton Silk Salwar Suit With Cotton Silk Dupatta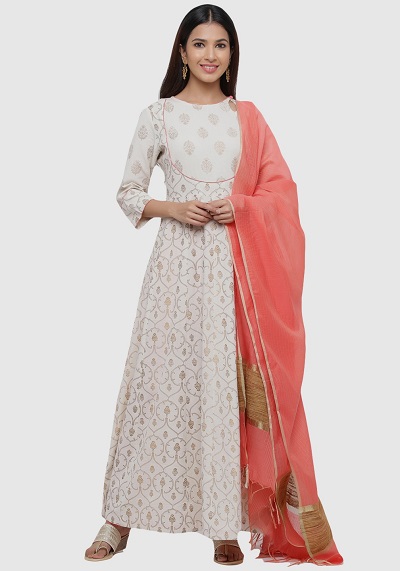 15. Stylish White Kurta With Pink Salwar And Banarasi Silk Dupatta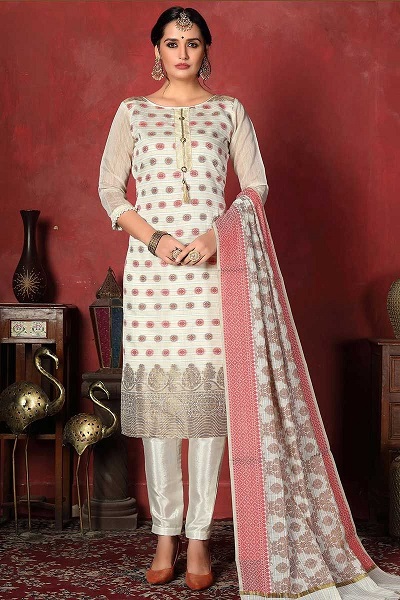 16. White A Line Kurta With Carrot Pink Cotton Dupatta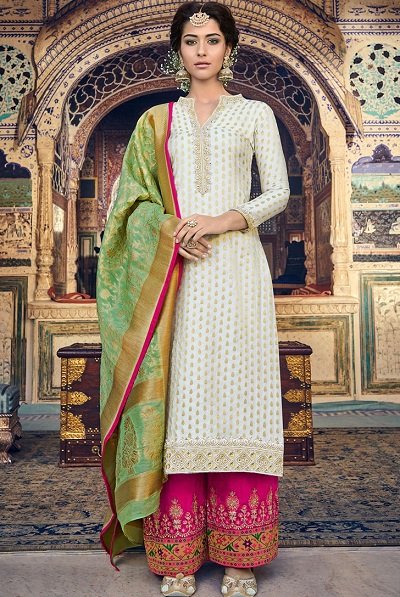 17. White Floor Touching Anarkali Kurta With Pink Banarasi Silk Dupatta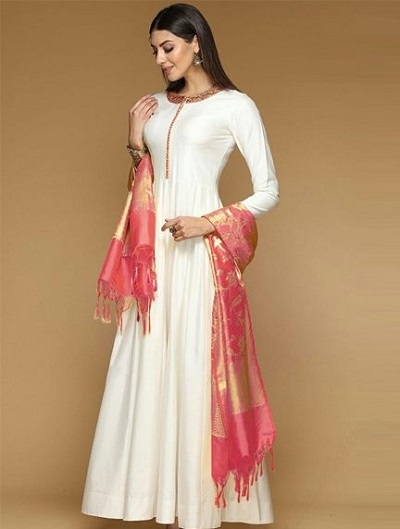 18. Stylish White Sharara Suit With Red Dupatta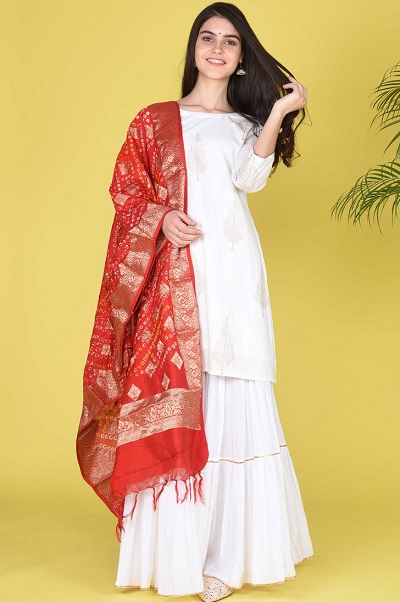 19. White Kurta Palazzo With Orange Bandhej Printed Dupatta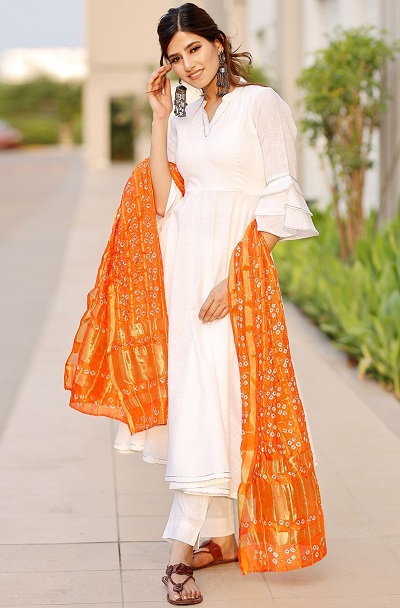 20. White Anarkali Kurta Palazzo With Red Bandhani Print Dupatta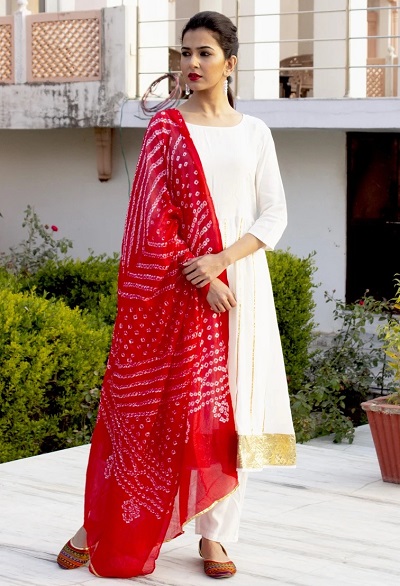 21. Long White Embroidered Net White Suit With Palazzo
22. Embellished Hemline White Anarkali Suit Salwar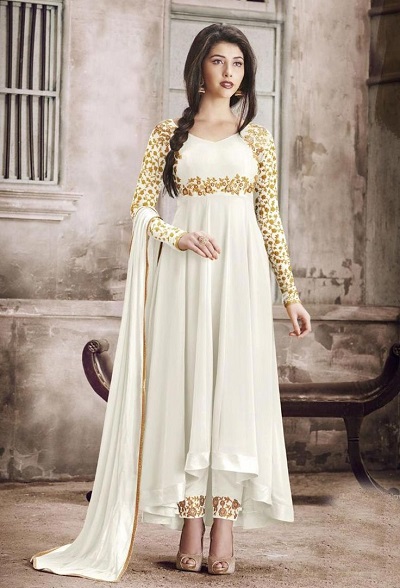 23. White Salwar Suit For Women In Silk Fabric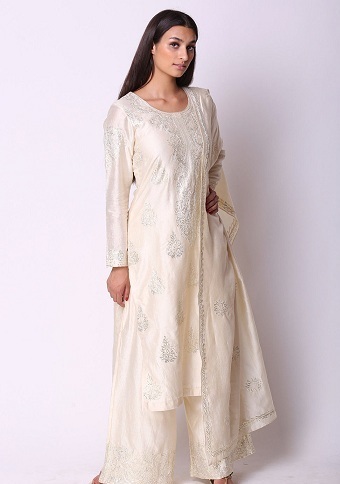 24. Embroidered Net Fabric Suit Salwar In White Color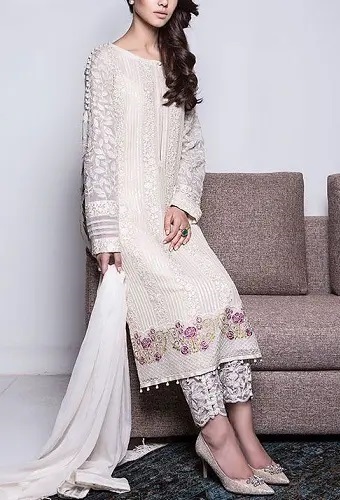 25. White Kurta Skirt Set With Embellishment And Embroidery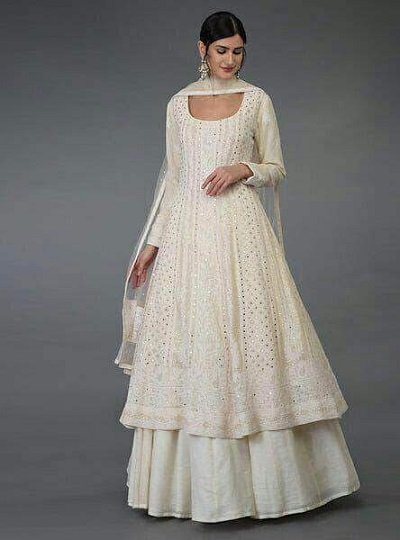 26. White Thread Work Net Fabric Long Kurta With Dupatta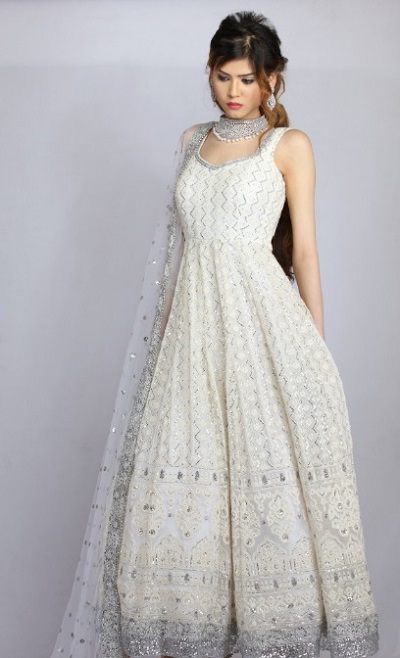 27. Stylish Short Kurti With Palazzo And Net Dupatta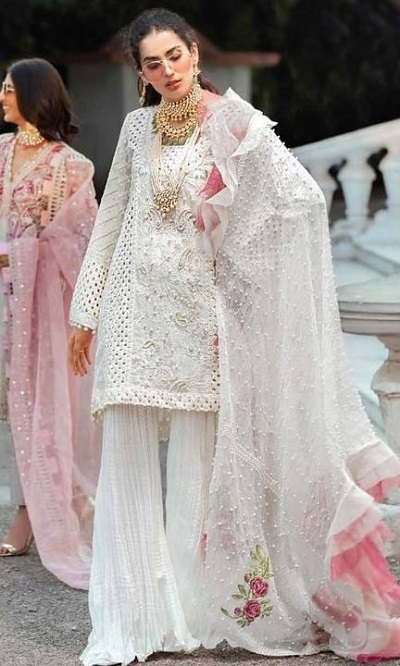 28. Beautiful White And Golden Kurta Palazzo Dupatta Set
29. White And Gold Long Anarkali Suit With Heavy Embroidered Dupatta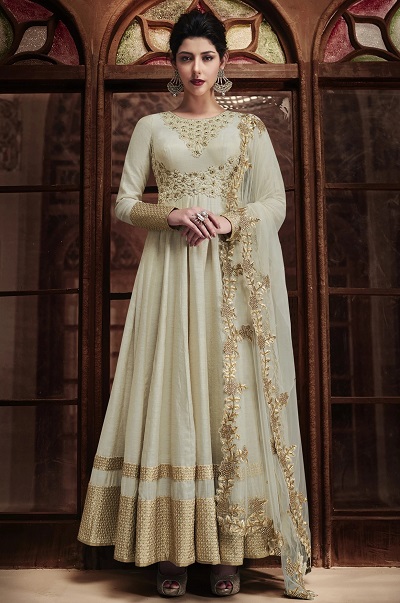 30. White Simple Salwar Suit With Mint Green Heavy Embroidered Dupatta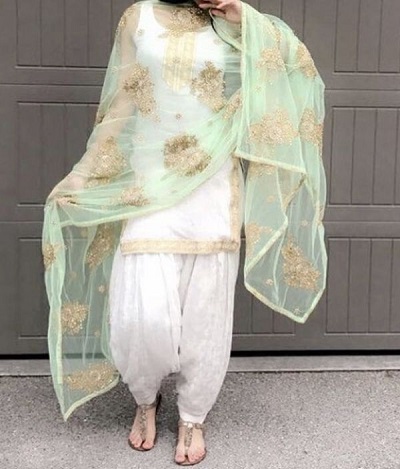 31. Party Wear Long White Kurta Trouser With Net Grey Dupatta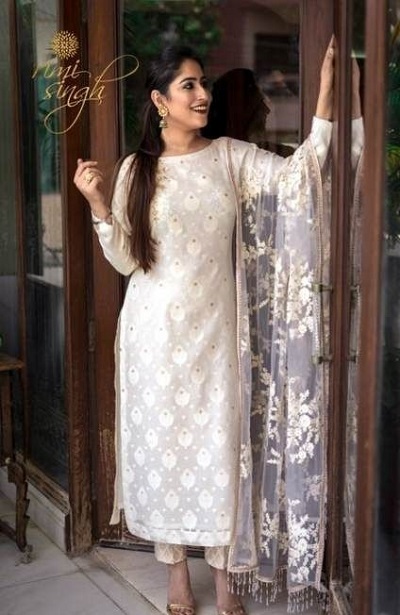 32. White Suit With White And Gold Dupatta Punjabi Style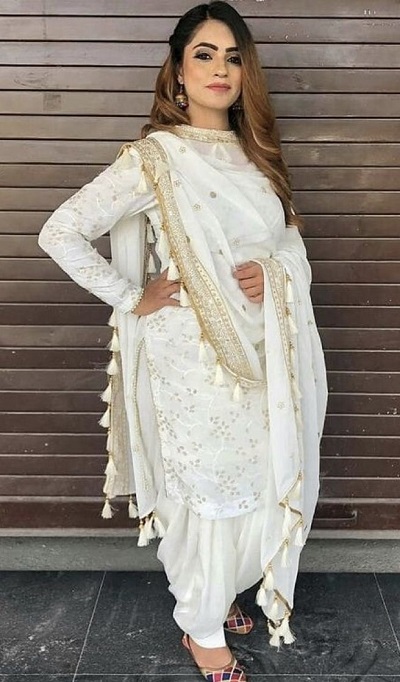 33. Printed Kurta Palazzo With Dupatta Set For Women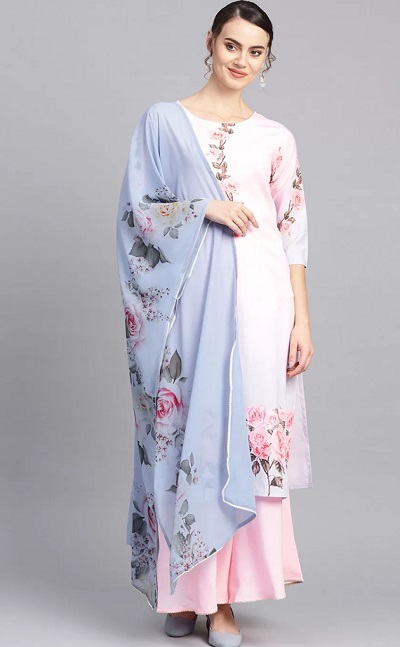 34. White Printed Long Kurta Palazzo And Dupatta Set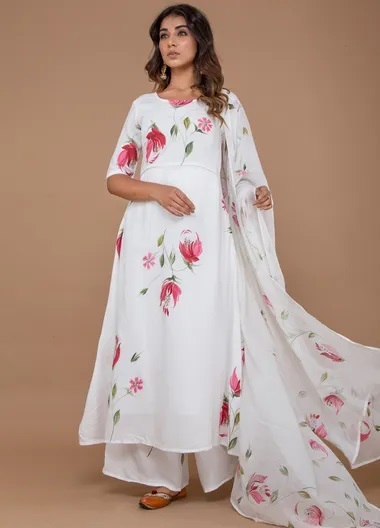 35. Festive Wear White Kurta With Printed Dupatta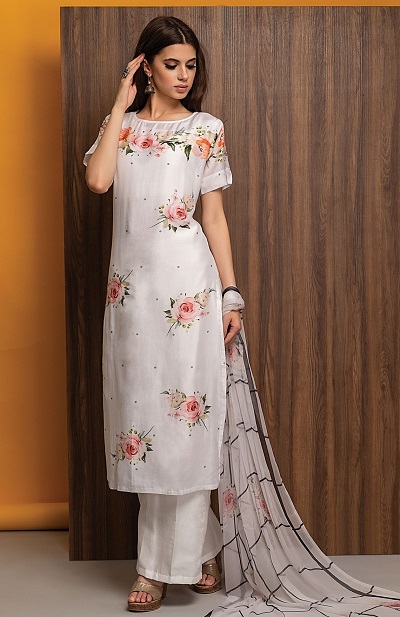 36. White Heavy Embroidered Kurti Sharara For Wedding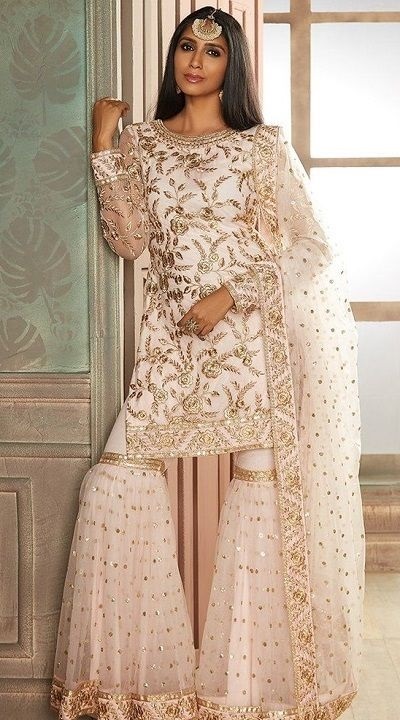 37. Wedding Wear Long White Georgette Anarkali Suit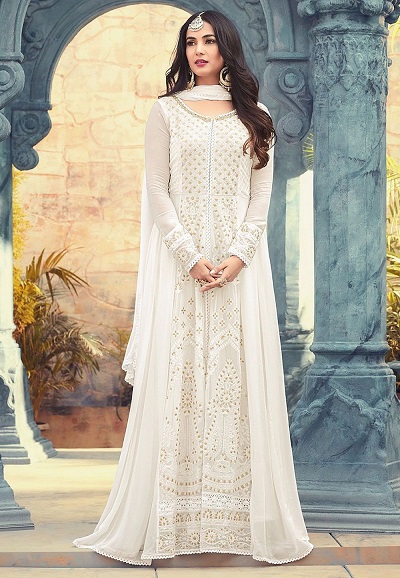 38. Stylish White Kurta Palazzo With Pink Net Dupatta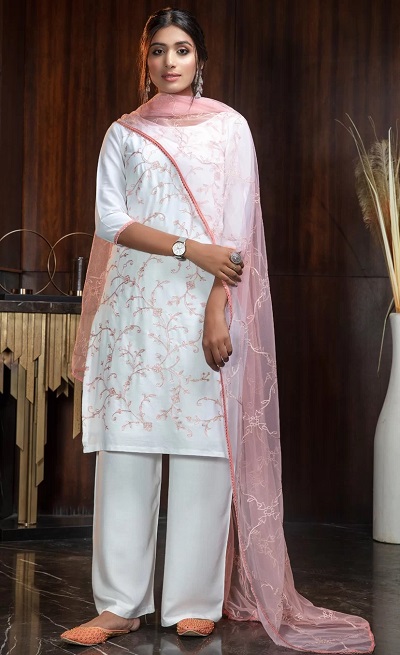 These are the latest designs of white salwar suit for women. These designs can be used for parties and for casual ceremonies and functions.