Yellow is a bright and cheerful color, considering this yellow Lehenga Cholis are very popular. Yellow is a color that depicts the vibrancy in anyone's personality and it's a mood enhancing color. So if you are someone who would like to have a Yellow Lehenga Choli designs for your next ethnic wear dress, then this article or image list would help you out in choosing the best yellow colored lehenga and blouse designs.
Latest Yellow Lehenga Designs For Weddings Parties and Festivals
These tending yellow lehengas are amazing and quite attractive for all the skin complexions. You can try these the next time you think of a perfect dress for a party or relative's wedding.
1. Net yellow Lehenga pattern for parties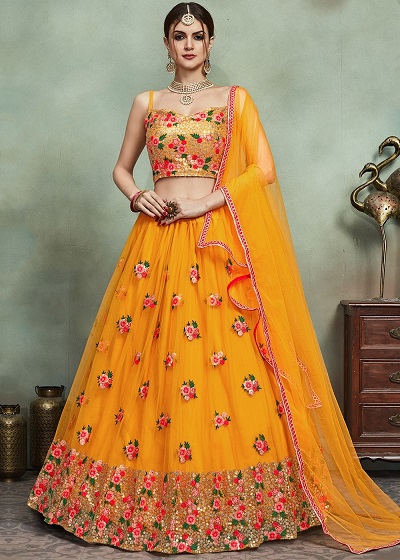 This gorgeous net fabric lehenga in bright yellow color has embroidered flowers of pink and gold color. On the hemline of this yellow net lehenga for weddings, there is a beautiful embroidery going on with some sequins work. It is a floral lehenga choli pattern that has the net plain Dupatta and a very brightly studded embroidered choli.
2. Ethnic Wear dress for Weddings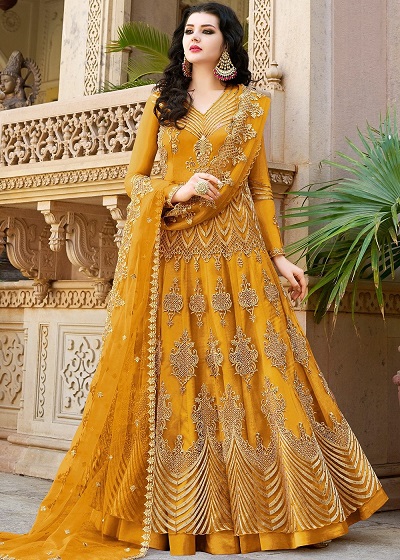 The beautiful Indian traditional women's dress is not exactly a lehenga choli however is a lehenga gown. The long ethnic gown is a layered ethnic dress for women. With full sleeves length, it has a nice upper net fabric with embroidery and stone hand work. Underneath it, there is a Silk fabric lining. Such exclusive looking elegant dresses are wonderful for the Indian weddings.
3. Heavily Embroidered Partwear Yellow Lehenga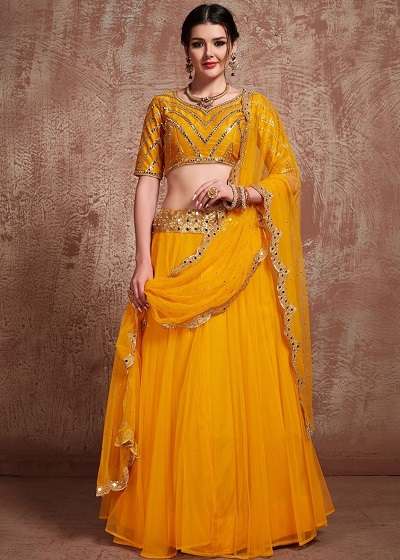 Lehenga here is in the net fabric with a very heavily embellished blouse. The blouse is given a sweetheart neckline and medium length sleeves. The net dupatta is extremely pretty with scalloped border and mirror work. The gorgeous lehenga is otherwise plain, and it's just the waist band that is embellished.
4. Yellow Lehenga with Red Choli Design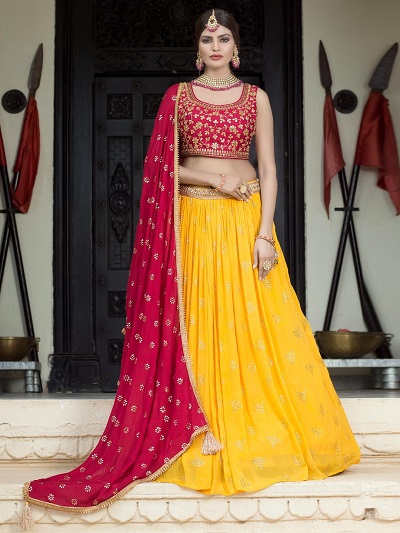 Red and yellow is a color that is chosen by many young brides. This beautiful red and yellow lehenga has a red dupatta. The red sleeveless choli has a great look with the round neckline. It is heavy embroidered lehenga, however the Chanderi Silk lehenga has woven gold thread work.
5. Yellow Jacket Style Lehenga Design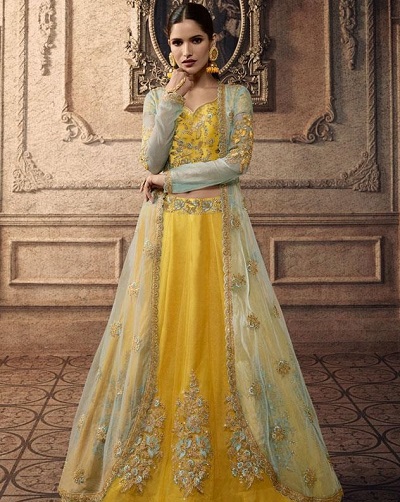 Yellow Lehenga with a light blue jacket in net fabric is elegantly beautiful and one of the most modern looking style that is currently going on. The beautiful lehenga like this will certainly gain you loads of compliments and glances.
6. Peach and Yellow Lehenga Designs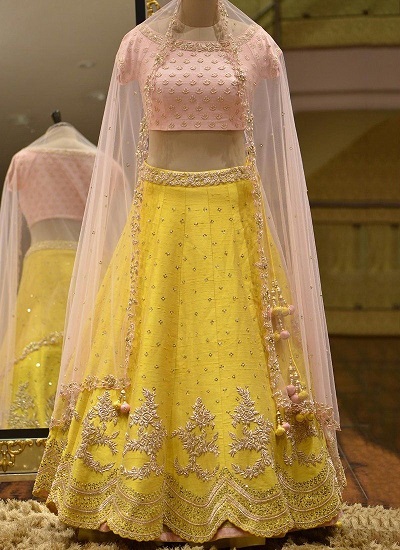 Peach and yellow is a color combination that is very new and fresh. This Silk Lehenga in yellow color has gorgeous thread work on the hemline and small buttis of gold work are spread all over the lehenga. It is a panelled lehenga with kalis that create the flare. The best part is the gorgeously made choli. The blouse has boat shaped neck line. A net dupatta in the same peachy pink fabric is also given.
7. Festive Wear Floral Lehenga Pattern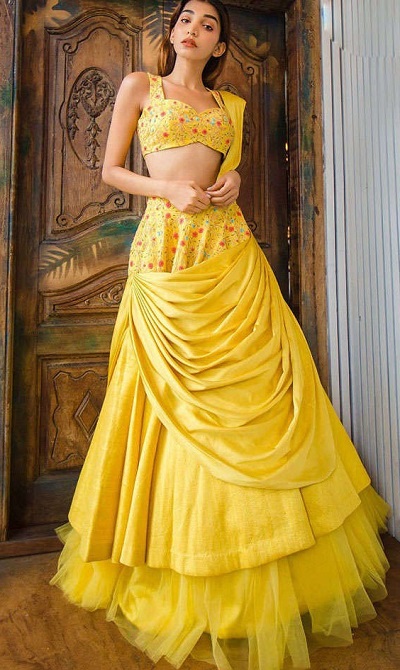 The floral printed yellow bridal lehenga has a layered design with net and cancan attached. The beauty of this lehenga is the stylish cowl or draping pattern that is being used on the front and back part. So, this design also makes this lehenga look like a reception or cocktail party perfect gown.
8. Simple Lehenga dress designs for Diwali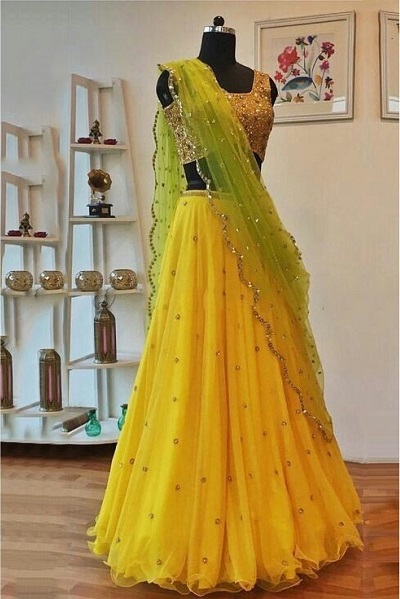 This dress is simple yet stunning for any wedding or festivals like Diwali. This is a net lehenga with small sequins work and buttis all over the net fabric. The heavily embellished lehenga blouse is the major highlight of this otherwise plain dress. It's not a very heavy lehenga, but it's a lightweight lehenga choli design that even girls can wear.
9. Silk Lehenga choli in yellow color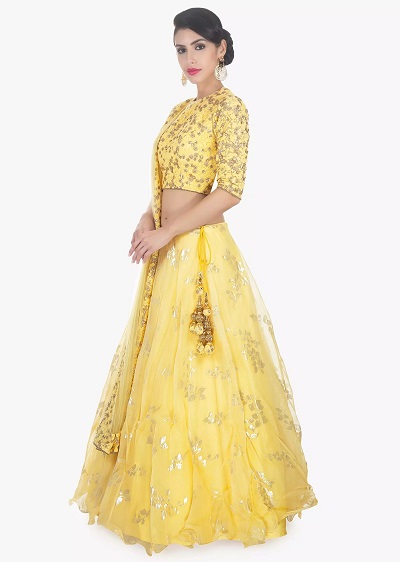 The lehenga is in the embroidered net fabric. However, the choli is made with the embroidered silk fabric. This entire lehenga dress would look gorgeous when worn for a wedding or a party with approparite jewelery. Even for festivals, this traditional dress is amazing.
10. Thread work Lehenga choli design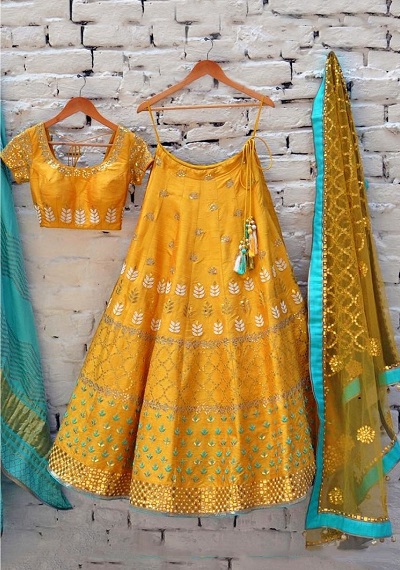 This Silk lehenga has beautiful thread work. The major color combination found in this gorgeous turmeric yellow color lehenga is Yellow and Blue. The blouse has got thread work with gold sequins work. It would surely make heads turn at any party.
11. Gorgeous Silk Lehenga For Weddings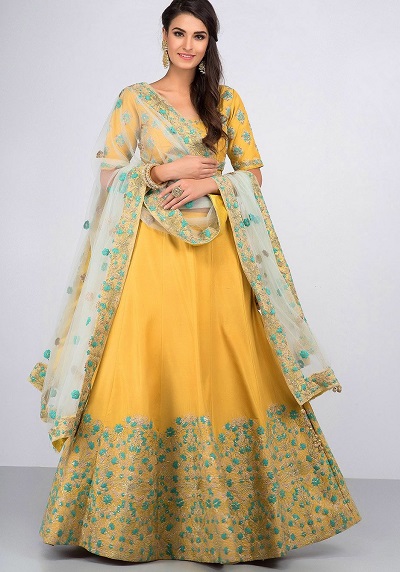 Another lehenga on the similar lines, is this gorgeously made yellow Silk lehenga with beautiful mint blue color embroidered flowers. For the dupatta, a net fabric with matching embroidery is also paired with this lehenga.
12. Bold Yellow and Blue Lehenga Choli Design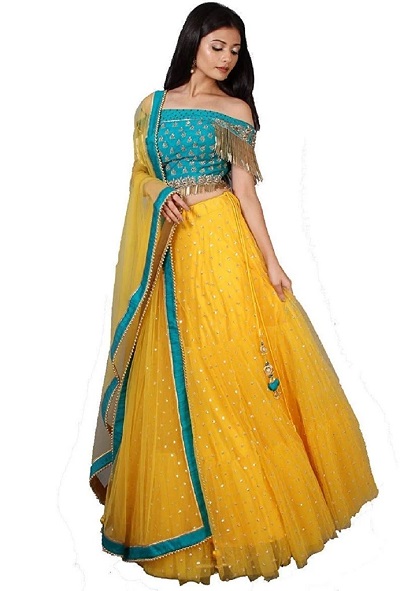 Coming to the bold blue and yellow combination for the Indian wear dresses, here the embroidered sequins studded net fabric is used in full flare for creating the skirt or the lehenga. Dupatta has border of blue fabric and the off shoulder blouse is the major highlight, that is making this dress extremely gorgeous and suitable for younger women.
13. Elegant Silk Lehenga in yellow
Silk is a fabric which is known for its classiness and elegant. A lot of women in Southern India would love to have fabrics like Banarasi silk for their partywear sarees and lehenga choli. Like shown here, a yellow lehenga and blouse is paired with wine.
14. Multi colored Lehenga for Parties and Weddings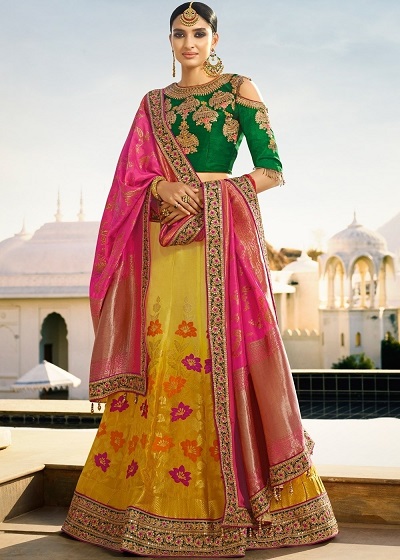 A multi-color lehenga choli set with dupatta is yet another thing that a lot of women can go for. A green choli with a cold shoulder work and boat shaped neck line is paired with the Yellow Lehenga and a pink banarasi chanderi dupatta. It is a gorgeous dress and multi colors that would surely make you the attraction of any party.
15. Choli Lehenga pattern in Thread work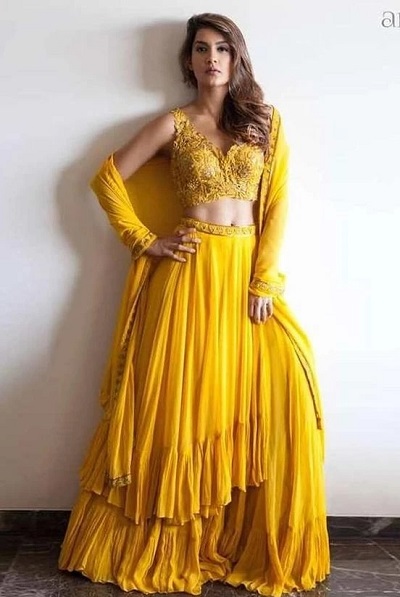 Thread work choli cut blouse in V shape Neck line is paired with a stunning lehenga. It's is a very modern looking lehenga choli design.
16. Ruffled yellow Lehenga design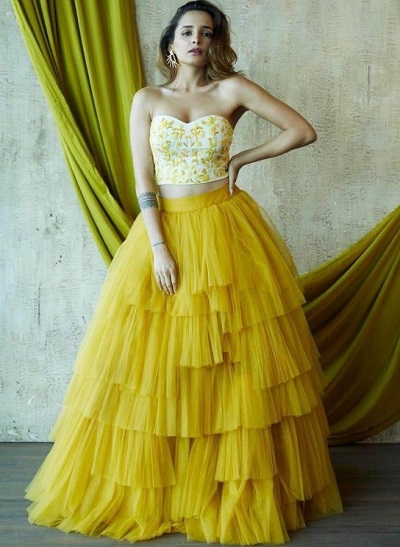 The ruffles are popular design for women's dresses and designers are coming up with even the ruffled lehenga pattern. As shown here, the light net fabric is used for creating this multilayered ruffled lehenga in yellow color. Off shoulder tube top like blouse is given along with this dress.
17. New model yellow Lehenga For Cocktail parties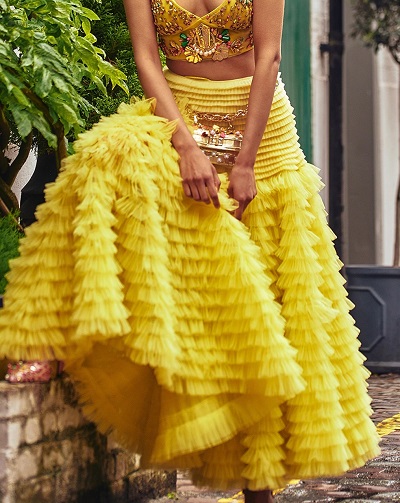 This highly model looking lehenga is paired up with a very revealing and fashionable choli with stone work evident exclusively. It is a very modern looking dress which we are sure that a lot of women would not dare to go with however, if you can then please go ahead and it would surely make you look like a stunner in the simple yet stunningly modern dress.
18. Shimmer fabric Lehenga design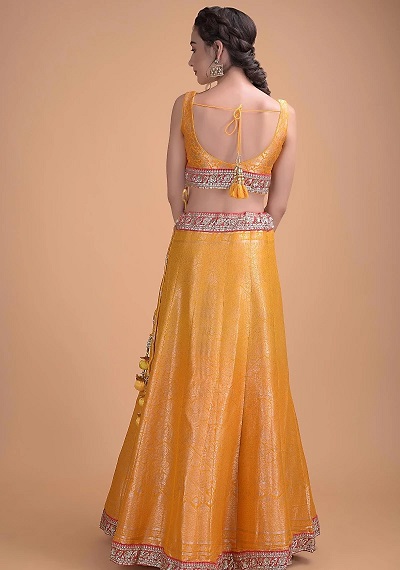 Shimmery Silk fabrics are also ruling the trends. Currently, fabrics like these are popular because without any embellishments, they have this light reflecting thing that makes them perfect for every party. This lehenga here is just exactly the way you would want your simple dresses to be.
19. Heavy Gotta and Sequin work Lehenga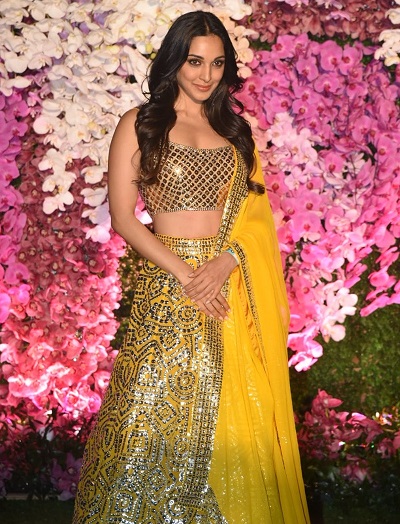 Bold Gota Patti and big chunky sequins work is yet another thing that is popular this season. A sequins studded strap  blouse is looking beautiful with the lehenga that has got the Silver colored work. The embellishment is the major highlight that is making it a perfect party wear for any wedding or festivities.
20. Light Work Net yellow Lehenga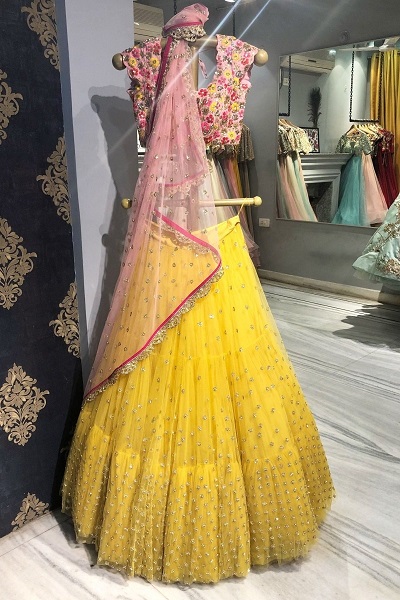 This beautiful net lehenga is worn with heavy embroidered peach colored blouse. The blouse has short sleeve and a similar colored dupatta is also given. It is a lightweight dress that can be easily carried by even the younger girls. So if you like to have a dress that is light and easy to carry around because you have to wear it for the entire night for your family weddings, then such dresses would be perfect for you.