Yellow salwar suit designs look really beautiful and pretty on all skin complexions and women of all age groups. Unlike red which is a very fierce and hot color yellow is a soothing and cheerful color. When it comes to Indian ethnic wear, salwar kameez are one such piece of clothing that makes a woman look not only gorgeous but it the dress also very comfortable. There are so many designs in the regular and traditional salwar kameez. One can have a longer kameez or kurta or can have a shorter length. For the Bottom wear as well there can be Punjabi style salwar, full ghera salwar, plazo pant, Tulip salwar straight pants churidar and what not. So, when you can experiment a lot from your salwar suit designs, then let's check out the latest salwar suit patterns in yellow color. Yellow colored salwar suits for the Haldi ceremony for a wedding. Even when you would like to look beautiful and out of the crowd, yellow is a color that will surely make you stand out of the crowd.
Latest Yellow Suit Designs For Women For Festivals Weddings And Parties
Let's take a look at the latest yellow colored salwar suit patterns for women for the season.
1. Georgette Yellow Embellished Long Kurta With Palazzo Pants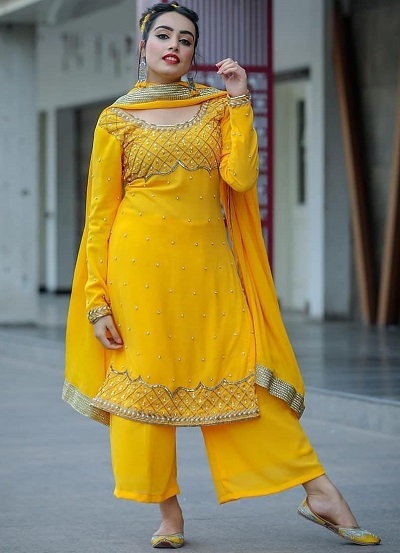 For sure, the gorgeous design is made in Georgette fabric that makes the dress drape beautifully. This long kurta is paired with a plazo pants. A Georgette dupatta is also given with this dress and the full sleeves. It is a beautiful dress that is suitable for the Haldi ceremony for weddings and even for the parties.
2. Frock Style Long Yellow Anarkali With Churidar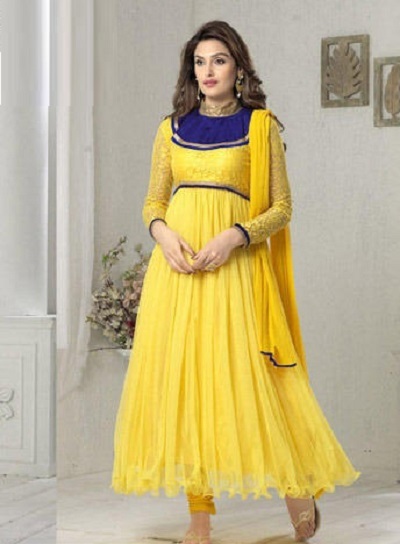 The gorgeous dress is a frock style anarkali dress. This has a blue colored yolk at the top that makes it really beautiful. Lace fabric is used for the sleeves and a net fabric is used for the ghera part. This is a beautiful dress that is suitable for even the petite and slim women. Churidar salwar are paired with this gorgeous yellow dress for women.
3. Yellow sequin studded embroidered suit salwar for women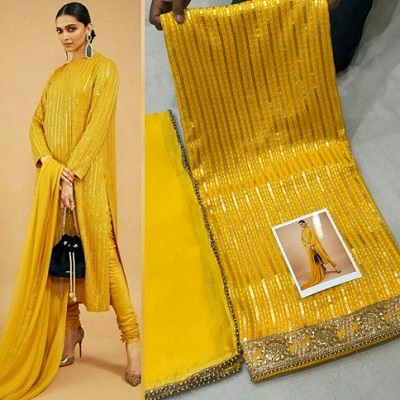 This is a beautiful yellow sequin studded salwar suit for women. This is also a Bollywood style yellow suit that has been worn by Deepika Padukone. It's a really beautiful mustard yellow suit which is in a long full sleeves kameez with churidar pattern pajama. Sheer chiffon dupatta is given with this dress.
4. Party wear yellow Sharara dress for ladies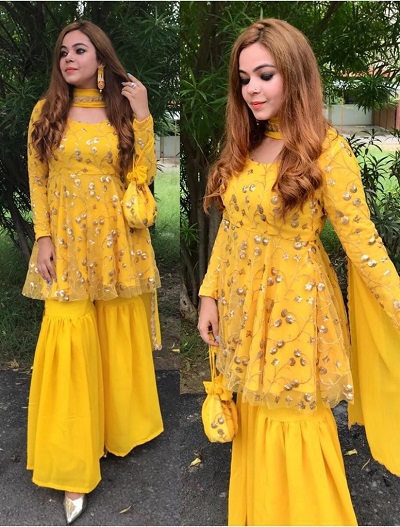 Made in the gorgeous net fabric and full sleeves, this is a really gorgeous dress with sequin work. The frock style shorter kurti makes the legs look longer. Flared Sharara pants are given and a Dupatta is also given in the same fabric. It is surely a party wear dress for women.
5. Yellow Multi Layered Sharara With Short Kurti For Parties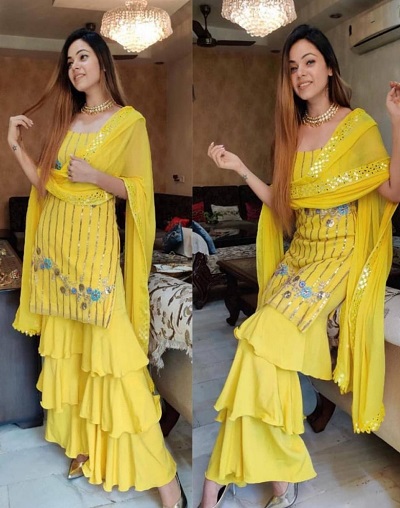 The beautiful yellow Sharara kurti set embroidery on the kurti and multi layered Sharara style pants are given. The beautiful dress is surely a party wear and wedding wear dress which is suitable for younger women.
6. Cotton Long Length Yellow Anarkali With Long Sleeves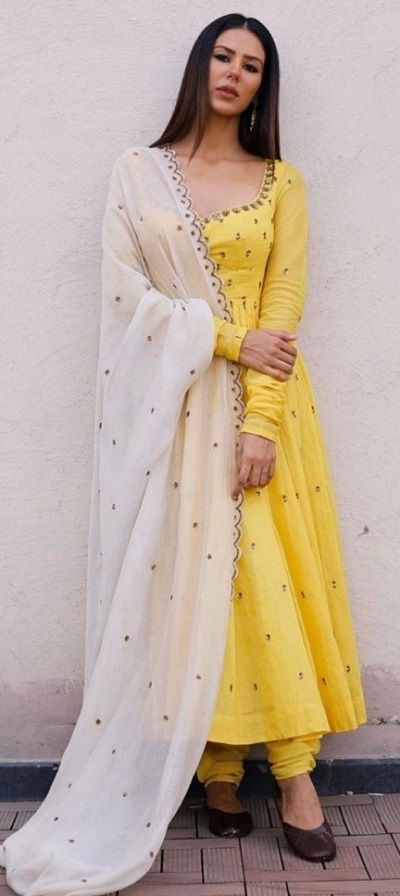 The royal and elegant looking dress is surely mesmerizing. It is a Chanderi cotton dress which has long churidar sleeves and is also paired with churidar bottom wear. The anarkali is made out in the panels and some light embroidery work is given. A cotton white dupatta is paired with this dress. This is really serene and beautiful looking.
7. Georgette Long Length Anarkali Dress For Casual Functions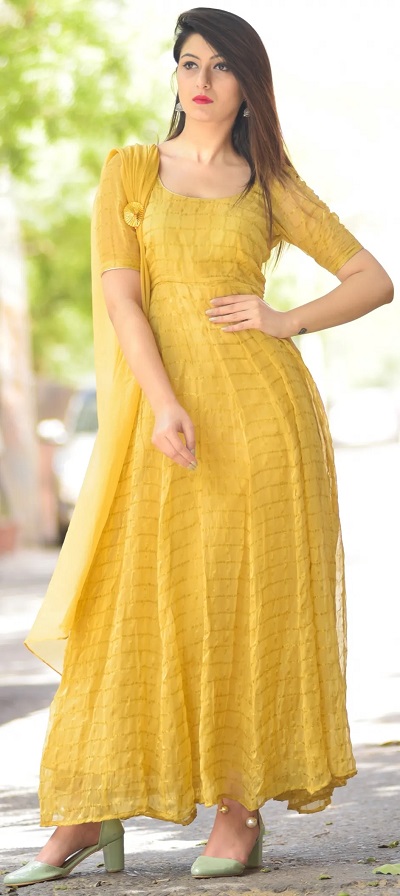 For casual functions and otherwise, such dresses are really good. They are not very heavy embroidered or have very over dress kind of feel but they are simpler yet are looking really fashionable.
8. Full length yellow embroidered Anarkali dress with dupatta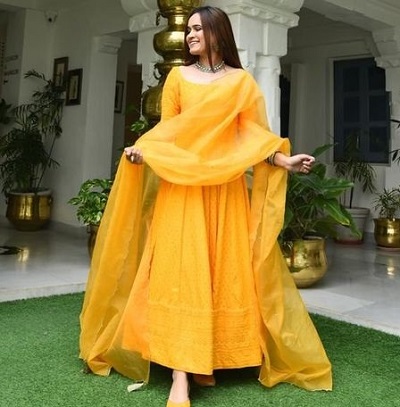 This dress in yellow color is a beautiful dress, which has a floor length Anarkali that has thread work all over. It is a simple dress that does not have any sequin or blingy embellishments on the dress but it has subtle thread work in the same color of the dress. It usually your dress for parties, occasions, puja, or even for the birth birthday parties.
9. Mustard yellow Silk kurta with dupatta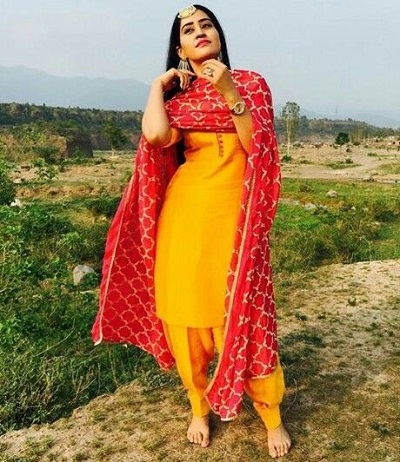 The gorgeous mustard yellow kurta has patiala salwar and red Dupatta is being paired with this. The simple kurta has three fourth sleeves and full Patiala salwar are also given. The combination of yellow and red is surely evergreen and it looks really beautiful.
10. Long embroidered yellow party wear with straight plazo pant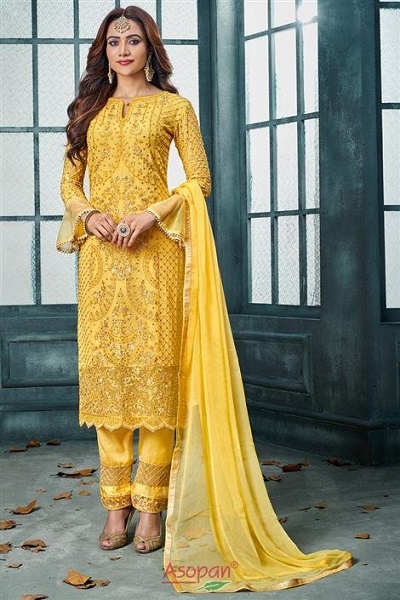 This dress is definitely a party wear dress because it is made in a net fabric and has heavy embellishment and sequins work. Chiffon fabric dupatta is given with this and it has Bell sleeves with embellishment.  The beautiful dress material is surely suitable for the parties and festivals.
11. Printed Chanderi Silk long kurta with straight plazo pant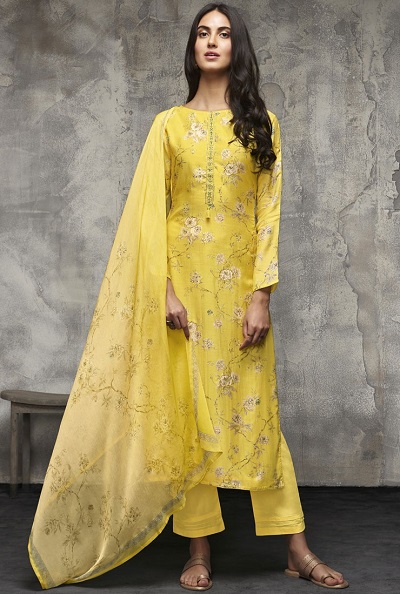 This yellow salwar suit with dupatta set is a gorgeous and really beautiful looking dress. It has a printed full sleeves long kurta and straight Palazzo pant with printed Chanderi Dupatta. Such dresses are really beautiful when you try these for the Puja ceremonies.
12. Rayon Foil Printed Sharara Suit Set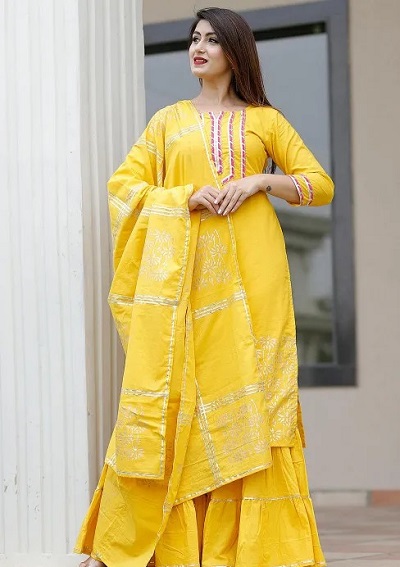 13. Designer Yellow High-Low Hemline Suit For Women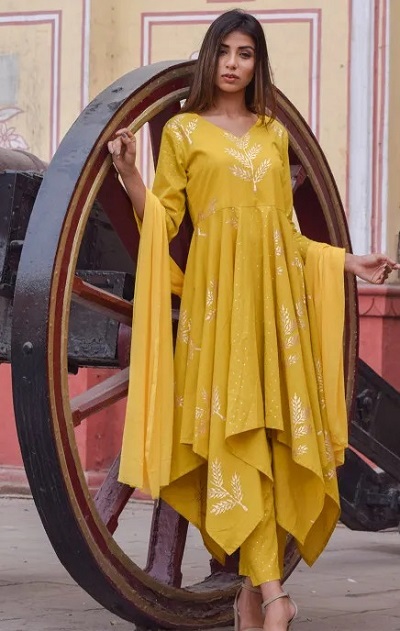 14. Designer Yellow Suit With Plazo And Blue Net Dupatta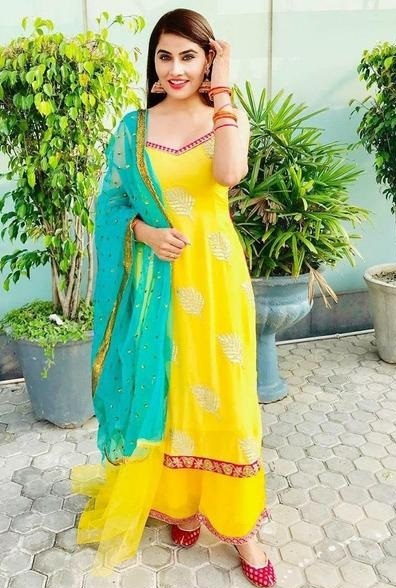 15. Stylish Yellow Suit With Green Banarasi Dupatta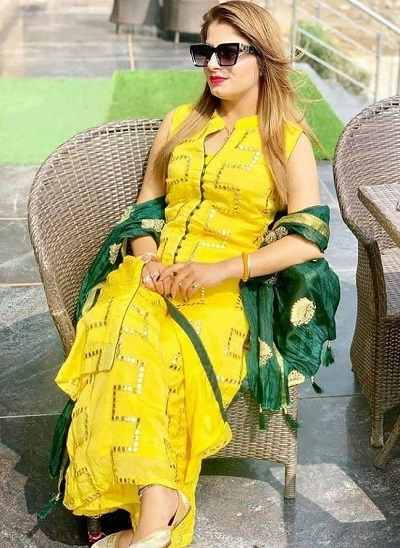 16. Yellow Mirror Work Lehenga Kurti Dress For Parties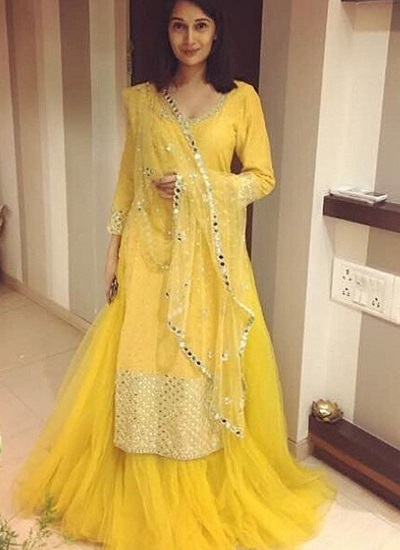 17. Stylish Punjabi Style Silk Salwar Kameez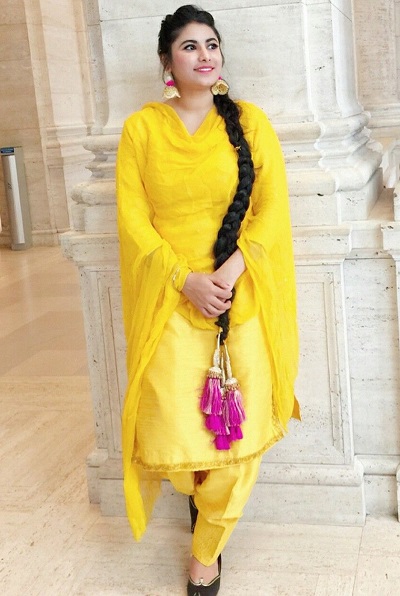 18. Designer Heavy Mirror Work Yellow Lehenga Kurti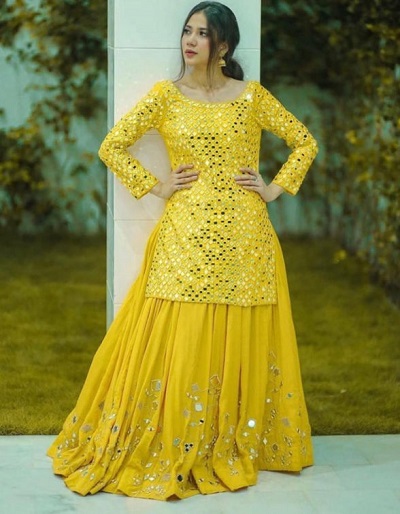 19. Sleeveless Yellow Sharara Kurti Set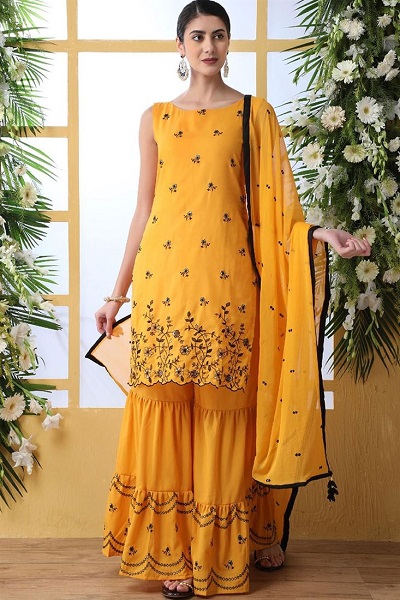 20. Party Wear Net Embroidered Yellow Sharara Kurti Dupatta Set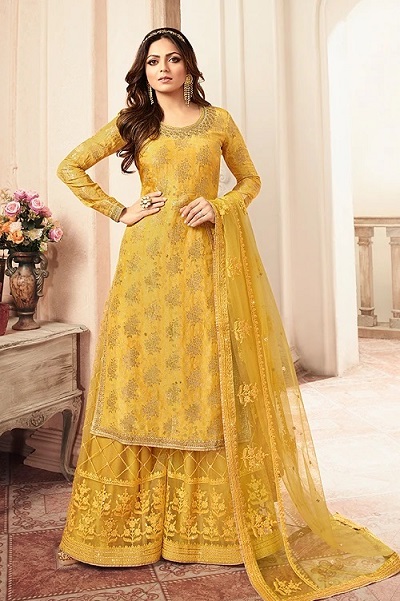 21. Frock Style Short Yellow Kurti With Layered Sharara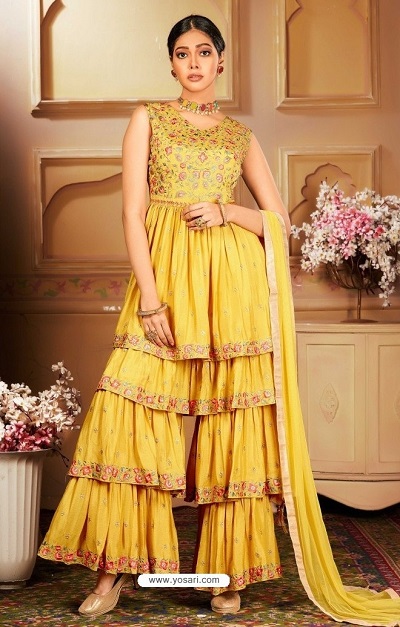 22. Yellow Anarkali Suit With Plazo Sharara Pants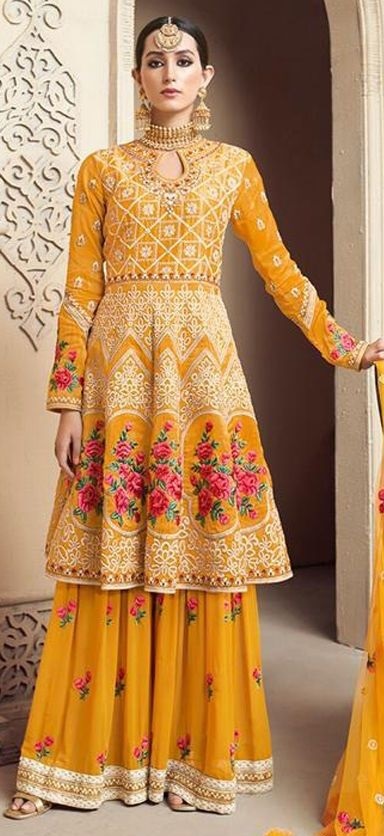 23. Heavy Work Yellow Plazo Suit Salwar Set For Women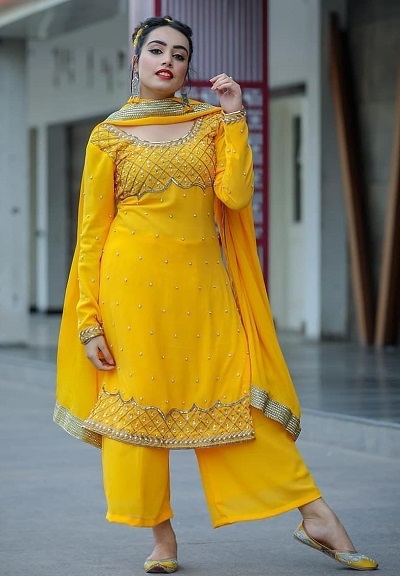 24. Yellow Printed Plazo Kurti Set For Women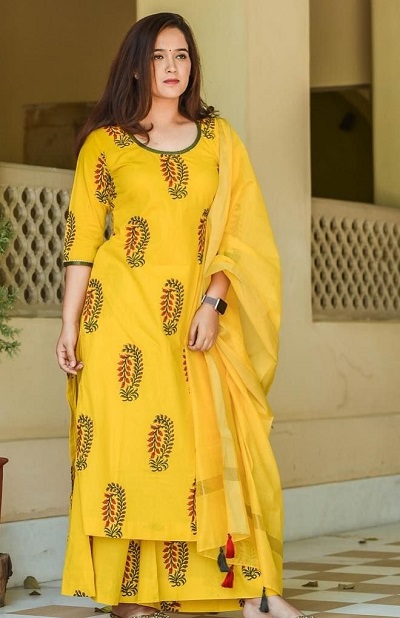 25. Stylish Long Yellow Printed Kurta With Straight Fit Pants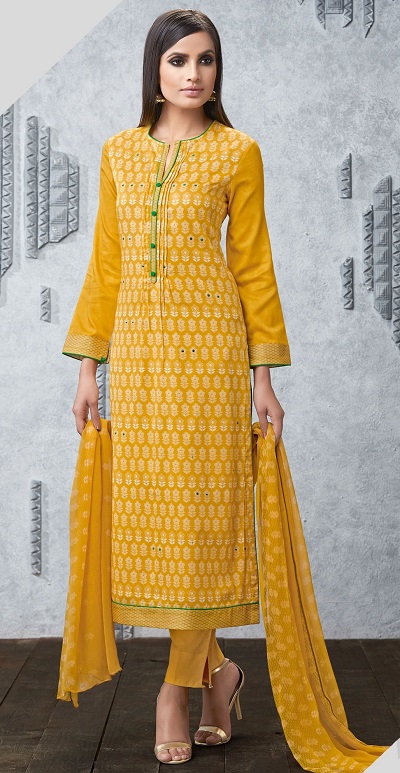 26. Sleeveless Silk Yellow Punjabi Style Short Kurta With Net Dupatta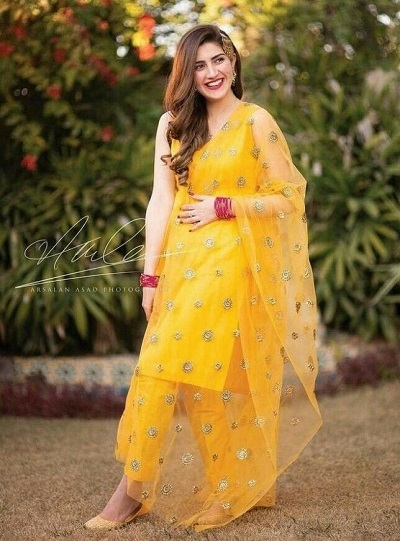 27. Yellow Silk Long Suit With Churidar And Green Dupatta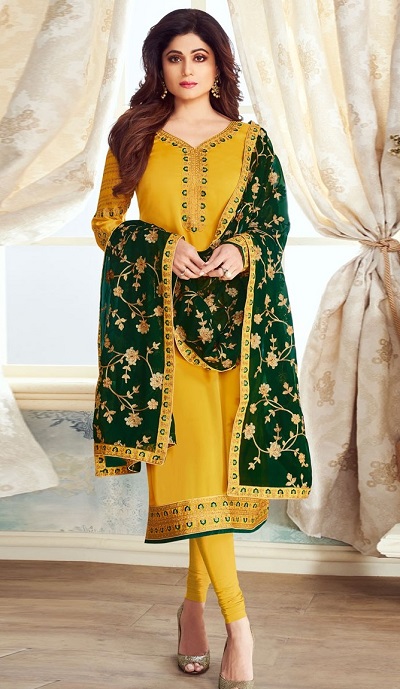 28. Yellow Punjabi Suit With Phulkari Green Dupatta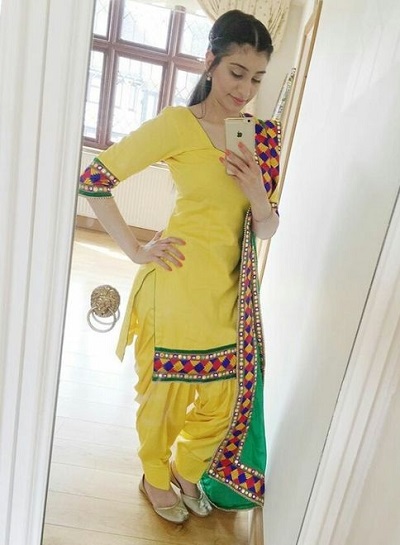 29. Long Yellow Chanderi Silk Suit With Printed Chiffon Dupatta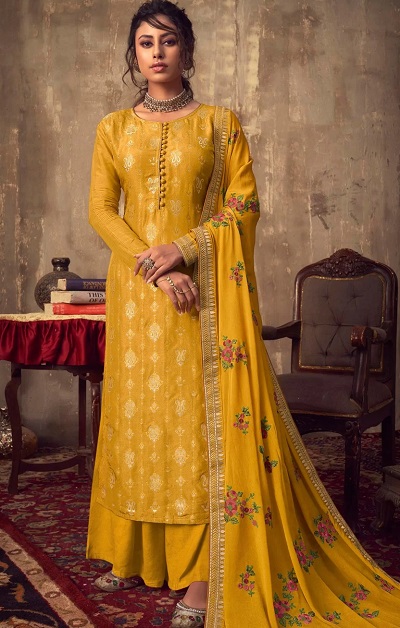 30. Elegant Yellow Printed Chanderi Salwar Suit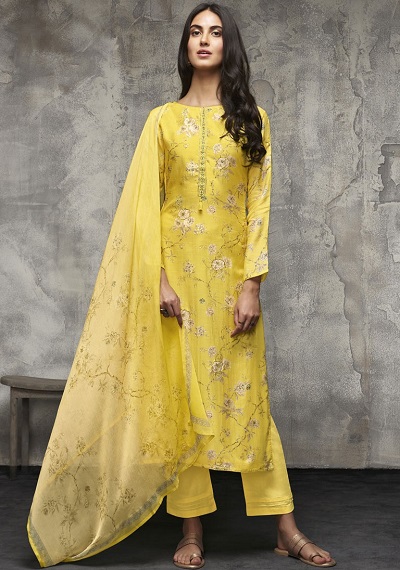 31. Silk Chanderi Salwar Suit With Cotton Silk Dupatta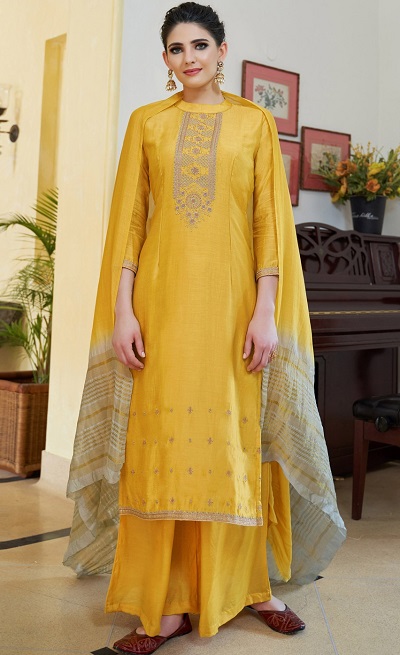 32. Frock Style Sleeveless Yellow Kurti With Pant And Dupatta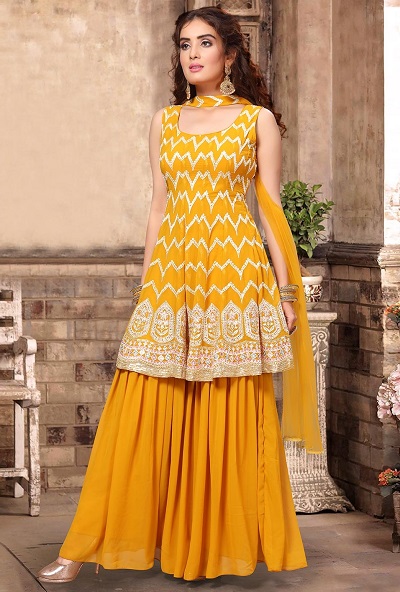 33. Heavy Embroidered Party Wear Yellow Salwar Suit For Women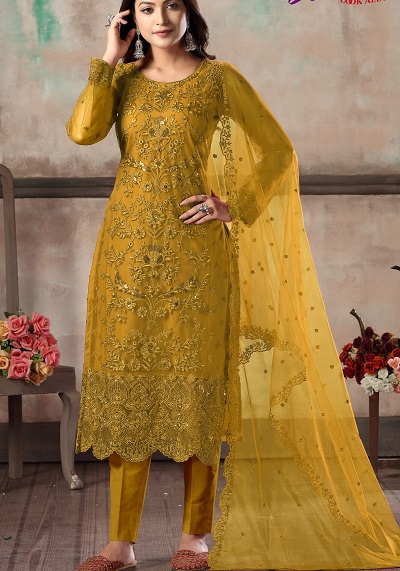 34. Stylish Designer Yellow Sharara Suit For Women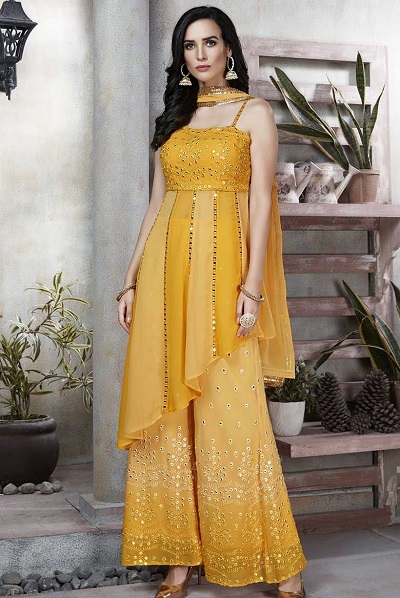 35. Simple Yellow Kurti Plazo Dupatta Set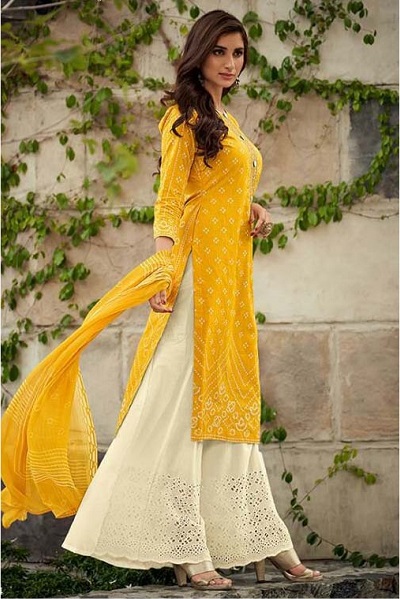 36. Punjabi Silk Short Yellow Kurti Patiala Salwar For Women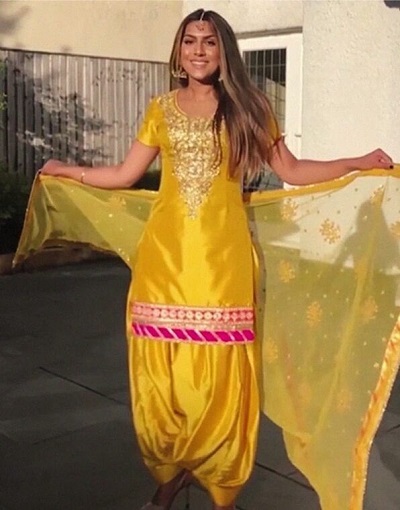 37. Short Frock Style Yellow Sharara Suit With Net Dupatta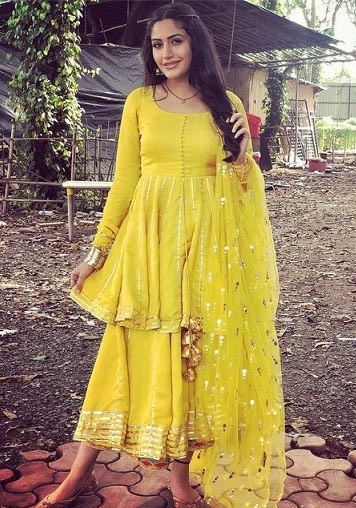 38. Yellow Cotton Anarkali With Bandhej Dupatta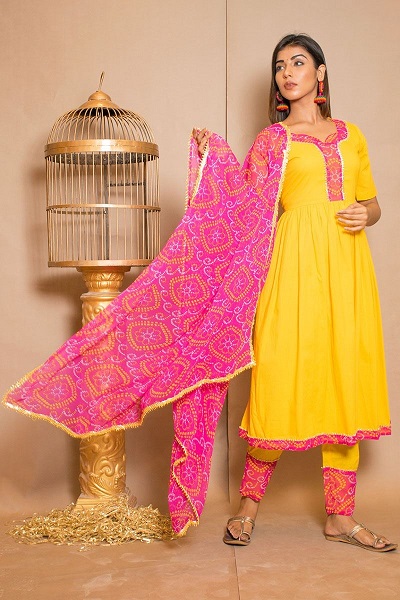 39. Yellow Silk Anarkali With Pink Banarasi Dupatta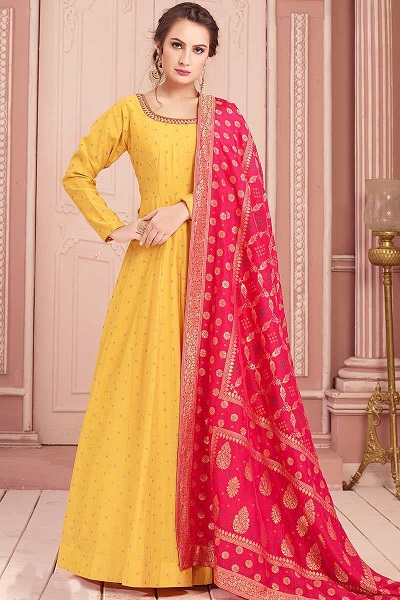 40. Embroidered Floor Length Yellow Anarkali With Red Banarasi Dupatta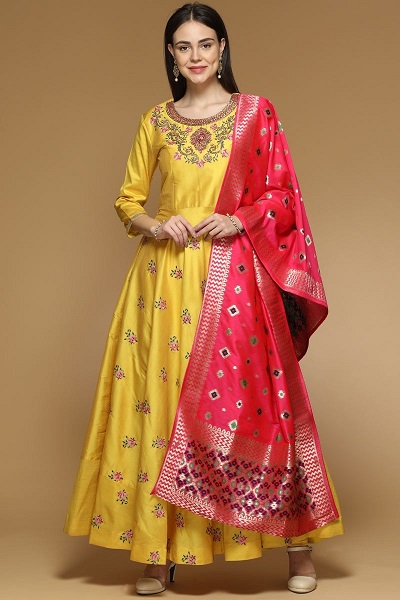 41. Designer Heavy Mirror Work Yellow Suit With Heavy Patiala Salwar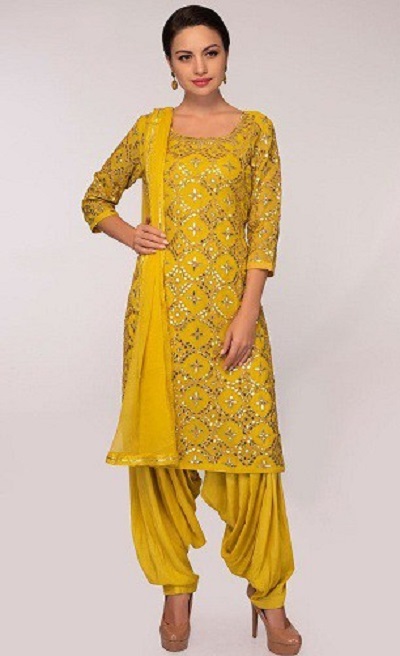 42. Stylish Side Slit Light Yellow Suit With White Plazo
43. Net Light Yellow Embroidered Suit With Plazo Salwar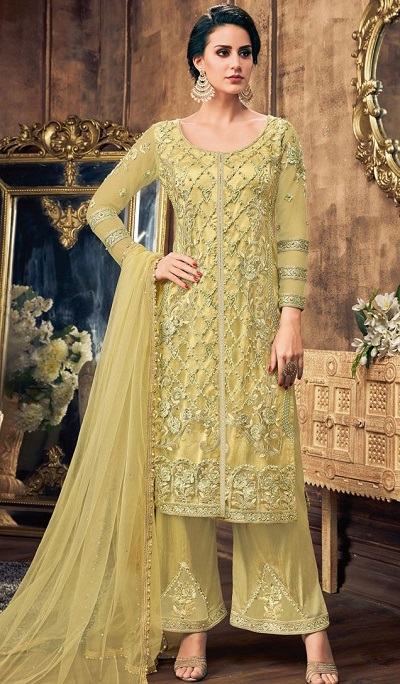 44. Yellow Long Length Suit With Green Georgette Dupatta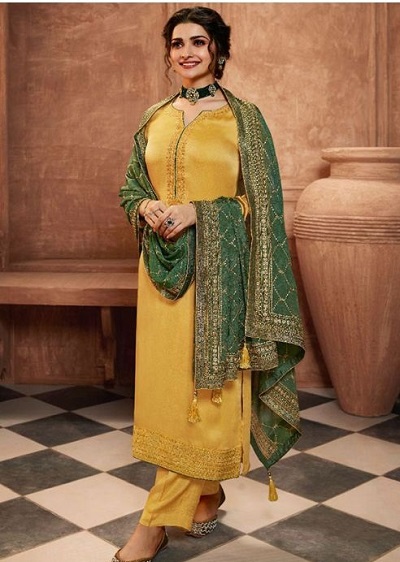 45. Stylish Embroidered Yellow Kurti With Straight Pants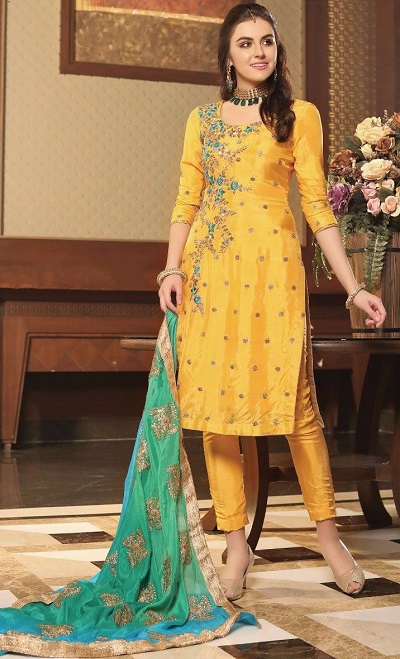 46. Mirror Work Yellow Silk Long Length Anarkali With Dupatta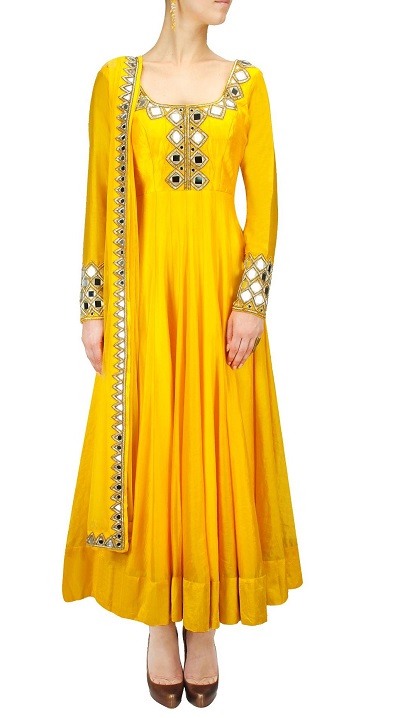 47. Floor Length Bright Yellow Salwar Suit With Peach Net Dupatta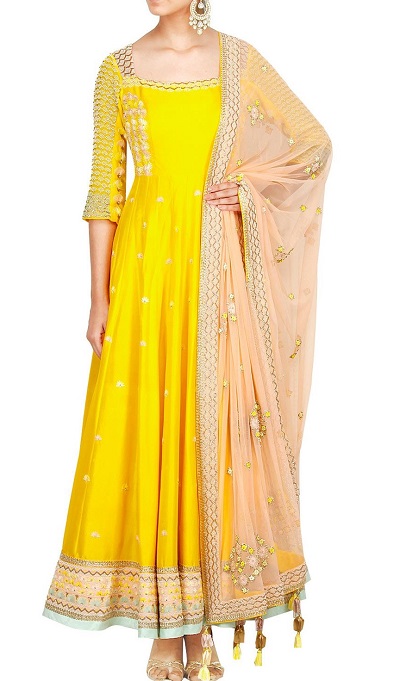 48. Yellow And White Sharara Suit Set For Parties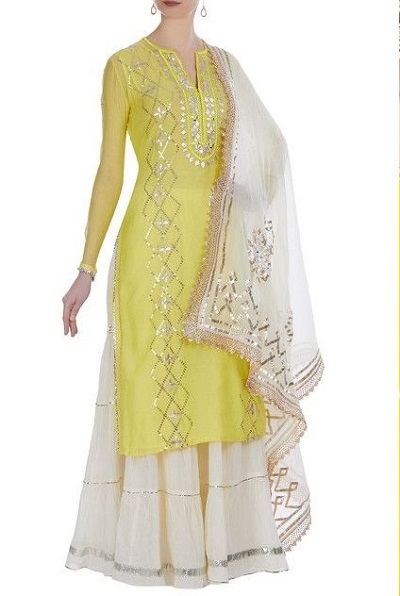 49. Short Yellow Kurti With Punjabi Patiala Salwar And Net Dupatta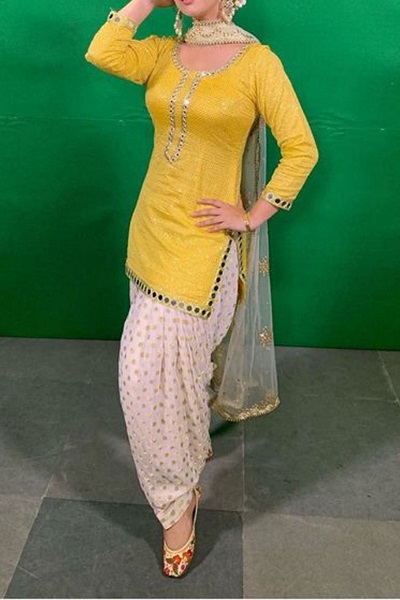 50. Stylish Yellow Mirror Work Kurti With Designer Dupatta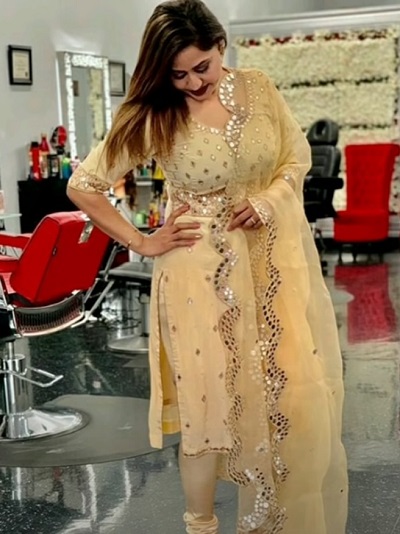 These are the stylish and modern looking yellow salwar suits for women. Most of these yellow salwar kameez sets can be tried for parties festivals and weddings. However, there are some yellow suit salwar for women which can also be tried for puja as and casual ceremonies.