Za True White Cleansing Foam face Wash
Hi beauties!! How are you all doing? Shiseido is a very popular and high end brand that has launched their new line of products with the name Za in India. It's been already one year since Za products are here in India. I have liked most of the Za products as they are good for oily combination skin. I will do a review on Za true white cleansing foam in this post. A good face wash is very essential for any skin care. This Za True White Cleansing Foam face wash is a whitening facial cleanser that gives a beautiful fairer and translucent skin. So, does this Za True White Cleansing Foam works well. Let's read in my review for this face wash.
Price of Za True White Cleansing Foam: This is for 350 Rupees in India for a 100 g tube.
Experience with Za True White Cleansing Foam face wash
This face wash is packed in a white tube that one can travel with and easy to keep in the bag. This face wash has a white thick creamy texture. Hence, I need only a pea size drop of this face wash. It creates foaming lathers. Foaming lathers are good to cleanse the oily and combination skin as the foam takes off the deep seated impurities and dirt. There are also few small grainy beads which I think is of vitamin C as this has vitamin C. I got to know this when I check the packing for ingredients list. I am not a fan of face wash which are foaming. Do you know why beauties? As foaming face wash will dry out the face in addition to taking off the oils. So, along with the oils the foaming face wash will also take off the natural oils also which leaves the facial skin dry. But thankfully, this Za True White Cleansing Foam is not like that this actually keeps the skin's natural pH balance hence the skin does not dry out.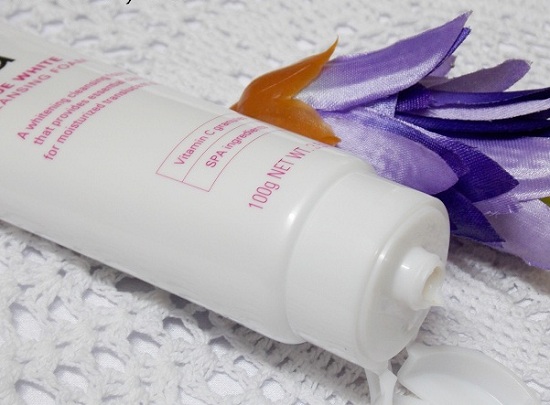 I will just rub this face wash for 10 – 15 seconds on my face then would splash clear water to rinse it off. I love how quickly this will be removed from the face. Once I pat dry my face, I can clearly see that my skin looks fresh and brightened. When the skin look bright it also appears fairer. A few of us can think that this is expensive but trust me this is for 350 rupees, but as a little bit is required for a facial cleansing then this is economical. It lasted for more than 2 months for me when I had used this twice in a day. This is a good face wash for oily to normal skin but not that much suitable for dry skin.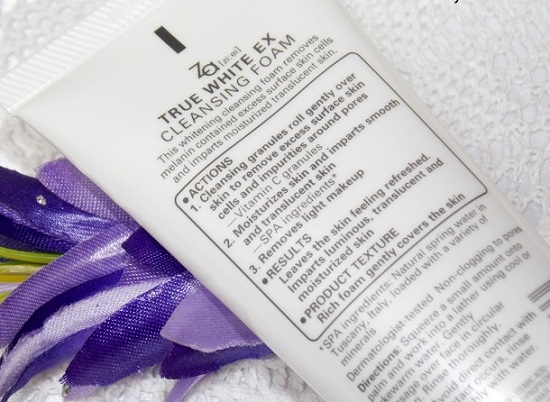 Pros of Za True White Cleansing Foam Face wash

Price is okay as little quantity is needed
Packaging is nice and user friendly
Skin looks brighter and refreshed
It gently and thoroughly removes dirt, sebum and excess oil from the face
Even if it is foaming face wash, it doesn't dry the skin
Has Vitamin C which makes the skin feel fresh and toned
This is ideal for normal to oily skin
Cons of Za True White Cleansing Foam face wash

May not suits dry skin
Rating: 4.5 out of 5
Za True White Cleansing Foam is a really good face wash for oily skin, combination skin and normal skin. It cleanses the face effectively by taking the dirt, sebum, oils and makeup also.