Bioderma Photoderm AKN Mat Sunscreen SPF 30 Review. Hey everyone, while I am not too much in to the sunscreens but know who important they can be. Sunscreens protect our skin against the UV rays damage like the skin aging, wrinkling, dullness and lifeless skin. So, this is the reason that almost every skin care specialist will ask you to apply generous amount of sunscreen when you are likely to spend your time under the sun like beaches, causal day outs in the sun, street shopping etc. I will share this Bioderma Photoderm AKN Mat Sunscreen review which has the SPF 30 in it. This is the sunscreen that I got in Fab bag or My Envy Box and I have used it and liked it. I generally do not review tiny samples but this was something that intrigued me as this was from Bioderma which is a good brand. Bioderma as a brand is a very promising brand and I like to try their products. So, guys, let's check out if this Bioderma Photoderm AKN Mat Sunscreen is a worth trying one or not!
Price of Bioderma Photoderm AKN Mat Sunscreen:
This is for 1200 Rupees for 40ml pack online. I am not sure of the offline availability as I have not seen this brand in malls, and shopping stores yet. But while searching, I saw that online portals like Nykaa, Flipkart has these with them.
Claims:
Bioderma Photoderm AKN Mat Sunscreen  has the high anti-UVB efficacy and unmatched anti-UVA performance of Photoderm AKN Mat safely protect against sunburn. It gives a advantage over the cell damage with its exclusive patented Cellular BIOprotection complex provides optimum protection for the skin cells. Moreover, the sebo-regulating Fluidactiv complex , a Bioderma innovation, improves sebum quality and helps to keep the skin clear and healthy and improves the oil regulation. Bioderma Photoderm AKN Mat Sunscreen guarantees a long-term mattifying effect. It also. claims that  Photoderm AKN Mat leaves no oily film and no white marks or ashyness on the skin post application. It is non-comedogenic and photo-stable.
Oriflame Sun zone sunscreen with SPF 50
Ingredients:
Aqua/Water/Eau, Dicaprylyl Carbonate, Octocrylene, Methylene Bis-Benzotriazolyl Tetramethylbutylphenol, Butyl Methoxydibenzoylmethane, Ptfe, Methyl Methacrylate Crosspolymer, C20-22 Alkyl Phosphate, Glyceryl Stearate, Peg-100 Stearate, Silica, Tridecyl Salicylate, Tocopheryl Acetate, Ectoin, Mannitol, Xylitol, Rhamnose, Fructooligosaccharides, Laminaria Ochroleuca Extract, Glycolic Acid, Ginkgo Biloba Leaf Extract, Citric Acid, Dodecyl Gallate, C20-22 Alcohols, Decyl Glucoside, Propylene Glycol, Hydroxyethyl Acrylate/Sodium Acryloyldimethyl Taurate Copolymer, Xanthan Gum, Caprylic/Capric Triglyceride, Sodium Hydroxide, Disodium Edta, Chlorphenesin, Phenoxyethanol, Fragrance (Parfum). [Bi 573].
Experience with Bioderma Photoderm AKN Mat Sunscreen SPF 30
Bioderma Photoderm AKN Mat Sunscreen SPF 30 is packaged in white tube with orange lettering. The orange is used somewhere in the sunscreen to show that yes, these are the sun protection creams. :) The pack open in the full sized tube as a flip top cap and is very easy to use while you travel or take this along with like for a pool, beach etc.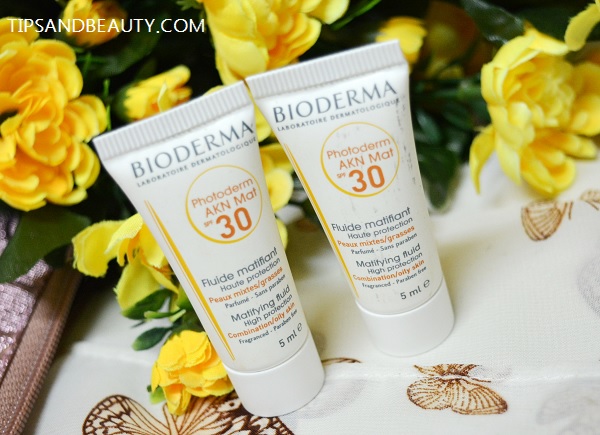 Performance:
The sunscreen smells mildly floral in its scent and the fragrance too is not over powering. This is not very thick but more like the body lotions that we use. The body lotions have this medium slightly running consistency and this is exactly like that. The milky cream white formula is easy to get blended on the skin. As this is a lotion like sunscreen you can expect this to get absorbed into the skin within a couple of minutes. While using this, it first appear white but then gets into the skin, after I have completely massaged this sunscreen over my face and neck, it gets inside and gives a semi matte finish. Yes, guys, it is not completely matte but semi matte. I have oily skin but if your skin is dry then whatever the moisture it gives, you will like it and find it adequate for the dry to normal skin.
I used this during winters and honestly, I can never use a lotion based sunscreen during summers as  wherever I step out of home in sun, they make me sweat over the upper lip area, forehead etc which I hate so, be it this or any other sunscreen I will not apply them in summers. For summers, my favorites are the gel sunscreen which is good for the oily to combination skin. They may not make you sweat on the face and also does not give that terrible sticky feel after few hours. So, for winters such sunscreens can be tried.
Top Best Biotique Sunscreens Available in India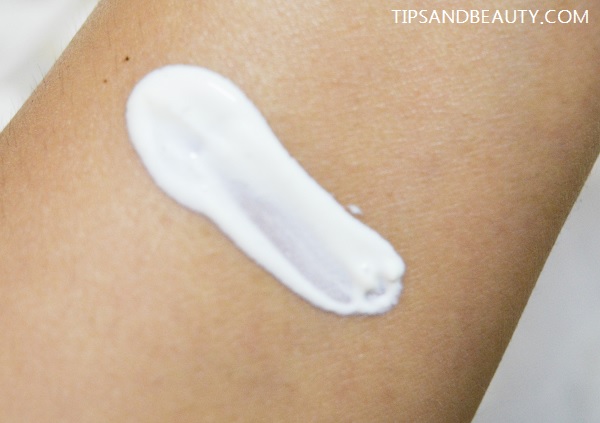 In winters, sunscreens like Bioderma Photoderm AKN Mat Sunscreen can also act as a base or light moisturizer that can give your foundation a long lasting effect. When I use sunscreen in winters like these, I will not use face primers, rather I will apply them and then straight away go for the foundation. But the way, it is semi-matte but not extremely super matte hence, I can say that it is a decent sunscreen for the oily to combination skin.  
It can give you that semi matte feel which is needed for the sunscreens as no one of us would like to use a sun protecting cream which can possibly make the skin oilier. It is also a water resistant sunscreen and a sunscreen that comes with SPF 30 which is good for the daily use.
Best Lotus Herbals Sunscreens in India
Pros of Bioderma Photoderm AKN Mat Sunscreen
Waterproof and sweat resistant
Photostable sunscreen
Non-comedogenic in nature therefore, does not clog the pores
Hypoallergenic and paraben free
Blends well to give matte finish
No strong fragrance
Cons of Bioderma Photoderm AKN Mat Sunscreen
Price is high
Availability offline is not much
Rating: 3.75 out of 5
Bioderma Photoderm AKN Mat Sunscreen SPF 30 is a decent sunscreen for the oily skin, combination skin and sensitive skin that does not go well with the greasy sunscreens. The light lotions like formula is good for everyday use. The price of thus sunscreen is high as 1400 rupees for 40 ml only, but if it suits your skin type and tone then why not.