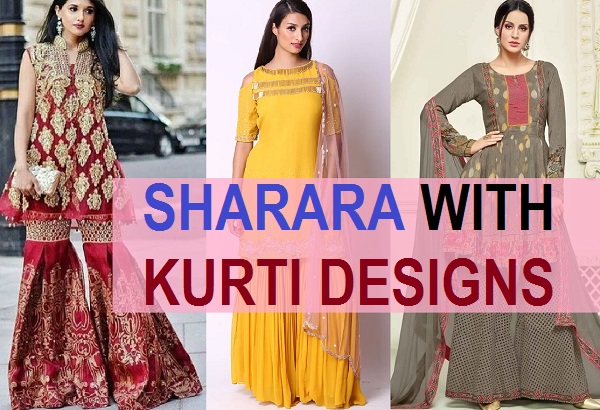 Sharara is an ethnic wear that is worn by many Asian women. It was used to be a hot fashion and traditional attire during the Mughal Era but after that it has taken a backseat but in countries like Pakistan and Middle East the Sharara dresses are still very popular. In India as well, Sharara is gaining popularity again. Sharara is also known as flared or wide length pants which are fitted till the knees, then goes the flare and pleating to add volume.
Latest and Modern Sharara with Kurti Designs for Women
We have compiled the images of Sharara with kurti designs.
1. Bridal Red Sharara Kurti Design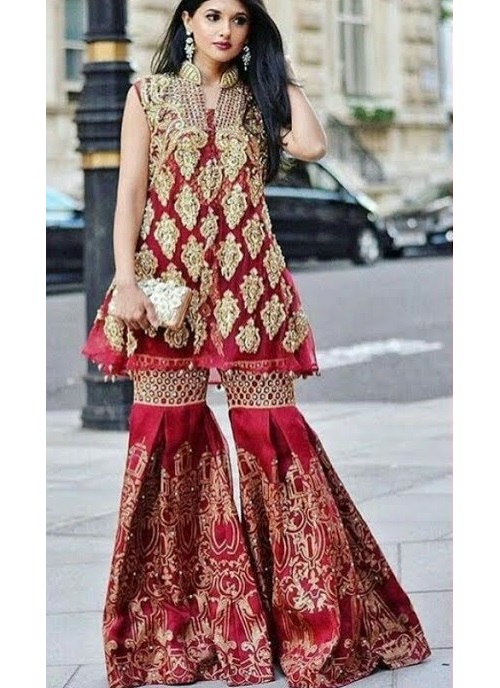 The red bridal Sharara and kurti combination is just amazing and it looks so beautiful. The Sharara has a band over the knees which is embroidered and adds charm and luxury to this attire. The kurti is sleeveless and has neat embroidery and sequins work which makes it breath-taking. The entire dress is extremely pretty and is perfect for brides.
2. Gold Printed Sharara Kurti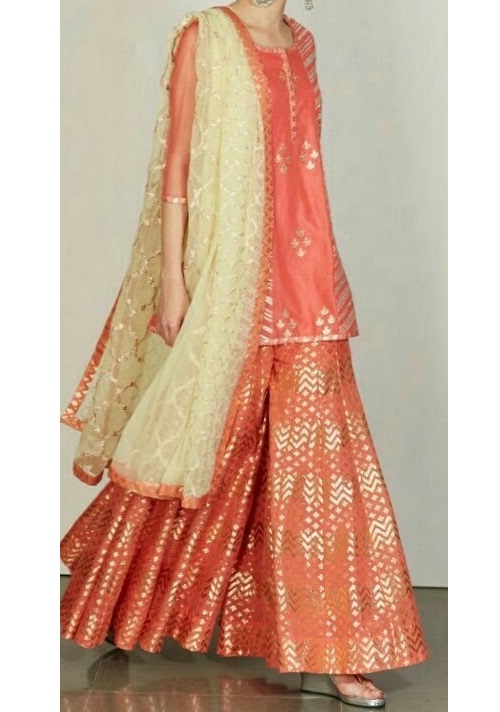 The orange-peache gold printed Sharara kurti is a beautiful choice for any festival. It has a golden beige colored dupatta with peach colored bottom. The kurti has been kept short and Sharara has a good amount of flare on the bottom. It is such a beautiful dress that even small girls can wear it.
3. Green Embroidered Kurti With Sharara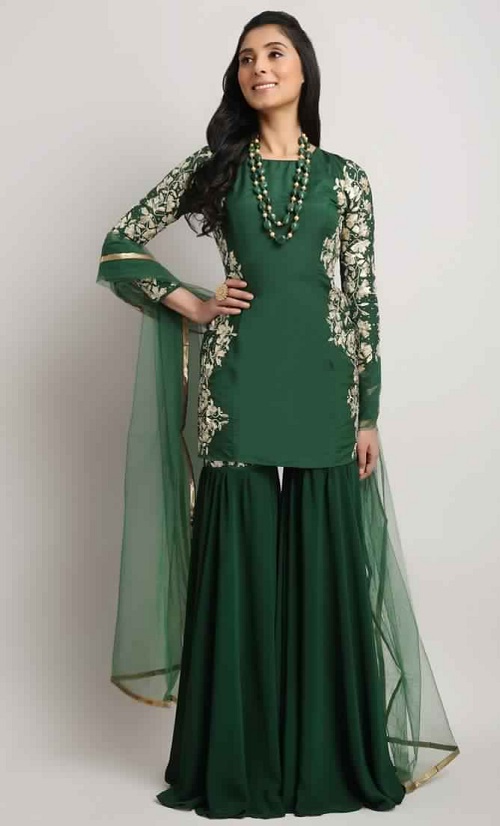 Green is a beautiful color that signifies prosperity. The gold embroidery work on the sides of the kurta makes it intriguing and ravishing. It is a full length short kurti that has a plain Sharara. The Sharara is tight on the knees with the band with full flair has been given to the Sharara. This is perfect for Eid and other ceremonies.
4. Grey Anarkali Kurti and Shahara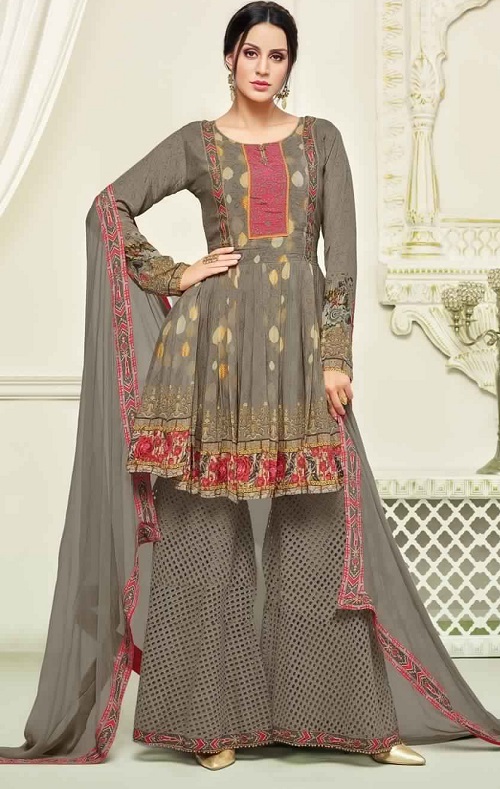 This grey and red Sharara kurta dress has beautiful gold embroidery. The kurti is in frock style and has gold print with red border on the hem. Sharara is textured with little gold woven design. It has a plain kurti with red border. This is a perfect attire to attend a friend's wedding.
5. Jacketed Kurti and Shahara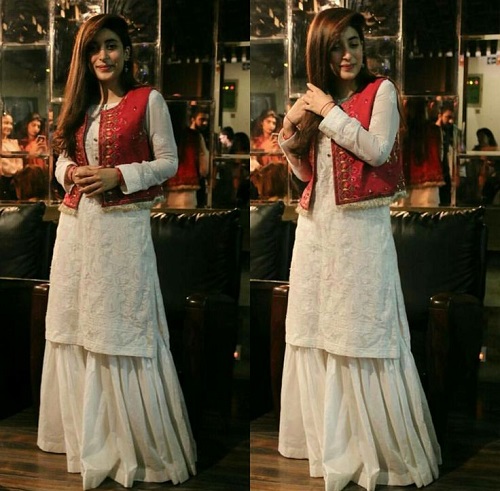 How about a Sharara kurti with jacket. Yes, the long kurti with this white plain Sharara has been teamed up with a contrasting colored jacket. The red jacket looks awesome with the cream colored chikankari kurta and plain Sharara. This is such a special dress that it can be worn for Eid, Diwali and other similar festivals in India.
6. Orange and Pink Sharara And Kurti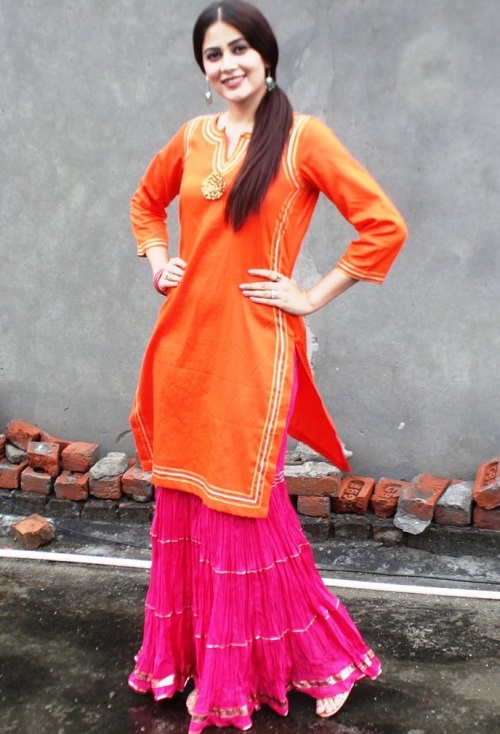 This orange and pink color Sharara and kurti design looks absolutely stunning. The orange kurti is not a short one but has a medium length with the Sharara being full on flair. You can wear this orange red Sharara kurti for a friend's party, a friend's wedding or even for the festivities. One can also wear this for sister's roka or engagement ceremony.
7. Peach Sharara and Kurta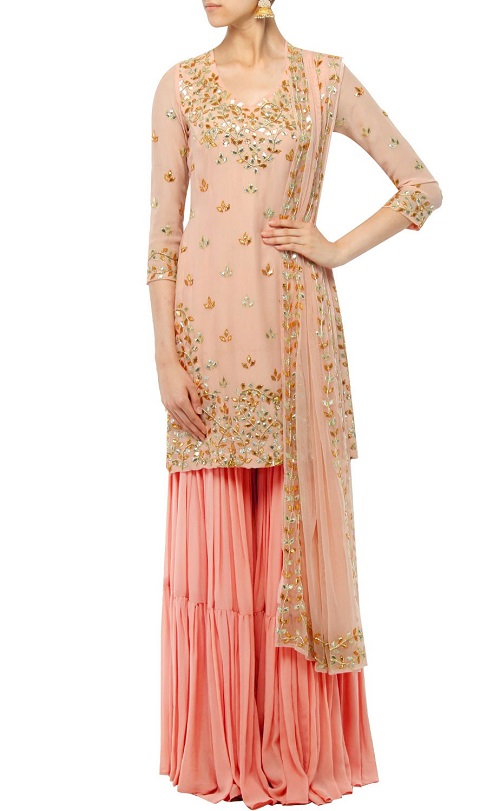 This next design is a light peach color kurta with Sharara. The kurta is made of a sheer fabric that has long sleeves with the gold embroidery look stunning and makes this piece even prettier. The Sharara has lot of flair and looks like the fabric used give it a pleated effect. There is a Dupatta of same color with sheer fabric. Gold embroidery on this dress has surely done wonders. It is a dress which most of us can wear for festivals, weddings and other ethnic functions.
8. Red Kurta and Orange Sharara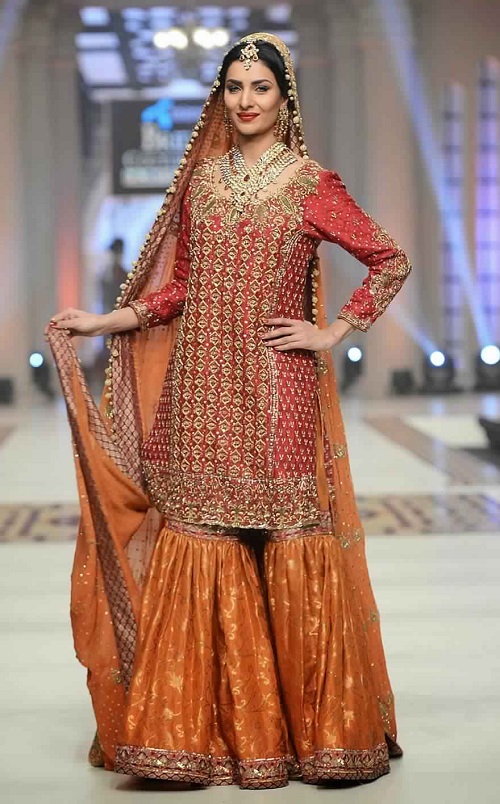 The red and orange bridal Sharara kurta set is simply the best. The kurta has been kept till the knees and below the knees the ghera or the flair starts. Brocade fabric has been used for the Sharara and a Silk kurti has been chosen for kurti. The kurti is rich in gold thread embroidery and sequins work. It is a rich and luxurious looking bridal dress. As compared with the regular red bridal attire, it has been kept red and orange. Orange has added more elegance to this beautiful dress.
9. Sharara and Short Kurti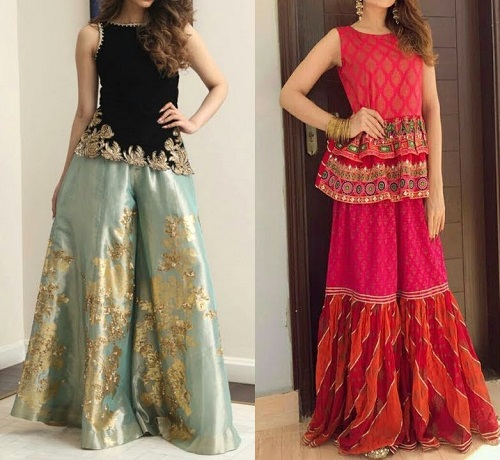 Short kurtis also looks wonderful with Sharara. The short black kurti has been paired with a light blue colored Sharara, while in the next picture the red colored short kurti is teamed up with the multi colored Sharara. Both of these look fascinating.
10. Yellow Kurti and Sharara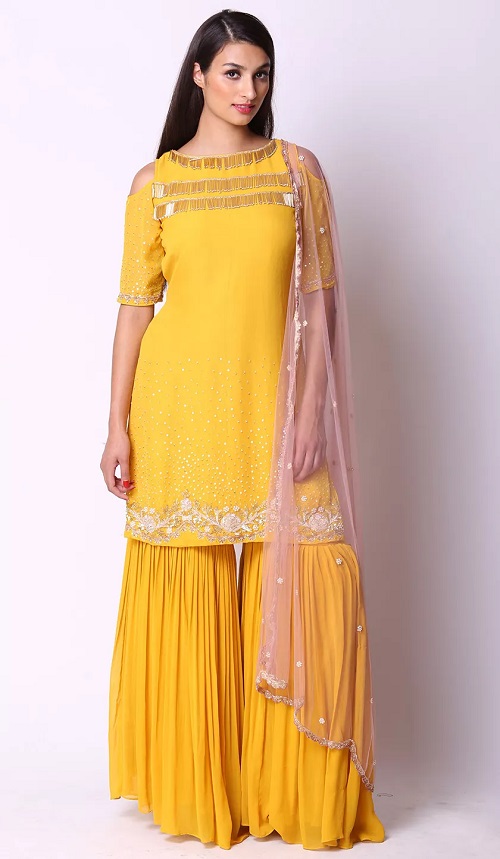 How about a yellow dress? Yellow is a very cheerful color which looks good on all the skin complexions. This sharer dress has medium length sleeves with a boat neck and the silver embroidery and sequin work gives it more detail in dimension and beauty. Sheer Net fabric Dupatta has been given along with this dress.
So these are the beautiful Sharara dresses paired with kurtis. Which is the one that you like? We loved the red bridal Sharara kurta the most and the peach one.
Sharara is mostly worn by Muslim women in Asia. The dress comprises of simple fabric or even the rich embroidered fabric. The hand work is extensively used in such dresses. Work like zardosi, mirror work, sequence, work, has been used in such dresses. Dupattas are also very luxurious for a Sharara dress. Earlier people used to also call them wide leg pants which are fitted to the knees and then the flared starts. Dupattas of these dresses are also having that also depends on the type of dress. If it is a wedding Sharara, then that too would be very heavy. However, for the normal Sharara dresses, the dupattas are kept minimalistic or just off the net or chiffon fabrics.